It's a Cold Holiday Season for Search: Overall Search Volume Down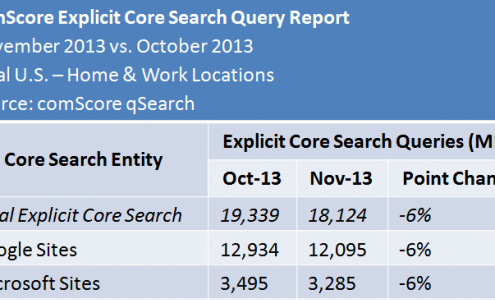 We talked about the status of Web Search last month, using the data comScore gathered and analyzed for their monthly qSearch report. We noted that Google managed to maintain its U.S. search market share, and that Bing' was slowly and increasing steadily throughout the year. Many search marketers expected these numbers to change and search volume to increase because of the holiday rush, but the numbers proved them wrong.
Google lost a small fraction of their shares, while Yahoo and AOL gained 0.1%. Microsoft and Ask remained flat at 18.1% and 2.6% respectively.
What was even more surprising was the 6% drop in total search queries during the holiday season. Google, Yahoo, and Microsoft search queries also decreased by 6%, while AOL went down 3%. Ask had the largest drop of the five at 7%.
Google is still in the lead when it comes to "powered by" results, but their numbers dropped by 0.2% in November. Bing continues its slow-but-steady climb by gaining another 0.1% last month.
There have been speculations that the lost search queries might have migrated to mobile, as comScore's report doesn't include mobile search market share. StatCounter reports that about 22% of global online traffic and 19% of US traffic is driven by mobile. Their mobile search data for the US indicates some increases and decreases from October to November:
Google: 88.7% (up by 0.6%)
Yahoo: 7.69% (down by 0.43%)
Bing: 3.28% (down by 0.17%)
Last month, Google released a sponsored study that showed that more than 63% of smartphone owners use mobile search to a certain degree. This makes it more important for companies to keep a close eye on mobile search, and adapt their digital marketing strategies to keep their brands visible to their target market across all devices and search engines.