Facebook "Killing It" in Social Traffic Referrals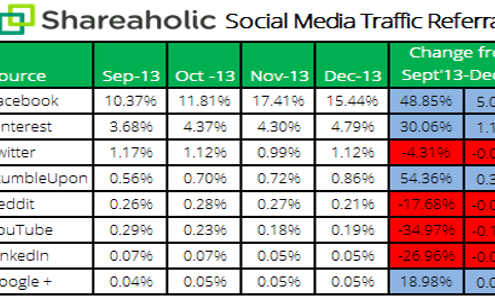 Shareaholic's Danny Wong shared the company's latest Social Media Traffic Report, which revealed that Facebook has been making a killing in terms of traffic referrals. The social network drove more than 15% of the overall visits websites received in December 2013.
Pinterest referred about 4.79% of overall traffic in the same month, but its performance "is notable simply because it is one of the newest social networks to swing in the big leagues." You have to admit that it's impressive how a social network that's less than four years old managed to outdo Twitter and maintain its #2 spot in these rankings in Q4 2013.
In terms of overall gains, StumbleUpon saw the biggest increase (54.36%), while Facebook and Pinterest gained 48.85% and 30.06% respectively. At the rate StumbleUpon's referral traffic has been increasing, they might outperform Twitter this year, but Wong says "only time will tell."
These findings are based Q4 2013 data collected from more than 200,000 websites with more than 250 million unique visitors each month. While mentioning that Facebook, Pinterest, and Twitter are "the most promising sources of social traffic", Wong also reminds readers that there are no universally effective social marketing strategies. You really need to determine where your target audience is and follow them there. He also advises marketers to "be ready to adapt at any moment", citing the recent loss of page views coming from Facebook because of its News Feed algorithm update as an example.
The best way to maintain (or even improve) your social shares and referrals is to stay on top of the latest updates and not relying too heavily on one channel. You need an agile, cross-platform strategy to get the most out of your social marketing efforts. Contact us if you want to reassess your approach to social media and start optimizing it today.