Google Refreshes Page Layout Algorithm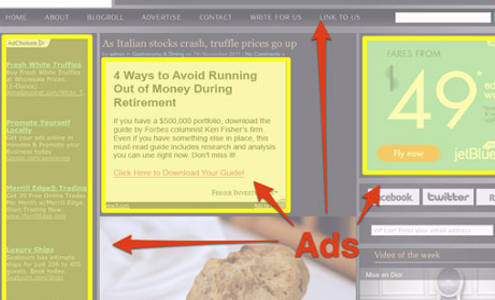 Google's Matt Cutts recently announced that they refreshed their Page Layout algorithm. Also dubbed the "top heavy update", this algorithm looks at the layout of a website's pages and penalizes it if its main content is buried beneath too many above-the-fold ads.
This is one example of a website with too many above-the-fold ads. (Image from Moz)
The Page Layout algorithm was first launched in January 2012, in reaction to complaints from users who can't find the content they're actually looking for because it's buried under too many above-the-fold ads. The last update Google made to this algorithm was in October 2012. Matt Cutts made announced the most recent refresh via Twitter:
SEO folks: we recently launched a refresh of this algorithm: http://t.co/KKSXm8FqZW Visible to outside world on ~Feb. 6th.

— Matt Cutts (@mattcutts) February 10, 2014
If you noticed a sudden change in your organic rankings or traffic starting last week and you have ads on your website's pages, you may want to reevaluate your ad placements.
How Can Affected Websites Recover from Page Layout?
The solution should come to mind easily when you go back to what Google said when they first launched the algorithm. "If you click on a website and the part of the website you see first either doesn't have a lot of visible content above-the-fold," they said, "or dedicates a large fraction of the site's initial screen real estate to ads, that's not a very good user experience."
In the end, it's all about user experience. Think from a user's perspective when you reassess your own pages' ad placement. If your ads make it difficult to see your main content, if they force you to scroll down, or if they clutter up your page so much you can barely even find the main content, then you need to improve your layout. The good news is that the page layout algorithm will automatically reflect any changes you made when Google crawls your website again, although the time it takes to recrawl varies depending on the number of pages you have and how easily Googlebot can crawl it.
Contact us if you're interested in web development services that help you create a great user experience while staying on top of Google's latest algorithms!