Google Starts Reducing Authorship Snippets in Search Results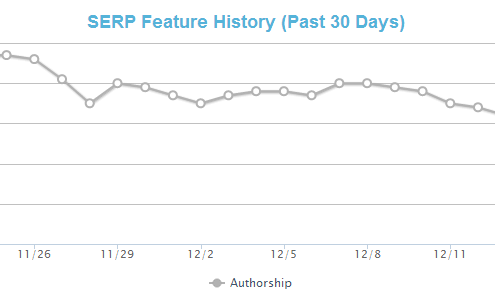 After many complaints surfaced about websites losing authorship snippets in search results pages (SERPs), Matt Cutts confirmed with Search Engine Land that Google has indeed started reducing the appearance of authorship snippets in their search results pages. About 15% of authorship snippets are no longer visible in search results.
This graph from MozCast only keeps track of about 10,000 queries, but it clearly shows the decline in authorship display from late November to early December.
Low Quality = No Authorship
At PubCon earlier this year, Matt Cutts already mentioned something about reducing the appearance of authorship by 15% to help provide better search results for their users. This change will have a huge effect on "low-quality" websites that have poorly-written, out-of-context, or stitched content.
Authorship isn't the only rich snippet that low quality sites will be no longer be able to use – Cutts says that Google will also prevent these websites from using other rich snippets as well.
What Can You Do to Maintain Authorship?
You shouldn't have anything to worry about if you've put a lot of effort into your content and have been making sure that your website provides something of value to your visitors. Having an established reputation as a reliable information resource and content publisher will help ensure that your authorship snippets will continue appearing in Google's SERPs.
If you are still worried about losing your authorship markups or want to reevaluate your content strategy, talk to us. Our SEO consultants can audit your website and content strategy, and suggest changes that can help improve your campaigns.