Introduction to User Experience & Design Workshop By UXMNL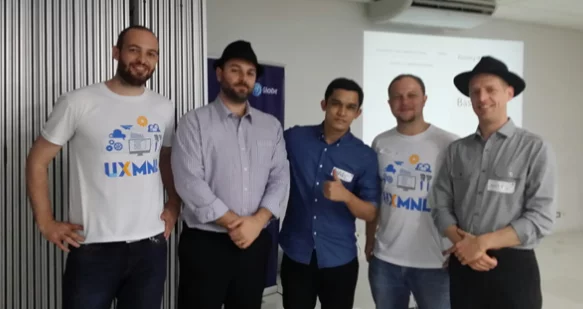 You have probably heard of the term User Experience before and how it might influence your business, improve customer retention and create a seamless experience for your users. Whether you are a beginner looking to get into UX or have experience to some degree, I believe it is something that is worth knowing and can apply anywhere you go. It's a culture that needs to be adapted by companies that would like to improve the experience they are delivering to their customers.
UXMNL.com held a fantastic workshop for UX. They invited Luke Chambers and Matt Magain from UXMastery.com. They are two of the most renowned professionals in the industry.
Matt and Luke demonstrating how an interview should go
In case you missed it, here is a breakdown of what was covered in the workshop:
What is User Experience?
I'll go with the definition the UX Mastery Pros used:
"User Experience is the what, where, when, why, and how someone uses a product, as well as who that person is. It's everything that affects a user's interaction with a product."
The UX Iceberg
The UX Iceberg digs a whole lot deeper than just visual design. Visual design is the surface that we all see, but underneath it, lies an entire process and methodologies to ensure that the experience that users have with your product or brand is controlled and aligned with your business goals.
The 5 elements are:
Surface – Visual Design
Skeleton – UI, navigation and content requirements
Structure – Interaction design and Information Architecture
Scope – Functional Specs and Content Requirements
Strategy – Site objectives and user needs
Knowing who your users are, and their objectives, plays a key role in your strategy and research. That is what UX is all about, getting to know your users and their behavior. Once you know that, it will be easier to pave the way to a seamless experience for your users.
The UX Lifecycle Phases
As you can probably tell by now, UX is about user research and feedback, understanding what your users goals are, strategizing on how to improve that experience through iterations and using a process that will help you reach your goals. Communication is key throughout this entire process.
Strategy
It is one of the most important phases of the process. Getting to know your product, identifying your objectives, defining what success looks like and how to measure it.
Research
It is the most insightful phase in the process. Conducting interviews and surveys among other things, you can get valuable data that will help you shape your project and make intelligent decisions in the next few steps of the UX lifecycle.
Analysis
Like marketing, UX also makes use of personas to group users and goals. This phase is where all your research aligns and become clear. It validates any concerns and assumptions that you may have had instead of going blinded.
Design
This phase involves collecting the data in the first few processes and creating the workflow, prototypes, wireframes and ideations. It's the user interface sketching and a step forward to the actual interface for development and testing.
Production
After data research, the developers and surface designers will get to work on development. This is also a phase where the beta is launched.
Evaluation
The best way to improve your user experience is by constantly testing. In this phase, we should be evaluating the experience and testing by repeating the process from research to design. This will lead to more feedback from users, better iterations and in the end, a great user experience.
Launch
Once the output meets requirements and metrics, it is now ready to be launched. It is still beneficial to keep on testing.
Attendees participating in activities
This is just the beginning of User Experience and what is involved in it. And it's what makes things more interesting. It relies heavily on actual user feedback, interaction with your design and there are no hunches or assumptions. Each step you take needs to be backed up by pure data.
The workshop included several activities and processes that are used by User Experience designers. If you are interested in becoming a UX professional, I would suggest starting to read up on the following:
Hunt Statement
User Interviews
Affinity Mapping
Sketching
Story Boards
UI Flow
Paper Prototyping
Usability Testing
A few soft skill that you need to have to become a UX practitioner:
sketching
storytelling
critiquing
presenting
facilitating
Another way to get started is by attending these workshops and conferences. It's a great experience and not only will you learn from the experts, you get to build your network and ask questions directly to key people. So be sure to keep an eye out for other UXMNL events!
Overall, the event was a great experience to learn and meet industry professionals. It was followed by a social mixer at the Ill Ponticello, with an open bar and overflowing discussions with smart people!
L to R: Phil Smithson, Luke Chambers, Me (Marc), Russell Morgan and Matt Magain
Big thanks to Russell Morgan, Phil Smithson, Matt Magain, Luke Chambers and their teams for organizing this event. It was great meeting you guys and see you all at the next one!