Matt Cutts Advises Webmasters to Mass Disavow Suspicious Links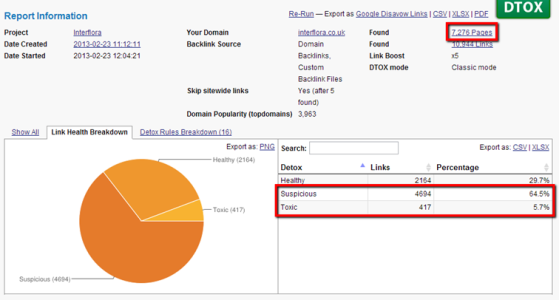 Mass-publishing advertorials and paying for links or used to be an effective way to build up a website's link profile, but Google has become more critical about link quality and quantity. Earlier this year, they penalized Interfloral, a popular floral website in the UK, for buying a massive amount of advertorial and blog post links over the years.
According to a case study created by Link Research Tools, 70% of Interflora's links were "Suspicious" or "Toxic".
The penalty affected their website's search visibility, keyword rankings, and website traffic so severely that many SEOs and webmasters were surprised to see how quickly they recovered their rankings. Their pages started reappearing in Google's search engine results pages just 11 days after being penalized.
This chart shows how badly the penalty affected Interflora's search visibility.
What did Interflora do to recover their rankings? Many experts have asked this question, and some offered their own speculations on what they did differently from the many other websites that are struggling to salvage their rankings months after being penalized. A curious user decided to ask Google's Matt Cutts himself for clarification on the matter by sending him this question:
"How did Interflora turn their ban in 11 days? Can you explain what kind of penalty they had, how did they fix it, as some of us have spent months try to clean things up after an unclear GWT notification."
Cutts did not answer the question directly, saying that they "typically don't call out specific companies very often" and that they "prefer to talk about things in general terms."
His "general" answer offers a simple solution to anyone who received a penalty for suspicious links built over a period of time: mass disavows.
Use Disavow like a Machete, not a Fine-Toothed Comb
Cutts has always advocated the bold use of the disavow tool, advising webmasters on his own blog to use it like a machete instead of a fine-toothed comb. A few weeks ago, he even advised webmasters to go ahead and disavow suspicious links, even if they haven't received a penalty for them yet.
Instead of sending reconsideration requests where you've only pruned a few of your suspicious links, Cutts recommends disavowing entire domains with bad links. If your company paid for massive link building schemes over a certain time frame, Cutts suggests disavowing all the links built for that particular period.
How Google Views Mass Disavows
Even though he says that mass disavowing suspicious links is not something he would recommend to everyone, Cutts mentions that doing so may affect how they assess your website's reconsideration request. "If a company were to go back and disavow every single link that they had gotten in 2012," he says, "That's a pretty monumentally, epic, large action." He goes on to say that "if we heard back in a reconsideration request that someone had taken that kind of a strong action, then we could look and say 'Okay, this is something that people are taking seriously.'"
www.youtube.com/embed/oRi1rAI_TmY
If you've received a penalty for building bad links over the years, or if you want to clean up your backlink profile even before Google penalizes your website, our advanced SEO services may be just what you need. We can assess your current link profile, identify any toxic links, and disavow them for you.