Perfect Fit: Why Personalization Is So Important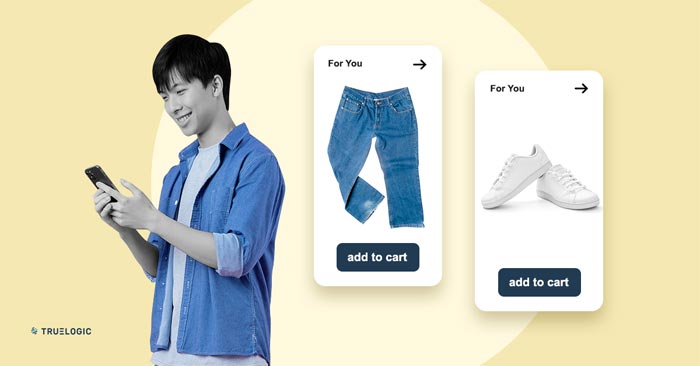 Have you ever purchased something on an e-commerce website and next time you log onto that same site, receive suggestions for similar items? Or done a search, clicked on an ad and then suddenly the brand follows you wherever you go on the Internet? This is personalization.
What is personalization?
In the context of digital marketing, personalization is knowing what your potential and existing customers need, want, and are interested in. It is an especially effective tool in any company's digital marketing strategy because it can engage your customers and help you provide them with exactly what they are looking for.
Personalization has grown in usefulness over the past decade, with the Covid-19 pandemic only serving to accelerate the existing trend of online shopping. It also contributed to the uptick in digital behaviors of Internet users. And because businesses can communicate directly with customers, the latter has come to expect more personalized interactions.
How does it work?
When a user enters a search query into Google, for instance, the search engine looks into three things: topic, location, and implicit context. Context plays an essential role in personalized searches. Through a combo of the user's actual search entry and details about the user collected by the search engines (such as time of search and kind of device used), the search engine predicts what the user really wants and attempts to deliver those results.
How does it help a company's digital marketing strategy?
Research reveals that over 70 percent of customers expect companies to deliver personalized interactions. When they don't experience this, they'll just find what they want from somewhere else. About the same percentage of customers expect businesses to see them and communicate with them as individuals. Furthermore, they connect personalization with positive experiences.
When your brand invests in personalization, it shows that you are committed to your relationship with your customers. Just as important is that this tool drives a revenue boost of 10 to 15 percent, depending on the company itself, the sector to which it belongs, and its ability to execute the strategy.
With personalization, each customer has a unique experience that fosters loyalty to your brand, encouraging them to buy from you again, resulting in higher sales.
In fact, business strategy firm Boston Consulting Group projected that $800 billion in revenue would go to the 15 percent of companies that successfully implement personalization.
How can my company gain an edge in terms of personalization?
With the amount of competition out there, you are faced with the question of how to apply personalization in an effective way. Below are some tips to keep in mind:
Produce smart content
Smart content refers to features of an email, landing page, or ad that can be manipulated based on a user's past behavior or pattern of interest. The goal here is to create tailor-made content.
Create personalized videos
Videos are great tools for personalization; users of all ages engage with videos. Personalized videos are among the best forms of interactive marketing since visuals help users retain the conveyed message better. When you send customer-tailored videos, the experience will be positive, motivating them to share them with others. In certain instances, this may be the impetus for a viral campaign.
Use AI chatbots
Invest in automated programs such as those found in apps like WhatsApp, WeChat, Facebook Messenger, or on certain websites. This allows users to get helpful information immediately, thereby increasing their chances of engaging leads. Chatbots also help provide the user with a personalized experience with your brand.
Try exit intent pop-ups
Normally, most first-time visitors going to your website is not there to make a purchase but only to learn more about your product or service. In fact, only one percent plan to buy something. When a user is about to leave your website, an exit-intent pop-up increases the likelihood of getting leads. According to data, such a pop-up can re-engage 35 percent of lost visitors.
Best practice online store
Let's look at one particular e-commerce website, Shopee, most prevalent in the Southeast Asian region.
Founded only seven years ago, Shopee's platform value was estimated at $38 billion and is projected to breach the $150 billion mark by 2025. Its enormous base of active users provides an idea of the high mobile internet usage in Southeast Asia.
This platform offers a personalized experience for users. Shopee utilizes data and AI to find patterns and insights from the browsing and purchase history of users, which they then use to provide them with singular shopping experiences. Interactive experiences on the site further engage customers and create brand affinity. For example, Shopee Live is a live-streaming feature where selected sellers show off their wares; Shopee Feed is a space where users can share content on things they are selling or buying with a larger community, and Live Chat is a function that allows buyers to contact sellers directly and find out what they want to know before and after making purchases. Shopee also provides ease of use by offering payment modes like Shopee Pay, a mobile wallet that guarantees a level of security for customers.
The bottom line
Personalization offers an array of benefits to your business, such as a higher return on investment and a higher rate of conversion from leading to paying customers. However, the main point of marketing is knowing your customer. Ensure first that they are satisfied with your service or product; get their feedback (through surveys, for instance) for possible areas of improvement.
Before you spend valuable time and money on personalization efforts, also consider first what problems you believe it can solve. Know that personalization entails much work, such as data collection, analysis, and targeting. Be aware also that B2B personalization differs from that of B2C because there is more than one decision-maker in the former.