Pinterest Ads Not on the Market Yet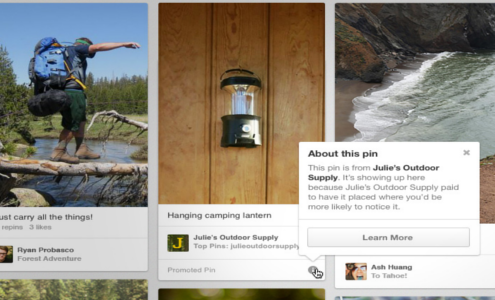 Pinterest started testing their paid ads, also known as Promoted Pins, back in October 2013. The popular content curation platform still hasn't put their ads up for sale yet, but a Ad Age reports that the company is asking for spending commitments from $1M to $2M, and $30-40 per impression (CPM).
Ad Age says "The pricing makes it clear that Pinterest intends to have a premium ad offering, similar to Instagram — at least for now." Instagram also started testing its paid ads in October 2013, with big brands like Levi's, Burberry, General Electric, and Adidas as their initial advertisers. According to Wall Street Journal, Pinterest Head of Partnerships, Joanne Bradford, said the company's goal "is to build ads that can themselves be fashioned into works of art—akin to ads for Absolut Vodka that a young person might tear from a magazine and stick on a wall."
It's good to see that Pinterest is still keeping their paid ads in line with the four characteristics of promotional pins that CEO Ben Silbermann listed in October: Tasteful, Transparent, Relevant, and Improved based on [user] feedback.
A select number of advertisers have been testing Promoted Pins to date, including Four Seasons, and Wayfair. Wayfair CEO Niraj Shah said they found that visitors from Pinterest are 20% more valuable than their average visitors in terms of revenue. Pinterest claimed that Four Seasons' promoted pin for a $70,000 hotel package with a private jet trip to Bora Bora was repined more than 9,000 times, and they received 500 requests for a brochure.
Other advertisers that tested promoted pins include Unilever's TRESemmé and Hellmann's brands. The Wall Street Journal reports these brands, along with Wayfair and Four Seasons, are pleased with the results, but none of them have commented on whether or not they would continue advertising on Pinterest.
Whole Foods Market, which has accumulated an impressive following of almost 180,000 users on Pinterest without even paying, is among the brands interested in paid advertising. The company's global social media coordinator, Natanya Anderson, said that they can see the value in paid advertising on Pinterest during promotional and holiday periods, and that paying for ad space may be necessary to stand out because "Pinterest's only going to get bigger and noisier."