Pizza at the Oscars: A Fine Demonstration of Brand Loyalty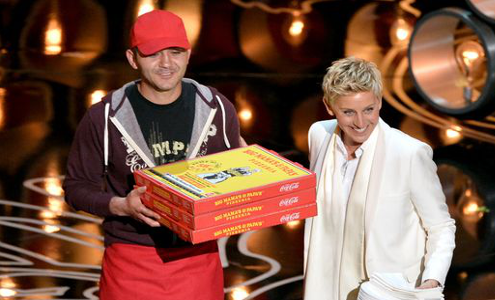 This year's Academy Awards had its fair share of memorable moments, but for the people at Big Mama's and Papa's Pizzeria, there was probably nothing more memorable than Ellen DeGeneres ordering their pizzas for the hungry Oscar stars.
You know my motto- give the people what they want.

— Ellen DeGeneres (@TheEllenShow) March 3, 2014
Ellen could have easily ordered from a more popular pizza chain – in fact, Pizza Hut looked like they were trying to get in on the action when they posted this not-so-subtle Tweet shortly after Ellen joked about ordering pizza:
Did someone say pizza? We got you.

— Pizza Hut (@pizzahut) March 3, 2014
This timely Tweet certainly earned a good number of retweets and favorites, it really can't compare to actually getting that call from Ellen and delivering pizzas to the Academy Awards show. Ellen ordered pizzas from Big Mama's and Papa's Pizzeria, a California-based pizza chain that's known for being the "home of the world's largest pizza".
The 54″ Giant Sicilian! World's Largest Deliverable Pizza!

— Big Mama's & Papa's (@BigMamasNPapas) March 3, 2014
Pizza Hut's attempt would have been more effective if they had @-tagged Ellen herself, or at least used the #Oscars hashtag, to make sure their Tweet was seen right away. I don't think it would have made much of a difference, though; they were up against something that can't easily be swayed: brand loyalty.
Ellen didn't just order a pizza from a random pizzeria in the area. ABC News reports that a Big Mama's and Papa's staff member mentioned that Ellen's talk show "has picked up quite a few pizzas from us," and that "they had us make a giant pizza before for one of her shows." This was a brand that Ellen was already familiar with, and already had a good relationship with. It just goes to show that loyalty to a brand you already know and trust trumps big brand names any day.
The delivery was not paid promotion for Big Mama's and Papa's, nor was it scripted, as it seems the pizzeria was unprepared for it. It took them about 30 minutes after the pizza arrived at the Oscars to start tweeting about the occasion:
#Oscars #BMPP, Thank you Ellen!

— Big Mama's & Papa's (@BigMamasNPapas) March 3, 2014
Edgar Martirosyan, the pizzeria's owner and the man who delivered the pizzas to the Oscars, says he had no clue he'd make an appearance on-stage and hand out pizzas to some of the biggest stars in Hollywood. He appeared as a guest on the Ellen Show on Monday, where he said:
"Yeah, they told me I'm just going to deliver for writers and then when I was there they just told me wait here and you [Ellen] came out…and you said I'm going to let you know when to follow me and I was like, where're we going? You said just follow me and I'm going then I'm on a stage… I was in shock."
Edgar Martirosyan and Ellen DeGeneres at the Oscars (Photo from USA Today)
Big Mama's and Papa's Pizzeria didn't have to do anything special to get this fantastic exposure. They just served great pizza, provided good service, and built a relationship with a very happy customer who just so happens to be Ellen DeGeneres.