TrueLogic Speaks at BLINK Conference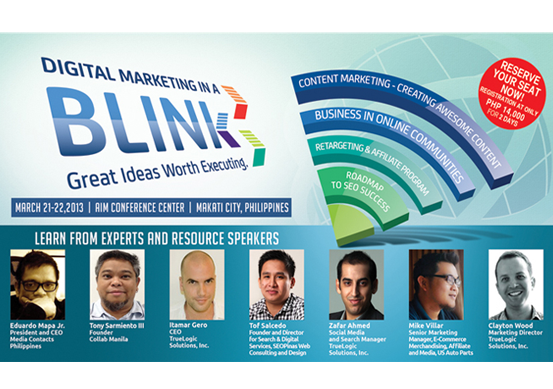 TrueLogic believes our passion for what we do is what drives us forward and keeps us ahead. We are constantly finding ways to stay on top of our game. Testament to this is the recognition we receive time and again from colleagues within and outside the industry. Just recently, our leadership team was asked to keynote speak for the upcoming "Digital Marketing in a BLINK – Great Ideas worth Executing," an event hosted by Fiera de Manila.
An invitation to speak at this event says so much about the reputation TrueLogic and its leadership team has garnered. I sat down with our Sales and Marketing Director, Clayton Wood, and CEO, Itamar Gero, to talk about this great opportunity and how we got here. Our conversation also led to a little preview of the topics they will cover at the two-day seminar scheduled for March 21-22 at the Asian Institute of Management Conference Center in Makati.
Reaping Recognition
"The companies that succeed are those that are able to be dynamic and flexible with fulfillment." This, according to Itamar is the reason TrueLogic remains at the forefront of the industry, and is also why major organizations like Fiera de Manila regularly extends invitations to speak at events. "The people behind that organization recognize the talent we have in the company," he says, "and now, they're giving us another opportunity to share what we know and who we are as a company and individuals in BLINK."
"TrueLogic remains the leader in the industry because our service set reaches across numerous types of marketing and web technologies. Not only do we have expertise in SEO and content, but we have a broad range of paid ad marketing and inbound marketing competencies as well," Clayton added.
Point of Focus
Itamar and Clayton will be leading two different discussions at the seminar. Clayton is part of a panel on day one, covering the topic of 'Creating Awesome Content,' while Itamar will be talking about 'Retargeting and Affiliate Marketing'.
"I'll be talking about content marketing and what great examples of effective content marketing are," Clayton said. "Today's marketing is all about information, and sharing it with your network of connections in real life."
Itamar, on the other hand, will be talking about something he's been doing for over a decade now. "I used to be, and actually still am very active in affiliation. It's a really interesting and technical ecommerce niche, and I'm looking forward to talking about it."
Times Are A Changin'
Change is constant in digital marketing, and our commitment to facing these changes head-on with great flexibility allows us to meet and exceed expectations. My conversation with Clayton and Itamar unsurprisingly led to the topic of how TrueLogic adapts to change in the industry, seeing as it's one of the hot topics the seminar aims to address.
"SEO and digital marketing is becoming more intricate, but it doesn't matter what curveball Google throws at SEO companies," Itamar said. "The first page still exists, it's still achievable, and only the smart ones can achieve it."
"Yeah, Google just repositioned it," according to Clayton, "and contrary to what others are saying; SEO is not dead. Google just repositioned the rankings, and is changing the industry so much. If you're not fast to adopt changes, it might be too late."
Looking Forward
Itamar and Clayton are both excited for the seminar, not just as speakers, but attendees. According to Itamar, "This event is an opportunity to broaden the horizon, develop our network, and ensure we are headed in the right direction."
Digital Marketing in a BLINK – Great Ideas Worth Executing is aimed at helping newbies and professionals involved in digital marketing and advertising "understand concepts, tools, strategies, and techniques in digital marketing through a series of modules led by current experts."
We're proud to say that our leadership team is helping shape the industry.