Turning One-Time Holiday Buyers into Loyal or Repeat Customers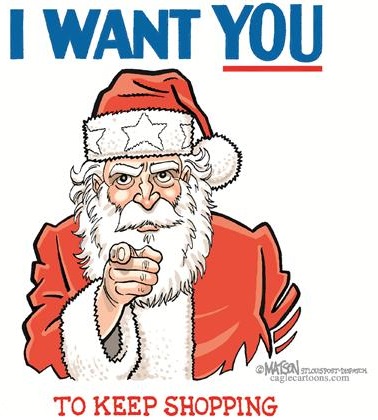 Your ecommerce business will probably get a lot of new customers this holiday season, but this influx of sales is only temporary. Seeing a rapid decline in conversions after when the holidays are over is nothing new, but tapping into the right online marketing channels and using the right strategies can help make the drop less steep.
Customer Personas
Holiday shoppers are usually different from your average shopper. Many of them have never visited your site before, and are only focused on buying a specific item. Turning these single-minded consumers into repeat customers can be challenging if you don't take the time to understand them better. Why would they want to buy from you again? What can you do to make them want to buy from you again? Developing customer personas can help you answer these questions. Here are some of the personas to consider when brainstorming your post-holiday marketing strategy:
The Self-Indulgent: These are the shoppers who like giving people presents that they want to receive themselves, or those who will readily include something they want in their purchase to save on time and shipping costs. Showing them "recommended" or "related" item lists during the conversion process might encourage them to buy more from you.
The Generous Giver: Some shoppers will buy only one item for one friend on your store, but most people will probably buy more than one gift for multiple recipients. Recommending other products or offering shipping discounts for multiple items can help you
The Sharer: Many consumers are will gladly talk about their positive shopping experience or share photos of their favorite products on social networks. Adding sharing buttons and options to your product pages encourages them to post on social networks and can helps you earn more exposure.
Conversion Channels and Strategies
You can use different online marketing channels depending on the persona or market you're targeting, and what kind of content or incentive you want to serve them. These include:
Email: Working with email marketing companies or running your own email campaign has always been a great way to nurture leads. Creating a newsletter that specifically targets first-time buyers or offering exclusive discounts or deals to email subscribers is a good way to keep them coming back to your store.
Social Networks: Social networks are great avenues for communication, engagement, and promotion. Every business needs a social media strategy if they want to succeed. Encouraging first-time buyers to follow you on different social networks allows you to reach out to them on their preferred network. Social networks are also great places to host contests and giveaways.
Remarketing or Retargeting: Serve remarketing (or retargeting) ads are typically served to people who visited your website and left without buying, but it's also possible to use it to get one-time buyers to come back. You can serve remarketing ads featuring new offers or products to these shoppers during Q1 to get them to return to your site after the holidays.
Planning how to make the most of your successful holiday conversions will help your business start Q1 of the following year on a good note. We can help you improve your website's conversion design and develop campaigns that will turn your website's visitors into loyal brand advocates and customers.