Adopting an Agile Mindset in Content Development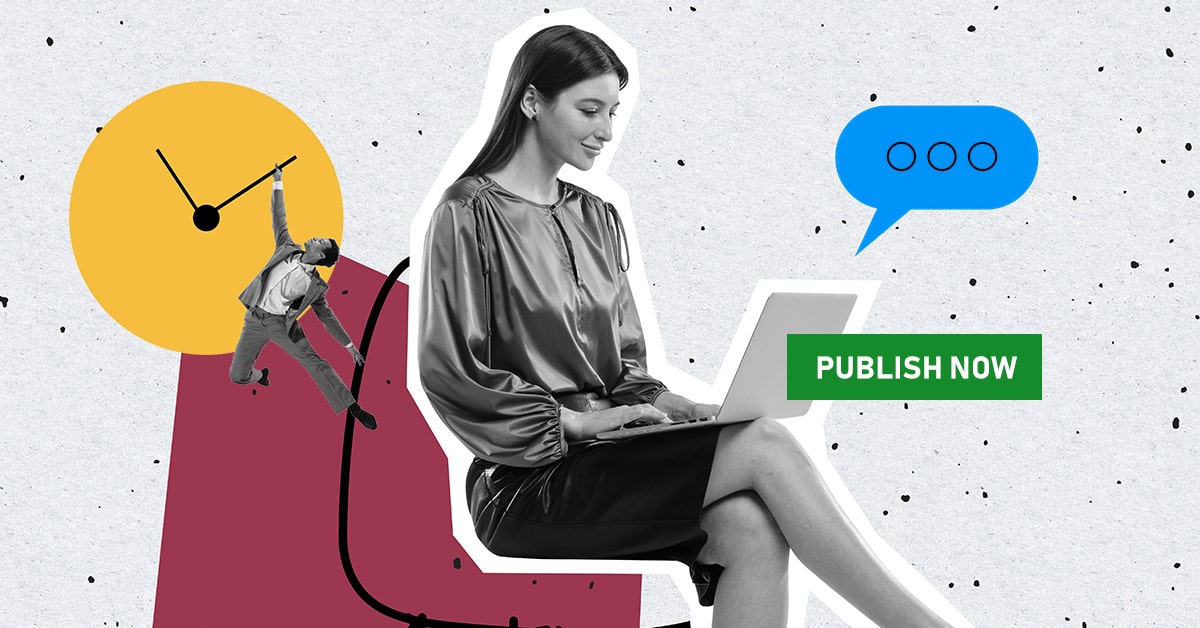 Agile content development is proving that it is not just a buzzword. Marketers who are using agile content marketing intentionally reported being 252% more likely to be successful.
Derived from the agile methodology used in software development, it is increasingly popular in digital marketing as it allows collaborative efforts of testing and is effective at pushing projects forward.
In fact, according to the 4th Annual State of Agile Marketing Report, 51% of marketing teams are agile. However, 50% of marketers also revealed that their biggest challenge is creating content consistently.
What is Agile Content Marketing?
With an aim to complete projects in less time without compromising on quality, agile content marketing uses real-time interactions and behavior monitoring to drive a smarter approach to creating brand content that is focused around the consumer.
Marketers who utilize this have an edge over traditional marketing teams as they can adapt quickly to market changes and produce campaigns at a faster pace because they have better collaboration with their team members.
By engaging with this existing content production process, marketers can ensure they have consistent, high quality and evergreen content that is suited to their needs. Here are some of the best practices for agile content development that will sharpen and improve your content development process.
Follow an iterative process
In 2013, the Standish Group found that agile projects succeeded three times more often than projects that used the traditional waterfall approach. The latter uses a linear and sequential development that starts at the top of the model and then ends at the bottom, reaching several key points along the way. On the other hand, agile uses an iterative process that starts with requirements or assumptions that form the base product. It is simply a series of steps that you repeat – tweaking, and improving your product with each cycle
Each task is assigned to a designated person within a team who would be responsible for the completion of the task. One can take help from the team members but it is entirely the responsibility of the person who has been assigned the task to complete it.
Develop a content strategy
A coherent content strategy is as important as the content you create. Without it, you're randomly throwing content into the void. It needs to be clearly defined before it can be put into action. What you need is to stick to the basics and metrics that matter and let them form your content strategy. This includes the kinds of topics you'll write about, your budget, your guests in the content as well as the goals that you are trying to achieve.
In a customer-centric world, understand what your target audiences want and find ways to provide them with the same. Remember: customers want more from a business than just a product or service. You might also want to create audience personas that you can map each piece of content to.
Publish content consistently
Content is nothing without consistency. While it is important to publish content consistently, you need to be sure the content you are posting is helpful and relevant to your audience. Producing high-quality content consistently establishes authority and credibility which will distinguish you from your competitors.
Just bear in mind that the more frequently you post, the more opportunities you have to engage with your audience. When the content is engaging, the audience will come back for more. In addition to that, Google will understand your website better, leading to higher rankings.
Establish a platform and optimize content
Content comes in different forms so you'll need different channels for your content promotion. The best way to find the right one for your business is to try a few options and see which one works for you.
For others, posting on a social media platform may be a win, for others it's a loss.The main benefit of identifying your platform is that you can easily get data which can help you react quickly and more proactively to the audience feedback. You also have the ability to schedule posts ahead of time and align it with your content calendar.
Capture feedback and be flexible
The term "agile" means the ability to move quickly. Marketing campaigns are dynamic and it keeps on changing. So if it is not giving results, keep experimenting and make the necessary changes. Repeat until you get the expected results.
Going agile also means continuous improvement. Monitor and collect feedback from your audience through your social media interactions, blog post comments, email responses and actively interact with them. This will allow you to create new and relevant content even faster.
In today's data-driven marketing landscape, the value of agile content marketing is clear: you can produce more at a faster rate, and with higher value than before. You can't attract leads and even satisfy your audience unless you're consistent in sharing timely, relevant and captivating content. It's all about being prepared and building a process that will help you go on autopilot
An agile content development process helps you organize and prioritize work so you can produce great content but with purpose. It is indeed a proven method for getting the best results out of the content you made and delighting customers consistently. Using this method allows you to easily change your strategy, according to the new requirements of your audience.
For better content marketing, you shouldn't be afraid of adopting these practices to achieve maximum growth rather than taking a random approach .These tips will surely help you gain a new audience and maintain the engagement of your present customers. It's time to embrace the new.