Truelogic DX Session 2 Recap: Javy Mantecon on Digital Transformation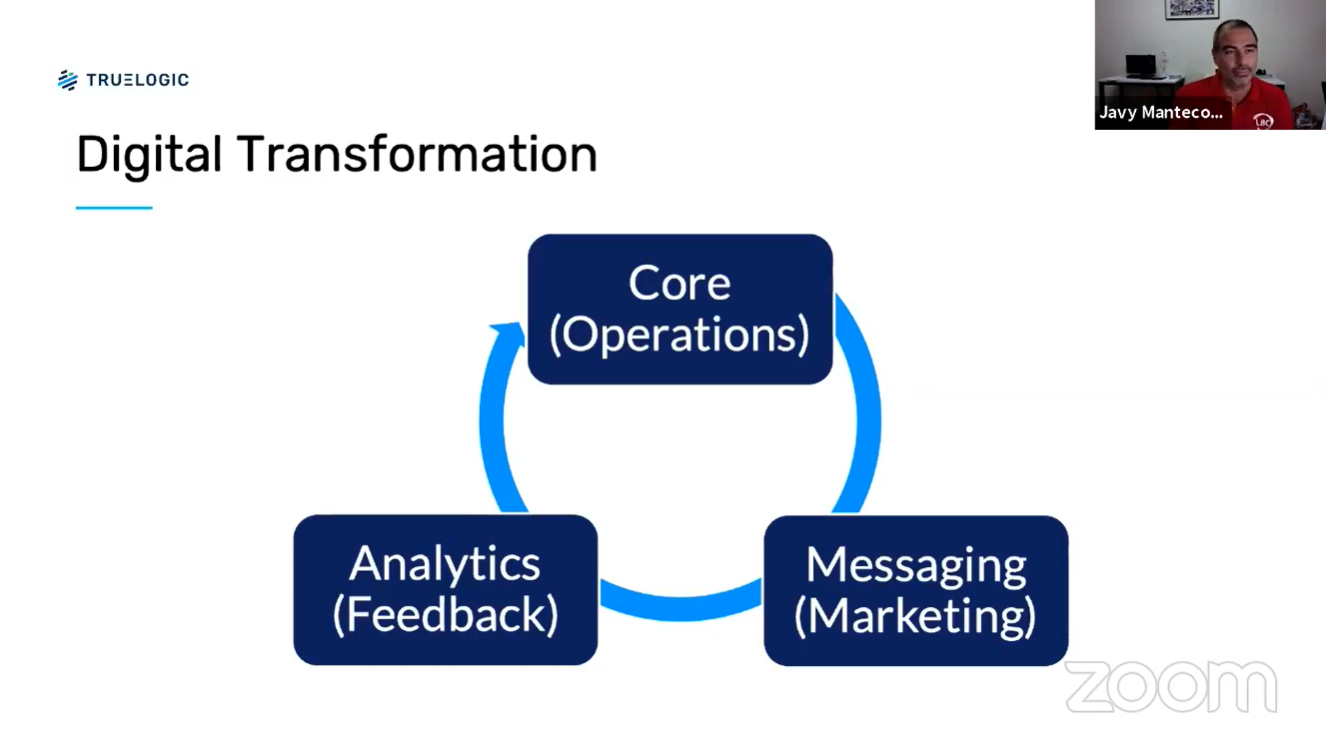 Digital transformation has long been a buzzword that has transcended the IT industry and gone mainstream — including eCommerce. Many businesses in the Philippines, however, have been slower in adopting digital technology in their day-to-day operations.
But now, as the COVID-19 crisis continues to dramatically shift consumer behavior, businesses of all kinds across the country are neck-deep in an economy where digital transformation is necessary to survive and thrive in a post-pandemic world.
How exactly does one make the shift to digital? There's no better company to ask than LBC, an industry leader that recently made a breakthrough transition to the digital space.
Last October 1, 2020, Javy Mantecon, current CMO of LBC, sat down with Bernard San Juan, Managing Partner of Truelogic to discuss the logistics giant's journey to digitizing their operations and marketing.
LBC started its transition to digital three years ago, with Truelogic as their digital marketing partner. Ever since they signed up with Truelogic, we've helped drive more traffic to their website with digital marketing tactics such as search engine optimization, Google Search Console insights, and optimized content creation.
As told by Javy in the webinar, they started digitizing their HR processes before moving on to operations and marketing. Luckily for them, there wasn't any resistance from top management to go digital.
Part of the inertia that pushed them to shift was their drive to continually be an industry leader, following in the steps of first-world countries who have long leveraged the power of innovative technologies to scale their operations. LBC's marketing team also realized that their ads were set up but their website was not optimized for a huge chunk of their customers who were online.
Once they got the buy-in from senior management, Javy stated it was just a matter of asking themselves, "How are we going to do this and execute it well?"
The first thing they did was to look for partners. They chose to outsource work to keep up with the times and reserve their core for operational requirements. A huge factor in their selection process was their desire to scout trailblazers in the digital landscape. As stated by Javy, "It's not just led by cost. The cheapest guy doesn't win." He explained that they looked at companies who will still be pushing innovation five years or ten years down the road. "They have to keep reinventing themselves."
On the topic of budget, Javy advises businesses to define the metrics that they want and focus on those. Specifically, what KPI and what period of an ROI are they looking at? Once they evaluate the measures they're trying to drive and stick to their core, they'll be able to mathematically compute their ROI.
When asked about the most challenging part about going digital, Javy says it's really about letting people understand the need for change and the benefits that it will bring to the organization. He emphasizes the importance of cascading information from the managers all the way to the frontline staff – be it through motivational talks or coaching sessions. Systems are easy to buy but to maximize their full potential, frontline staff need to understand the importance of the data they put in. Only then can companies execute digital transformation well and leverage its benefits to grow their organization.
Finally, when asked about LBC's reaction with their results post-digital transformation, Javy says that they're very happy with their ROI, especially with the effects of the pandemic. They've launched several online services after going digital and experienced much more growth that wasn't part of their projections. For instance, they've recently set up LBC So Shop!, a platform dedicated to online sellers in the social sphere. It's meant to streamline logistics, tracking, and collections all in one platform.
Nearing the end of the webinar, Javy parted with some motivation to all entrepreneurs out there: "Commit what you want to commit, and focus…there's a lot of opportunities out there. We should look at the glass half-full. There's still a lot out there for everyone. Stick to your dream and passion. You're the ones changing the world out there."
Customers, the lifeblood of businesses, are now online. Due to the massive potential of the Internet to unlock opportunities for businesses, the transition to digital is no longer an option, but a necessity. LBC made the wise decision three years ago, it's high time for other companies to follow in their footsteps.
"Everybody is pivoting. The smarter ones are the ones who are dedicated, really thinking, and actually making the change."

– Javier Mantecon
Interested to learn more digital marketing tips and tactics from industry experts? Sign up for our next webinar happening on Tuesday, Nov 4, 2020, at 2 pm PHT. We'll have social media guru and Invictus PH's Managing Partner Kankan Ramos dish out the latest trends in social media marketing with Truelogic's Managing Partner, Bernard San Juan.
Limited slots only. Save your seat today by signing up here!
To view the full video of Truelogic DX: Session 2, head over to this link.