This November on Truelogic DX 2021: Prioritizing User Experience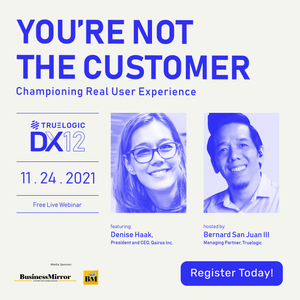 The Missing Piece
When your business is dependent on digital success, you'll take as few chances as possible.
But there might be times you sense – you know – your app or website isn't doing as well as it should.
Say someone is shopping on your ecommerce site and wants to add a product to their cart.
They want to read other customer reviews on the product before checking out.
They cannot find them. So they leave the site.
Now remember the most recent time you went to a newly launched app that has come out on the market.
Before you even got to browse around and explore its features, did the app force you to register? With a very detailed form? With info you think they don't really need?
So you leave, postpone your visit – and the hassle – to another time, or not bother at all.
When you quantify the value of abandoned carts and lost app registrations, you're losing money that's on the table.
Good copy, brande design, and a solid backend might not be enough. You need the right professional to help you find the right solution.
Usability and User Experience

This is probably what's missing: Usability – the quality of a user's experience when interacting with websites, software, apps, or devices.  Without usability principles, it's hard to give a good user experience (UX) on your product, app, or website. They can walk away and not come back.
So why do so few brands and companies invest in UX?
Maybe because they do not see the opportunity cost of not investing in it.
You're Invited 
Come and learn more about usability, user experience (UX), and UI/UX (user interfaces/user experiences) on our November 2021 Truelogic DX webinar called: You're Not the Customer: Championing User Experience.
You'll get to meet Denise Haak, President and CEO of Qairos Inc, a usability design company recently under MullenLowe Treyna. Together with Truelogic Managing Partner Bernard San Juan III, you'll get an enlightening walkthrough on the following:
What UX really is and what it isn't;
Symptoms from your metrics that your app or website is suffering from bad UX
Explicit examples of bad UX that are driving away users and potential customers (as well as good UX that wins customers forever)
How UI/UX influences overall customer experience (CX)
This webinar takes place on Wednesday, November 24, 2021 at 2PM PHT, and as always, registration is free. Visit our registration page to learn more about our speakers and to secure your seat.
Everyone is invited! We hope to see you there.
Visit the Truelogic DX page on our website if you want more information on this webinar series, learn more about past webinar topics, and watch our past editions of the Truelogic DX webinar series.
You can also follow our regular updates on social media pages on Facebook and LinkedIn.