Google Maintains Search Market Share, Bing Continues to Grow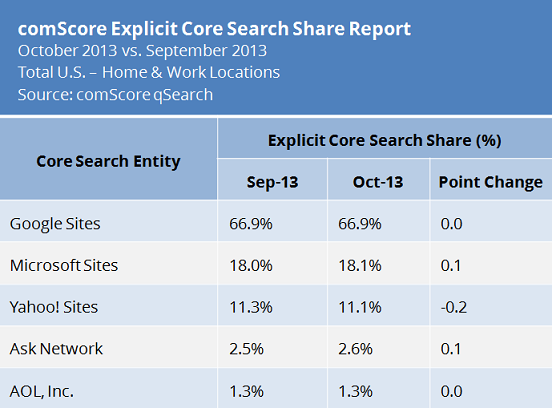 comScore recently released their monthly qSearch report, which provides SEOs and search marketing firms a comprehensive look at the current status of Web Search. The report measures search volume and intensity for major search engines and other leading websites such as Facebook and Wikipedia.
According to the October 2013 report, Google's US search share held steady at 66.9% for the third consecutive month. This is the same percentage of search shares they had in October 2012.
Bing's shares were previously sitting at an average of 16%, but this number has been increasing slowly but steadily this year. In summer 2013, their shares were at 17.9%, but they finally hit the 18% mark for the first time in September. Their shares increased by another 0.1% in October.
Yahoo's shares continue to decrease, hitting an all new low at 11.1%. Ask's shares have been decreasing year after year, but saw a slight increase of 0.1% in October 2013. AOL's shares remain unchanged.
A total of 19.3 billion explicit core searches were conducted in October 2013. Google Sites maintained its lead 12.9 billion queries, with Microsoft Sites ranking second at 3.5 billion queries. Both saw an increase of 4%. Yahoo! Sites came in third with 2.2 billion queries (up by 2%). Ask Network's queries increased by 5%, and AOL, Inc. also saw an increase of 4%.
Google continues to top Bing when it comes to "powered by" results, with 68.4% of all searches being powered by Google and only 27.1% being powered by Bing. An interesting
In the battle of Google vs. Bing "powered by" results, 68.4 percent of all searches conducted were powered by Google, while 27.1 percent were powered by Bing. An interesting fact to note, however, is that Google's "powered by" results actually decreased by 1.1% since last year, while Bing's increased by 2.1%.
Keep up with the latest news and updates in the search market by following our blog and get your website optimized by talking to us today.