Google Search Now Includes Android App Content in Results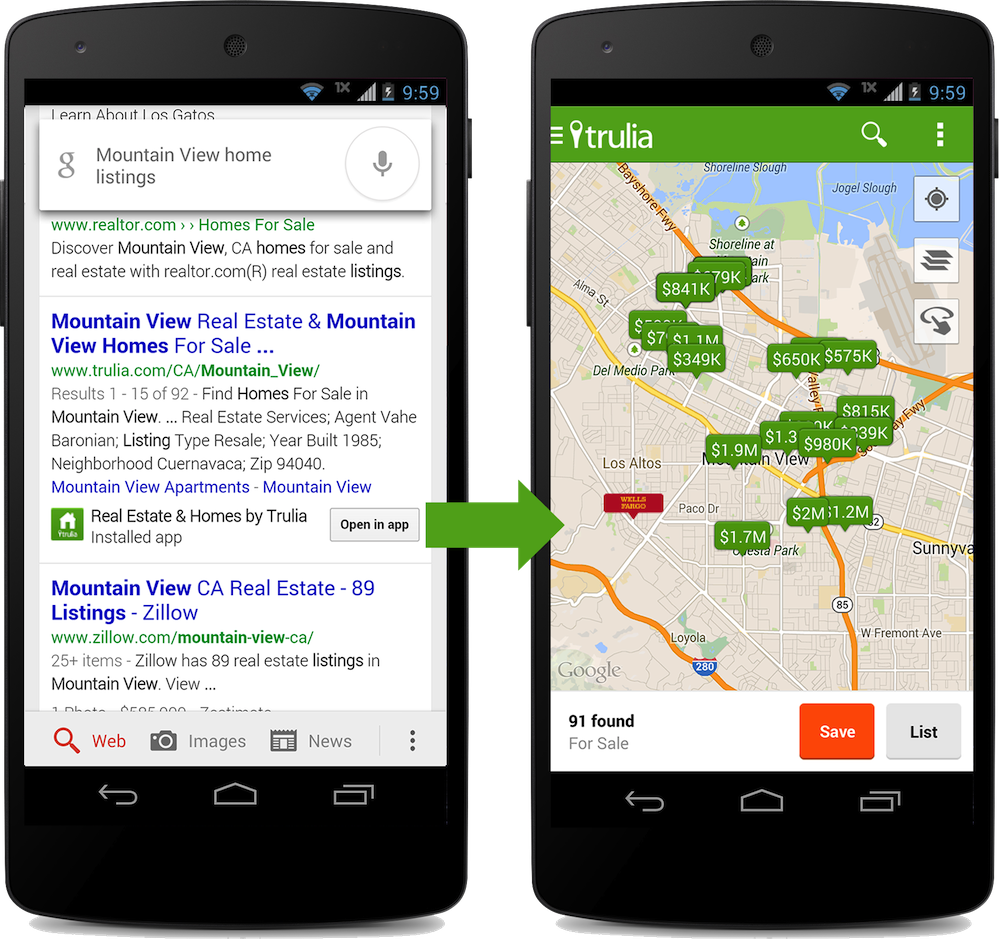 Google search for Android users now includes app content in search results. Search results will now include options to view the content within an installed app, or allow users to quickly install an app into their Android device.
Initial App Content Indexing in October 2013
Google started indexing app content for a select group of developers toward the end of October 2013. This allowed Googlebot to crawl and index app content within Android apps. Developers can specify which app content they want Google to index using Webmaster Tools or their existing Sitemap files.
Opening and Installing Apps from Search Results Pages
If users already have the app installed, the search results will also include an "Open in App" link, which will allow them to fire up the app and view the content there.
(Image taken from the Google Webmaster Central blog)
The "Open in App" feature is still only available for a handful of apps, including:
AllTrails
Allthecooks
Beautylish
Etsy
Expedia
Flixster
Healthtap
IMDb
Moviefone
Newegg
OpenTable
Trulia
Wikipedia
If users don't have the app installed, Google will display information on the app, including user ratings, and a link to the app's install page.
Google says that finding apps in search results is only available to Android 2.3+ users in the U.S., but the screenshot above was taken on my own Android device. The app links definitely show up in search results, but I have not tested any of the apps with "Open in App" feature enabled.
Developers who want to make their digital marketing plan more robust by getting their app content indexed can visit this page and fill out a form to express their interest.
Google's VP of Engineering, Scott Huffman, says that "This is just one step toward bringing apps and the web together, making it even easier to get the right information, regardless of where it's located."