Google Sends Manual Penalty for "Spammy Structured Markup"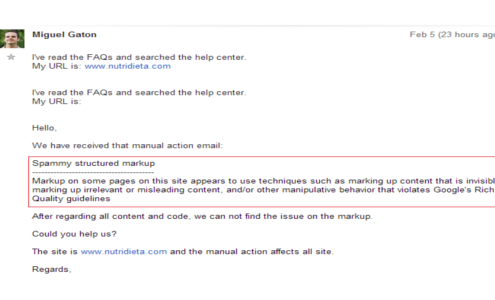 It looks like Google has been cracking down on rich snippet spam more actively, as they seem to have started sending out manual penalty emails for websites with "Spammy Structured Markup".
Website owner Miguel Gaton appears to be the first to bring this new manual penalty into the public's view. In a post at the Google Webmaster Help forums, he posted the penalty's description in full:
"Markup on some pages on this site appears to use techniques such as marking up content that is invisible to users, marking up irrelevant or misleading content, and/or other manipulative behavior that violates Google's Rich Snippet Quality guidelines"
This new manual penalty isn't even listed in the Manual Actions help page, but Google's rich snippet guidelines page does contain a statement about taking manual action against rich snippet abuse:
"While rich snippets are generated algorithmically, we do reserve the right to take manual action (e.g., disable rich snippets for a specific site) in cases where we see abuse, deception, or other actions that hurt the search experience for our users."
The page also reminds webmasters to avoid assuming "that Google approves of a specific deceptive technique just because it isn't included on this page", and advises webmasters to "focus on providing a great user experience rather than on looking for loopholes."
This isn't Google's first move in their efforts to combat rich snippet spam. In January 2012, they started allowing users to report spam in rich snippets using a simple form. In December 2013, they reduced the appearance of authorship snippets by 15%.
What can you do to avoid this penalty?
The best way to avoid getting this penalty is to follow Google's rich snippet guidelines and avoid using snippets in an attempt to manipulate or influence search results. Some of the key takeaways from these guidelines and the forum discussion on Gaton's manual penalty include:
Make sure the markups used are correct and use Google's structured data testing tool to preview your snippets
Rich snippets should be up-to-date, and describe the content in the page accurately
Do not markup content that is misleading or irrelevant (such as fake reviews or content that's unrelated to the page's main focus)
If you're still having trouble implementing markups on your website, talk to us and let our SEO services take care them for you.