SEO and Content Marketing: The Ranking Duo You Need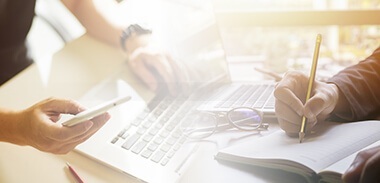 Many businesses often think that SEO and content marketing belong to two opposite sides of the marketing sphere, and that they have to choose one over the other. 
Some leave out content marketing and simply focus their efforts on SEO, and vice versa. Others compare SEO service and content marketing side-by-side to determine which service will offer them more benefits.
This line of thinking is what gets their digital marketing ineffective from the get-go.
SEO and content marketing go hand. Think of these as the oil and engine to a car – the car being your website. If you remove one, you won't get anywhere. 
The same can happen to your marketing efforts if you take out one – lacking and not effective for your website.
It's a Balance of Both Disciplines
SEO and content marketing have a fine line that differentiates one from the other. Let's define how both disciplines work first.
Let's define how both discipline works first.
SEO is the more technical aspect of digital marketing. The process involves finding the right keywords, linking to the appropriate pages and sources, and fixing onsite elements to deliver a great user experience. 
Content marketing is marrying those technical aspects into a holistic strategy to drive more visitors to the website. This involves how you're going to keywords based on the buyer persona of your customers, providing the contextual relevance to your links, and giving your visitors content that will make them stay longer on your site.
Both SEO and content marketing fall under inbound marketing. Still, you've probably asked the question, "How do you use content marketing for SEO?"
Content marketing and SEO services have the same goal – to help you reach your target audience. In certain aspects, these two will intertwine and provide your website the fuel to rank on search results. 
For a successful startup digital marketing strategy, you need to balance SEO and content marketing.
How to Make SEO and Content Marketing Work Together
Organic search is still the most effective way of getting your brand in front of your customers, with organic being the top traffic source for retailers. And at the core of a great organic search strategy is providing your audience with relevant, valuable, and optimized content.
So, how do you leverage both SEO and content marketing for your business?
1. address the needs of your customers.
Savvy-consumers use the internet for one reason: to find information.
To provide the right information to your customers, you need to have the right keywords and make sure these align with the intent of your users. Google knows when you're writing just for the sake of rankings and when you're actually writing content that's useful and unique.
That's why your SEO and content strategy begins with having a buyer persona. A buyer persona is a representation of your ideal customers. It dives into their demographics (age, gender, and location) and psychographics (motivations, pain points, and interests).
In SEO, knowing the buyer persona of your target audience allows you to identify what information they are searching for online.
Let's say you're a catering business in Manila, and you want to rank your website for relevant terms to your business. SEO specialists will recommend queries or keywords that have the highest impressions, position, and monthly volume when they dive into your Search Console.
But, what does this have to do with content marketing? With the keyword data your SEO specialist gathered, you can determine what topics to write about for your content marketing strategy. This allows you to weed out the feel good titles that don't really capture the interest of your audience. In turn, you'll have a better direction on optimizing your content, so it addresses the queries of your audience.
2. become an authority in your target niche.
With the content overload in today's digital world, users are looking for sources that they can trust. High-quality content is what drives good SEO, which, in turn, drives users to your website. Not only does this make your website rank, it also shows that you're a credible source.
The point here is you have to be the one your audience remembers and goes to when they think about a certain subject.
Content marketing and SEO allow you to leverage two things: expertise and visibility.
Through strategic content creation and distribution, you can position yourself as an expert in your niche. When you combine this with SEO, you can maximize the presence of your content on different channels, so your target audience gravitates towards your brand.
How does content and SEO drive authority to your business?
Providing SEO content writing to key landing pages
Linking your content to industry sources and relevant pages in your website
Networking with industry experts or influencers through influencer marketing
Writing guest posts, press releases, and white papers
Devising a content promotion strategy
Answering questions in communities and forums
The point here is you have to be the one your audience remembers and goes to when they think about a certain subject.
3. identify your long-term goals.
Here's what you need to understand about content marketing—it's not just about publishing and distributing content. There's a strategy to it, and this is further reinforced by SEO.
When you publish a blog post, you shouldn't just focus on getting traffic but also on converting leads. Your marketing efforts should involve conversion optimization, which means aligning your content development and SEO strategy to get qualified traffic that can become a sale.
You need to establish your:
Goals: What is the purpose of your content? What do you want your readers to do? Every piece of content you create for your marketing campaigns should fulfill your goals and match your funnel.
Marketing initiatives: What are your main marketing initiatives? Your content and SEO strategy should directly relate to your other marketing campaigns, so there will be continuity and consistency.
Metrics: How do you know if your current strategy is driving results? SEO specialists and digital marketers have access to different tools, such as Google Analytics, Search Console, Moz, Ahrefs, Siteoscope, and SEMrush, that will help you determine the performance of your current content and SEO efforts—whether or not these are driving ROI to your business. For example, your metrics can be number of visitors, subscriptions, or website ranking.
With a long-term content and SEO strategy, you have a more adaptive approach to engaging your audience and sustaining value that can translate to your business growth.
Key Takeaway: Do You Need SEO and Content Marketing?
Yes.
SEO and content marketing are not exclusive of one another. With SEO and content marketing working together, you can:
Find the right keywords that align with the intent of your audience
Write topics that capture your audience's interest rather than a feel good post that doesn't attract the right traffic
Find opportunities to build your authority in your niche
Plan for a long-term digital marketing strategy backed by the right metrics.
If your SEO consultant tells you to choose one or the other, it's high time you hire a new one. You need both SEO and content to devise a coherent strategy that will fuel your online presence.
Contact us, and we'll show you how the magic of content marketing and SEO works.