SEO Guide for New Websites: The Essentials for Better Rankings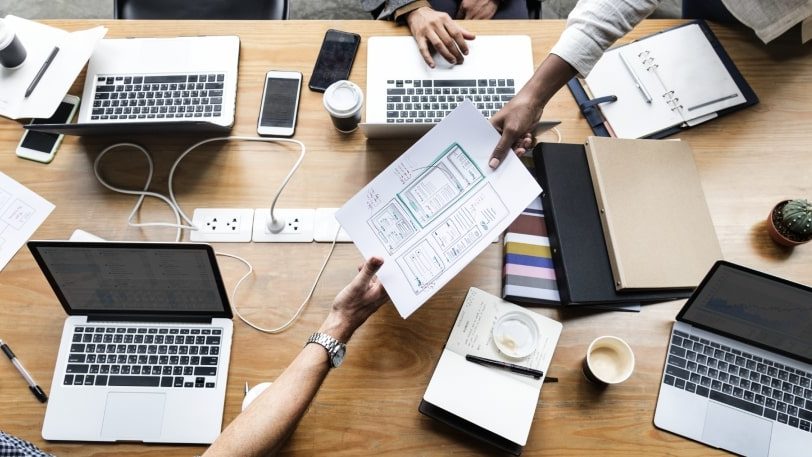 Digital marketing has become an essential part of a business' overall marketing strategy. The company website is the center of these efforts, as this is what receives organic traffic from new and potential customers. In fact, most companies today allocate a portion of their expenses to having a digital marketing budget.
Despite the clear benefits of having a strong online presence, many companies still don't think about including search engine optimization (SEO) in their marketing efforts when to their web design until slow business growth has affected their bottom line.
Part of our mission is to help businesses in their digital transformation, and this starts with an optimized website. We've outlined the key aspects of an SEO website design strategy to provide your business with a platform built for users and search engines.
Getting Started
About 87% of all product searches are happening online, so SEO can no longer be an afterthought in website design.
Building your website with SEO in mind ensures higher online visibility and increased traffic that could lead to conversions—desired actions you want users to take on your website, such as sharing your content on social media, subscribing to a monthly newsletter, or actually making a purchase online.
Domain and Hosting
Ensure your domain makes sense. it should be easy to remember and relevant to your business. When choosing a domain as part of web development services, find one that includes the main keyword you want to rank for.
Choose a web hosting provider that delivers consistent speeds. Having a slow website deters users from exploring your site, which will affect your search engine rankings.
Structuring Your Site
Every website has a structure. When carefully planned, your site structure helps your search engine ranking.
Make sure that a search engine can crawl your site and understand what your website does and talks about. Keep these SEO-friendly design tips in mind as you design your site and before you start working on-page optimization.
Site Architecture
Plan out your site architecture according to topic and level of importance, considering what users might be looking for the most. Most websites follow a hierarchical structure, starting with the homepage and then moving to inner pages of the website.
Prioritize the important pages and consider how easy it will be for visitors to find what they are looking for. A good rule of thumb is to make sure users get to their destination page in three clicks or less from the homepage.
URL Structure
Changing your URLs to a worded structure helps with SEO and enables users to know what your page is about. Structuring your website properly also helps you determine your keyword strategy. For example, consider the hierarchy of the pages of a hair salon's website:
Services (Level 1): www.example.com/services/
Hair Styling (Level 2): www.example.com/hair-styling/
Haircuts (Level 3): www.example.com/hair-styling/haircuts/
Based on the example above, you see the natural progression from a broad keyword to more specific or refined search terms. Research and copywriting are still necessary, but this structure will help create content about the topics in more detail.
Unless you're a magazine or a news delivery website, avoid adding dates to your blog URLs. Use your keywords in the URL, but keep it short and simple. This makes it easier to remember for users. Morevoer, a well-structured URL also helps search engines understand the content of the page. Make sure to standardize or "canonicalize" your URLs that contain duplicate content.
Website Navigation and User Experience
Creating a website that is easy to navigate encourages users to stay longer, which, in turn, sends signals to Google about the credibility of your pages. When Google sees more and more users are visiting and staying on your website, it will help your website rank higher on search results.
What does website design have to do with this, though? One word – navigation.
Your website's navigation affects how a search engine crawls your site to find content. The easier it is to index your site, the quicker your website will appear on the search results page.
Ensure that your website is easy to navigate by checking the following elements:
Clean, organized layout
Fast loading speed
Access to all types of visitors
Easy access to site elements such as tags and categories
Focus on content
Keyword Research
A well-optimized website displays topics in a manner that's easy to understand for users. The principal strategy behind this is to pinpoint keywords and phrases that will help you rank higher on a Google (or any other search engine) search. That's where keyword research comes in.
Invest time in conducting keyword research to identify which keywords you want your website to rank for. SEO tools such as Ahrefs and Google Ads will help you estimate the amount of traffic and competition each keyword generates.
When choosing keywords, be specific. The longer the keyword is, the less the competition and the more targeted your target visitors will be. For example, aiming to rank for "affordable hairstyling services Manila" is more specific and probably more useful to you than "hairstyling services."
Keep Your Web Design Mobile-Friendly
People these days are browsing websites more often on their phones than on desktop computers, so a mobile-friendly website is imperative. The content and information should remain the same, but the layout is displayed and arranged based on the screen size of the user's phone.
Other ways you can make your web design mobile-friendly:
 Make sure your page loads quickly
Avoid using Flash
Include a viewport meta tag
Turn off Autocorrect on forms
Make your buttons large enough for mobile
Use large font sizes
Compress your images and CSS
Ensure quick page loading time, usually an average of 7 seconds
Optimizing Your Web Pages
Once you've structured your website correctly, optimizing the web pages becomes easy. Follow this on-page SEO checklist to know which elements to optimize.
HTML Title Tags
The HTML title tag (or Meta title) is the first opportunity for reader engagement; it's what they see first on the search results page. It must be optimized for SEO and should drive them to click on the link to access your website.
To optimize your title tags:
Keep the title around 50 to 60 characters
Place keywords at the beginning of the tag.
Use keywords naturally (avoid awkward phrasing).
Use a divider to separate elements like category and location.
Keep tags consistent across your website.
Meta Description Tags
The Meta description is a snippet that summarizes the content of your page. Search engines show the meta description on search result pages when the phrase the user is searching for has been placed in the description.
When optimizing your Meta description, make sure to keep it within the acceptable length (usually around 155 characters), so it doesn't appear truncated on the results page. The content must truthfully describe the page and include relevant and natural keywords. Consider the user's thought process when crafting your description. For best results, add a call to action that anticipates why the user might want to click on your page.
Headings
Headings are an excellent way to organize your content so that it's readable and easy to scan. Your headings also signal to search engines what your page is about. When inserting keywords in your headings, make sure they read naturally.
Page Content
Website content is what search engines feed on. It must include the keywords you want the page to rank for, but don't overdo it. Stuffing your page with too many keywords makes for poor user experience—and your website will be penalized by Google.
Focus on creating relevant and engaging content that helps the user throughout their stage of the Buyer's Journey. Remember, focus on  what will make them convert. Your goal is to encourage them to take action, whether it is to purchase your product or subscribe to a mailing list.
Search engines like seeing the content of pages updated regularly because this indicates that the website is actively providing valuable information to its audience. This is why part of your SEO content strategy is to go back to old blogs with outdated information, showing old statistics, or trends, and do a quick refresh.
Images
Every image you use on your website gives you more opportunities to optimize your page. Make sure to provide a name that clearly describes the image and use alt text to provide additional information (on your topic, not just about the image). This happens to be especially useful for visually impaired users who can't see the images.
Other things you can do to optimize your images for SEO include using the right image size for fast downloads, optimizing the file size for faster loading, and adding images to your XML map. Optimized images on your site will rank higher on image search results.
Internal Linking
Internal links on your website show search engines how your different pages drive traffic from one page to another. By linking to another page on your website that provides contextually related information, users stay longer on the site.
However, the purpose of internal links isn't only limited to helping users navigate your website better. Internal links help in making pages relevant for their target keywords. This is especially important when using target keywords as anchor texts for specific landing pages.
What's Next?
Once your website is finished, Google will crawl your website, after which the web pages will show up on search engine results. To speed up the process, submit your sitemap through Google Search Console. You can directly share to Google that your website exists.
But do you stop optimizing? No.
SEO is a continuous process. To see the effects of your SEO efforts, you need to do regular SEO hygiene, which includes:
Fixing potential website errors
Improving on-page performance
Building links to authoritative websites
Monitoring results
Set up Analytics tools from the start to gather, monitor, and evaluate data relevant to your SEO goals. Focus on user metrics (time spent on the site, page clicks, conversions, and bounce rates (what pages or actions cause your users to leave the website) to learn what content is most engaging to your users. This will allow you to refine your website and adjust your SEO strategy to get more visibility.
Key Takeaway: Build a Website with SEO in Mind
Getting a high-ranking search result takes time. That's because there is no one-size-fits-all strategy to improve one's company search engine ranking, and not all SEO strategies yield the same results. Used correctly and consistently, SEO can keep your website in front of your customers.
A successful SEO strategy aligns with your business goals and attracts the right audience. This goes hand in hand with an optimized web design and useful, readable content that your readers will appreciate.
Partnering with an expert digital marketing agency that follows the best SEO practices with proven results and proper SEO training may help you avoid extensive and costly redesigns in the future and ensure your website costs stay within your budget.
Need help in building an SEO-friendly website? Get in touch with us for web design and SEO services in the Philippines. We'll help you design a website for better rankings and conversion.