What is the Average Website Cost?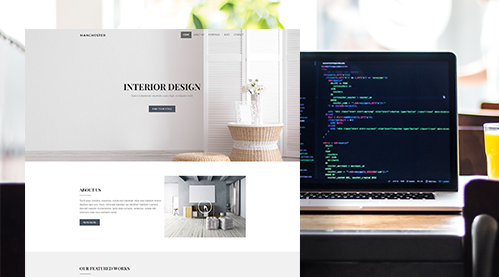 How much of your digital marketing budget should you allocate to website design?
Is it really expensive to build a website?
While some will use overall attractiveness as a benchmark for the website's cost, that's not always the case. You can get a stunning website for free, and still have it competing against the best of the best out there.
But, how much is a website? Or rather, how much does it cost to build a website?
We've put together this guide to help you determine how much to spend on web design services for your business – whether you're planning to get a new website built or improving the one you have now.
Website Cost of Production
The cost of getting a website done
goes beyond the design building
and development aspect.
The scope of your project will allow the digital marketing agency you're going to work with to determine how much time and effort they need to allot for the work. Agencies often provide a creative or web design brief to identify the scope of your project and provide you with a basis for website design costs.
The timeframe and labor that goes into the web design work are important factors to determine if you're getting your money's worth:
How will the Agency help you?
The cost of getting a website done goes beyond the design building and development aspect. A part of it will also cover project management to ensure you're updated in every step of the way. To kick off your website development project, you'll need the following:
Deliverables – These are processes that go into how your website will be built by the agency. This should show a breakdown of smaller steps to develop your website.
Delegation – In most cases, digital marketing agencies will assign to you a website development manager who will serve as your point of contact, but it's still important to ask who will be responsible for developing your website.
How long will it take to build a website?
You need to know if you're getting the most of the hours you'll be paying for, which is why there should be a clear timeline for your site's development:
How many hours will go into building the design?
How long does it take to code a website?
How long will it take to complete the content and images needed for the website?
Knowing the timeline helps you align expectations with your developer in terms of whether the features you want are still within the scope of the project and can be done within a realistic deadline. If you have specific requests that may require additional hours or make the work more complicated, the agency may charge you extra for the additional web design work, adding to your overall website development cost.
Website Cost of Expertise
How much is a website done by a freelancer? How much does it cost to hire someone to build a website?
Keep in mind that experts charge their web design services differently, often based on the level of technical and creative skills that go into the work. The difference in expertise is more apparent when you look at the work of a single freelancer versus that of an agency's.
Individual Freelancer
Most freelancers will charge you hourly for web development work. The more features you want to be in your site, the higher the costs – this is mainly because it will take an individual freelancer longer to complete the project.
If you hire an individual freelancer, you may need to hire other specialists for some of the work needed to be delivered for your website, such as content writing and graphics design.
Agency
How much does a website cost when it's designed by a digital marketing agency? Getting web design services from an agency is an entirely different experience than when you work with an individual freelancer.
While agencies are also likely to have hourly rates, most of them have web design packages to choose from. The work will be delegated to different individuals, which means a more stringent process to complete the project. Most importantly, hiring an agency eliminates the need to find other experts to fill in some of the work needed, as you'll have all the expertise you need under one roof.
Design Building
Despite the availability of web design templates, the design building phase still covers a significant cost for your website cost. The agency or freelancer you hire will likely include the following for the overall website development cost:
Website themes – Some website themes are free, but if you want a great-looking, responsive website, better not skimp on this aspect. Website themes are priced around $15 to $1000.
Development – How do you want the site to work? Not all sites are built to have five pages. Depending on the goals and nature of your business, your site will have different features, such as contact forms, secure transaction pages, discount portals, and chat functions. Although some website themes offer such features, you may require further development if you're looking for additional customization options.
Graphics and Content Creation
How much a website costs also depends on the quality of the graphics and content that go in it. Some digital marketing agencies offer high-quality content writing services and graphic design as part of their web design and development packages, but you might also want to set aside a budget that covers both aspects.
Content creation – Are you planning to launch a new website? Or simply improving your existing site? Costs may depend on the amount of content you'll need to populate the website. A standard 300-word blog can cost around $5, while long-form content can cost $15 to $20.
Graphic design – Some web designers use premium stock photos to make your website aesthetically pleasing. Some sites offer free stock photos, but others come at reasonable prices. Shutterstock, for instance, offers a monthly subscription plan that may cost you around $200 to $250.
SEO
Websites may be SEO-ready, but this doesn't mean they'll start ranking. Once your website is up, you'll need SEO to boost its online presence. Some agencies may offer SEO services as an add-on to their website design and development. Others may offer it as an ala carte service.
Keyword research: You need to rank your website based on how you want customers to find your business, and this has to do with the keywords you'll target.
On-page Optimization: This involves optimizing all website elements to ensure optimal performance and improve your site's rankings.
Link Building: This helps your website get traction online by establishing its authority and getting links from authoritative websites.
The average SEO services cost may range from $300 to $1000, and this may depend on the SEO and web design strategy your agency will implement.
Website Costs of Technology
Of course, part of the overall website costs include the tools and platform used for website development. By identifying the features you need versus the features you want, your web designer will be able to come up with a good estimate on your website costs.
Setup
This covers the domain, hosting, and platform that will be used for your website. These are the basic technical foundations of your website – if you don't have these, you don't have a website.
Domain
The domain is the address of your website, which is why it's important to choose a domain name that's unique to your business. The costs to buy a website domain depends on the domain extension (.com, .org, or .info), but in general, you can get a domain from a registrar site for around $5 to $20 per year.
However, if the domain name you want is already taken, you need to buy it from the owner. The downside to this is pre-owned domains can cost roughly up to $1000 (or even more!).
Hosting
You need web hosting to have a server for your website, so your visitors can access it online. But, how much does a website cost to host? This depends on the type of web hosting services you'll get:
Shared Hosting – This type of hosting service means you'll have your website on one web server along with many other websites. The cost for shared hosting ranges from $2 to $10 per month.
Dedicated Hosting – This type of hosting means you'll have an entire server for your website. This can cost you around $75 to $100 per month.
Virtual Private Server (VPS) – This type is a combination of shared and dedicated hosting, but offers more server capacity at a fraction of a cost. The costs for VPS hosting range from $20 to $100 per month.
Depending on the site's size and performance requirements, hosting can vary from $10 per month (Digital Ocean and the likes) to $30 per month with WPEngine that specializes in WordPress hosting. The rate can go higher if the site was to be hosted with one of the big cloud computing providers like Amazons' AWS, Microsoft's Azure, or Google Cloud.
Platform
What platform will be used to build your website? This is one of the factors that can affect your web design costs, as different platforms can offer various features that suit the needs of your website.
WordPress – The most recommended platform for business websites. Using WordPress is completely free; you only need to pay for website hosting.
Wix – An easy to use website builder with readily available templates. It's free to use, but also has paid subscriptions ranging from $5 to $25 for additional features.
Shopify – The most recommended platform for businesses that need an ecommerce website. Shopify has monthly plans that can cost you $10 to $100, depending on the features you want for your website. The overall website development cost will also depend on the agency who builds your Shopify site.
Custom Build – Could be anything from PHP based frameworks, to NodeJS, Ruby on Rails and other programming languages. If your project is basic and doesn't need a lot of heavy lifting, we recommend sticking to the formers.
Maintenance Costs
Your website will always be a work in progress, meaning it will require consistent maintenance. This is why you also need to consider how much it will cost you to maintain a website. This may include:
Your website will always be
a work in progress…
Troubleshooting – When an update to your site suddenly causes it to crash, you need to know what to do and you need to be prepared. Part of this is having a backup system that allows you to restore any data in case your website crashes. Some companies offer website maintenance ranging from $50 to $350 per month, and this depends on the technical services you need.
Updating plugins – If you want to improve certain features of your website, you'll need to add or update some plugins. While there are thousands of free plugins available for WordPress sites, you may want to invest a few bucks for premium plugins so you can maximize their features.
Security updates – It's essential for any website to have security updates to deter malicious activities. Your website developer can add an SSL certificate to secure your site, and the cost for these security features may range from $10 to $300 per year.
Setting Expectations for Your Professional Website
It's important to set your expectations right from the start. When explaining website costs versus expectations to businesses, we like using the wedding analogy:
When you get a website built, think of it as planning a wedding – it can be cheap, beautiful, or fast. You can only get two out of the three.
A website can be cheap and fast, but it's not going to be beautiful. It can be beautiful and fast, but it's not going to be cheap. It can be cheap and beautiful, but don't expect website development to happen in two days.
You don't need a complicated website cost calculator to set your expectations and have a clear understanding of the entire project. Just by using this analogy, you can immediately set expectations based on: budget, timeline, and quality of your web design.
Worried About the Website Development Costs?
Don't be.
Your website is an investment. It's your digital business card, and having one that's well-designed and built to get more customers can provide tremendous opportunities for your business. So, it's worth knowing how much you're going to invest in this project, whether you're planning to redesign your website or getting a new one.
And if you have any more questions, we'd be happy to answer them for you.