Digital Marketing Education: Notable Digital Marketing Courses of 2021 (Part 2)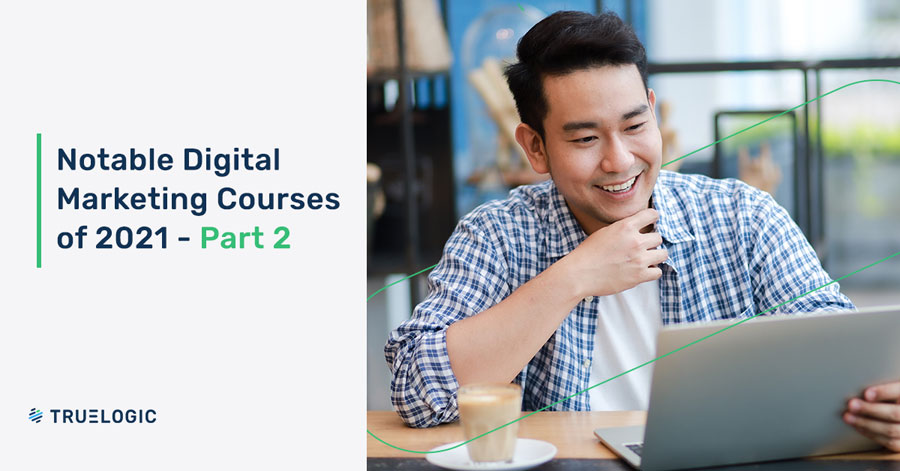 In this second part, we'd like to mention other courses in various segments of digital marketing that you ought to know about.
PPC Marketing
When it comes to pay-per-click (PPC) marketing, Google Ads is essential and Google provides free courses to help you navigate their digital advertising products.
In terms of more structured, paid learning options, PPC practitioners recommend learning the fundamentals from Udemy courses taught by Isaac Rudansky and Kirk Williams.
Isaac Rudansky's most popular course is on Google Ads; he also teaches retargeting, Facebook Ads, and landing page optimization. His Google Ads course, updated up to January 2020, is due for a refresh, but you'll still pick up many lessons along the way.
The other popular choice, Kirk Williams, is head of Zato Marketing; his "Smart Shopping" course will give you a lot of insights on e-commerce advertising and how to make the most of Google Shopping.
For more advanced learning, an important recommendation is Simplilearn's Advanced Pay Per Click Program. Developed and led by digital marketing giants like Brad Geddes, this course runs for about six months and costs US$599. Accredited by Microsoft, Google, and Online Marketing Certified Professionals (OMCP), this highly regarded course leads you through theory, practice across five projects, analytics, and conversion tracking.
Facebook and Instagram Advertising
Although Search still wins the lion's share of all digital ad spend, social advertising is an important tool in every marketer's arsenal.
Facebook, all by itself, is essential learning for digital marketers; its keystone training program, Facebook Blueprint, is free and offers courses, amongst others, in the following areas: community advertising, analytics, strategy, and media buying, The advertising program teaches you to manage ads on Facebook and other applications in its ecosystem, such as Instagram and Messenger.
Note that the courses are free, but the certifications are not. These certification costs are tier-priced, meaning they might be cheaper in certain countries compared to others; you will know what you have to pay when you register for the exam.
Facebook Blueprint offers a wider swathe of technical training than the Coursera Facebook course, which focuses on in-depth social media and community management training.
Social Media Management
Social media monitoring and analysis is an important component of your social media strategy, so no communication plan is complete without knowledge of what your customers are saying. Track what customers say about their brand by searching for keywords and brand mentions – even without a hashtag – and engage the customer.
Tools developed by Hootsuite and Meltwater have been many years in the making – free for the most part, but now paid tools that help small, medium, and even enterprise level businesses automate their social media communications.
Scheduling and automating is easy; focus on learning the social listening and analytics aspects of your social media campaigns. Futurelearn offers short courses that you can consume a few hours a week, like this one on social media analytics. Social media tools such as Buffer also teach you the basics of likes, engagements, and followers; so does Sproutsocial.
Reporting Tools
An essential aspect of digital marketing strategy is campaign study and evaluation. One of the best ways to communicate this is through tools that provide data visualization and help you build your brand's own storytelling.
Google's Data Studio is the mainstay tool, together with your trusty Excel spreadsheets and chart functions. Datacamp and LinkedIn Learning (formerly Lynda.com) have solid training courses on how to work Excel for different kinds of charts; you'll also learn customized formatting skills that help you summarize critical information across several pages or just on one sheet.
A great free resource on data storytelling comes from the Knight Center for Journalism in the Americas. It's meant as a data reporting enrichment tool for journalists, but it's useful for everyone.
More advanced users also look into StoryIQ, which positions itself as a data storytelling tool. Various courses that give you a top-down look on large datase t processing, the insights process, and data visualization techniques can be found here. At the mid and upper management level, there's also Data Story Academy's suite of courses that help sharpen data insights into strategy.
Web and User Experience (UX) Design
Design and development for web and mobile require a good balance between artistic and technical skills – from visual design to knowledge of design software, as well as programming skills in HTML, CSS, and ideally Javascript.
But web design these days is no longer just about web design;  you also have user experience (UX) and customer experience (CX) to consider. Your design efforts must be directed toward optimizing for both of these.
Many platforms offer programming courses on HTML, CSS, and Javascript, but you may be able to skip to courses that teach you the basics of website building software, such as Adobe Dreamweaver or Wix, or move ahead to content management systems such as WordPress.
As a marketer, consider placing strategic effort into learning user experience (or UX design). Skillshare offers a compendium of basic courses on web design and usability, like this one, and so does Coursera.
In terms of industry-recognized courses, check out the offerings at UX Design Institute, which covers visual design, user research, and software fundamentals. These courses will help put you on common ground with a software development team.
Courses to Watch Out For
Digital marketing courses will continue being highly in demand, as companies who take to digital train their sights on growing their digital presence and e-commerce capabilities.
Some of the courses to look out for in the future will be about social advertising platforms such as TikTok, which is rolling out its TikTok for Business program in various territories as we speak. Short format video content creation for advertisers is nothing new for B2C brands and FMCGs and is likely the next frontier for mass-market products. Hence, format and targeting will be crucial.
The other platforms to watch and eventually learn about are Spotify, which offers streaming ad insertions in its products, and which paying subscribers will hear in Spotify's podcast section. This is also true for WhatsApp, the fourth major app in Facebook's ecosystem.
However, if you're still testing the waters and undecided on which Digital Marketing course you'd like to take, there are a ton of free resources available online. At Truelogic, we also provide free webinars monthly through our Truelogic DX to keep you in the know about the shifts in digital trends.
And keep reading our blog to get regular free resources on digital marketing subjects across the spectrum: SEO, PPC, content marketing, social media, and e-mail marketing.
You may also subscribe to our regular newsletter updates by visiting Truelogic's Blog homepage or keep tabs on our content updates by following us on Facebook or LinkedIn.