Digital Marketing Education: Notable Digital Marketing Courses of 2021 (Part 1)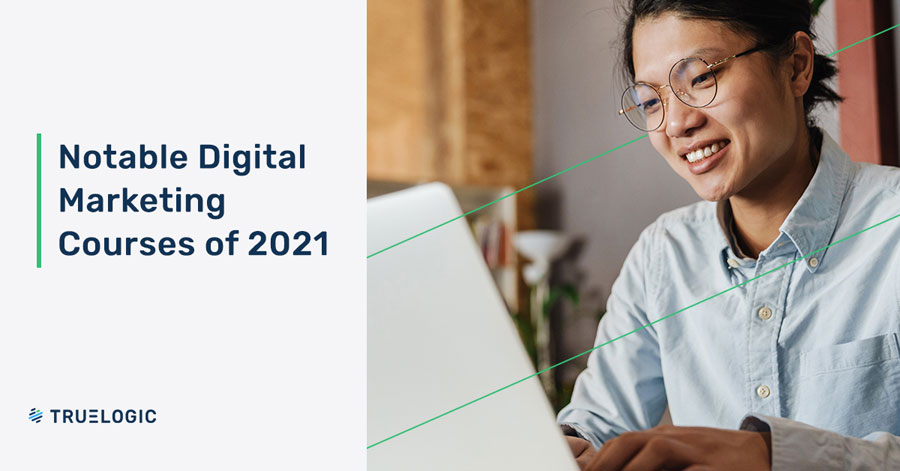 There's never been a better or more important time to upgrade your skills in digital marketing than now. Have you been looking for courses online, but still not sure what to choose?
We've surveyed the most important courses you ought to know about – so you won't have to. Some are free; some are paid. All of them are worth your investment in time and money.
The Google Essentials: Skillshop and Grow with Google 
Google Skillshop offers the essential tools many digital marketers need to pick up the basics.
PPC specialists should immerse themselves in Google Ads, Google Ad Manager, and Google AdMob, while Analytics Academy helps with setting up your analytics, tagging, and reporting/data visualization.
Google My Business is now a must for all businesses, not just small and medium enterprises. With continued improvements and features that allow you to promote events, special offers, and make social media posts, it's a good, free tool to help you build data about your customer's journey without spending a cent.
Grow With Google is a more advanced initiative than Skillshop. Together with Coursera, Google operates a Google Career Certificates Program, which focuses on Project Management, User Experience (UX), Data Science, IT infrastructure, and security.
Courses are offered in English, German, Spanish, and Russian, and form part of Coursera's paid curriculum, Coursera Plus, which can be paid for monthly or on a yearly basis.
Marketing Platforms: Hubspot, Ahrefs, SemRush, and Moz
Several marketing platforms offer digital marketing certifications completely free of charge, with the intent of promoting membership to their software. To date, these courses remain completely free, even if you do not purchase membership to use their full features.
What's more: many recruiters trying to find applicants look specifically for these branded certifications, which can boost your job search opportunities. 
Hubspot Academy is 100 percent free, fully online, with certificates that are usually valid for up to two years (so you are encouraged to update your credentials). It has courses and certifications for both sales and marketing professionals. You can build your knowledge of SEO, content marketing, social media marketing, email marketing, advertising, and analytics, as well as various aspects of sales and marketing strategy.
Semrush Academy goes up squarely against Hubspot, with plenty of courses that can be completed in a few hours or under half a day. They offer free tutorials across the digital marketing spectrum, tips on competitor research, as well as how to apply the knowledge you've learned in helping you expand your digital agency.
Ahrefs Academy focuses on both SEO and Content Marketing. They provide examples of how to generate SEO reports, check on backlinks, and give your overall website a health score. Ahrefs' online tutorials on their website and YouTube are popular for being extremely clear and instructive; they are recommended by many SEOs as the go-to for mastering the basics. They've also developed a popular SEO plugin for WordPress that rivals Yoast's, as well as a free Chrome extension SEO toolbar.
SEO professionals who want to advance their skills can also look at Moz Academy. Moz recommends its Starter Pack in SEO Fundamentals, Local SEO, and Keyword Research for US$149, followed by a Sequel Pack that includes Page Optimization, the basics of Backlinking, and SEO Reporting, costing US$289.
These courses are valuable and they will enhance your use of their platforms. But even if you don't become a paid user, their course content is still useful in helping you master basic and intermediate-level concepts. SEO courses from these platforms are more in demand than ever, with increased online presence from many brands and the spike in e-commerce business creation.
Massive Open Online Courses (MOOCs)
Massive open online courses (MOOCs) have been around for years, but they truly took during the pandemic, giving free access to many courses for university students and laid-off workers hoping to upskill while job-hunting. Some MOOC operators have been around for years, like Coursera and edX. Both offer taster courses, often with the option for a paid certificate; both also offer more in-depth courses that award "micro-qualifications" that can also enhance your resume.
Coursera is the oldest and most well-known brand in this segment. They were also amongst the first to offer a specialization in digital marketing from the University of Illinois that takes about eight months to complete; first known as a single course called "Marketing in a Digital World", this program is now part of a recently launched online iMBA.
Other universities now offer Coursera specializations in Social Media Marketing (Northwestern), SEO (University of California Davis), and general marketing (University of Pennsylvania). Coursera has also partnered with Facebook for courses and specializations on social media, social advertising, and campaign optimization.
Coursera lets you pay for individual courses or specializations, many of which can be paid monthly. Their Coursera Plus subscription option, priced yearly at US$399, is a good way to access many – not all – of their certified courses, and help you save money along the way.
edX, led by an Ivy League consortium spearheaded by Harvard and MIT, also offers marketing courses and specializations from universities around the world, not just in English, and not just in the US. Several digital marketing courses are offered by the University of Maryland, Curtin University, Galileo University, University of Mexico, Hong Kong Polytechnic University, Babson College, and others. Some are packaged as MicroMasters programs that run several months and a certification at the end of the program.
The third-largest MOOC brand is Udacity, which runs a crowdsourced e-learning type of platform, as opposed to university-based online learning. Udacity catalogs their learning tracks according to programs and career specializations, including their own nanodegrees; it also offers private and public sector sponsored training opportunities. Their Digital Marketing nanodegree program has been put together with assistance from Google,  Hootsuite, Hubspot, Mailchimp, Moz, and Facebook.
Just like edX and Coursera, Udacity advises you of the time and cost commitment. While you have to do a bit more research to find the best-rated experts in many digital marketing spheres, many of their courses are already recognized by international companies and organizations.
Other E-learning Platforms   
Let's mention a few other online education platforms that offer digital marketing courses that are worth your while.
Emeritus is a relatively new player in the executive education sphere. Used to Zoom classes for learning? Emeritus combines use of Canvas' learning management system and Zoom to help students track lessons, submit homework, and attend weekly live courses with leading digital marketing academics. At present, they offer Online Digital Marketing courses in partnership with Columbia University, London Business School, Cornell, Kellogg, and National University of Singapore, amongst others. Emeritus reaches mid and senior-level executives, so enrolling with them is also a chance to network professionally.
If you're looking for certification courses closer to home, you've got two choices, with prestigious marketing industry professionals from the Philippines to lead these courses – and they've transitioned to online training too.
Digital Marketers HQ, the Philippines' learning arm of the Digital Marketing Institute in the Philippines  (DMI) offers international-level certifications across all digital marketing strands, including e-commerce, user experience (UX), and analytics.
You may also consider masterclasses, track learning, and certification from the Certified Digital Marketer Program (CDMP), which conducts courses for individuals and organizations in Singapore, Indonesia, India, Vietnam, as well as the Philippines.
Incidentally, Truelogic Managing Partner Bernard San Juan III, together with several of our Truelogic DX webinar guests, teach at either or both of these two programs, which connect you with industry leaders in the country. This gives you plenty of chances at practical learning and insights, both from brand and agency standpoints.
Training and Enrichment
So far we've covered training in the area of general and digital marketing, as well as SEO.
In the next part of the article series, we'll talk about training opportunities in other areas of digital marketing. We'll suggest related specialized courses that will enhance the way you execute your job as an online marketer.