How Effective is Real Estate PPC?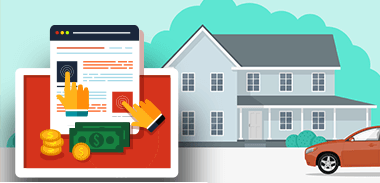 Today's digital marketing landscape offers real estate businesses a rich assortment of options for promoting their brand. Among the most used digital marketing platforms is pay per click advertising, whether it's search ads, banner display ads, or sponsored/promoted social media ads.
Real estate is a very competitive industry. The combination of increasing incomes, fast-developing communities, and competitive real estate prices keep demand relatively steady, even when the economy dips. Some argue real estate is a worthy investment, especially in times of crisis.
Traditional market can help real estate brands with market reach and visibility; ppc strategies for real estate even more so. More and more consumers are turning to the Internet to research property locations and real estate developments.
So how effective is digital marketing for real estate, and more importantly, how effective is real estate PPC?
Does Google Adwords work for real estate?
Historical data from various sources show that real estate PPC campaigns using Google Adwords are, in fact, quite effective.
Wordstream's Google Adwords Industry Benchmark Report for 2020, a PPC study of average click through rate (CTR) and cost per click (CPC) across 21 industries, showed that real estate achieved a 6.19% CTR for Google Search Ads and a 0.59% CTR for Display.
Last month – a month after it publishes its usual yearly study – Wordstream released updated figures on how COVID-19 impacted Google Ads campaigns. Overall, CTRs went up instead of down.
On Google Search, real estate CTR went up to 7.65%, while Google Display CTR rose slightly to .69%. On the other hand, PPC cost per click during COVID-19 went down, averaging US$3.03 on Google Search and US$0.44 on Google Display.
When it comes to conversions, however, real estate showed Google Search Ad and Display Ad CVRs of 3.85% and 0.58%, respectively. These figures are lower than average Google Search and Display CVRs of 5.63% and 0.93%.
This is not surprising, given the current economic climate; it could just mean buyers are waiting for a bit longer to make any purchase-related decisions.
It is also important to note that conversions don't necessarily mean sales. These conversions could be any of the marketing funnel goals that you may have set for your paid media search campaigns. However, each goal converted is a hot ppc real estate lead, and ppc real estate leads, with proper nurturing, can turn into a potential sale.
Why PPC Ads Work for Real Estate
When we think about typical real estate consumer behavior, we realize that the task of finding and narrowing down a real estate purchase entails extensive research on the part of a consumer. If they are on the Internet search, a purchase is likely down the road.
What does this mean exactly in terms of PPC real estate strategy?
PPC helps generate focused leads.
A user who's decided what kind of property they want and will go to their computer or mobile phone, open Google Search, and type in words like "house and lot" or "condo" and their preferred location. If yours is a brand they trust, they'll type in your real estate's brand name.
The search is specific. If they click on your Search or Display ad, and your ad brings them to a landing page, this lead is highly interested in looking at the property and getting more information. This is a focused lead probably worth pursuing.
PPC conversions are usually with intent to buy.
PPC ads can facilitate a customer sale, saving them lots of time.Real estate purchases are a time-, effort-, and money-consuming activity. Very few buyers would waste time clicking on ads and making the commitment to visiting or talking to real estate brokers without planning to buy.
PPC offers a variety of ad platforms that helps generate leads and conversions faster than organic search.
Google Display Ads can create initial brand awareness for new properties you might be launching on a regular basis; you can lead this kind of customer to a pocket or "brochure" part of your website to educate them about your property.
Google Search ads can bring your lead to a sign-up page, where they can leave their information to set up an appointment.
But Search and Display are not the only place where you can advertise. Facebook Lead Ads are also good at funneling interested customers to a page of your choice. Instagram is also a good visual platform for real estate PPC advertisements.
PPC helps you capture leads that are exclusively yours.

A website visitor who clicked on your ad is fully aware that they've clicked on your ad to get information on a potential purchase. Since you have paid for the privilege of their click, the lead is yours to have – and you don't have to share this info with anyone else.
You may get their name and email if they sign up. But even if they don't, you may have customers who have opted in to provide user information, usually in the form of a cookie.
If you have any of this info, you'll be able to retarget and remarket to this customer across various platforms – desktop, mobile, even on various apps that they've downloaded and use regularly.
Key Takeaways
Paid ads can be very effective in promoting real estate businesses. Text ads might garner higher conversion rates than display ads, and Facebook can give you both brand awareness and lead generation opportunities.
A multichannel approach that combines brand awareness strategy (like Facebook and Display), together with mid and bottom-funnel marketing channels (like Google Search) ensures wider coverage and market reach.
We at Truelogic will be happy to guide you through the development and implementation of your real estate PPC campaign. Get in touch with us today and let's discuss the best PPC strategy for your digital marketing needs.
Error: Contact form not found.