Expand Your Reach with Google Ad Extensions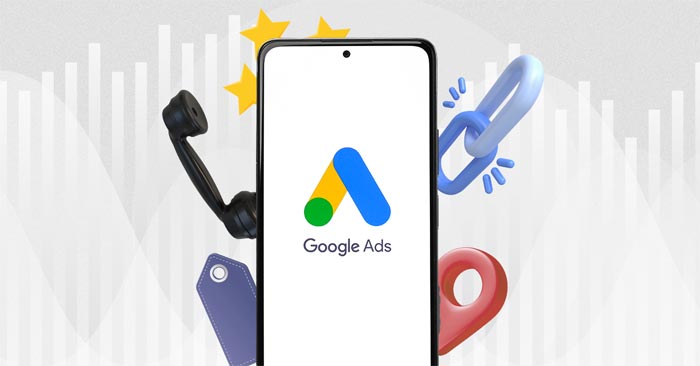 So little space, so much to say.
Brands' advertising and marketing teams always have the undesirable task of maximizing the tiny real estate they're given on Google search results pages. Everyone knows it's not enough to have a URL and a catchy one-sentence description to go with it. You're going to need to stuff all the details you possibly can in that rectangular white space to be able to reach the right people and get them to take the right action (i.e., click on your link and spend time on your web page).
So how, then, do you get this done? We've got three words for you— Google ad extensions.
By the name alone, Google ad extensions do just that. They extend your ad (your ad that's usually composed of a URL and a brief description of what the URL leads to) by allowing you to include more relevant details that matter most to your customers.
Different ad extensions highlight different kinds of information (more on this later). Choosing which ones (yes, you can use more than one extension at a time) all depends on what you want to communicate with your audience from the get-go.
Say you're a logistics company that wants to advertise the services you provide. In a regular Google ad with no extensions, you'll probably only be able to say you're a logistics company that offers a myriad of delivery/courier services. You're left with a very general description of who you are and what you do exactly, so it's unlikely that an ad like that can significantly contribute to the business.
Google ad extensions can let you list down your unique services individually, direct customers to your rates and branch locations, include your contact information, and so much more. Truly, Google ad extensions are the not-so-secret secret weapons every brand with an online presence should be using.
The benefits of Google ad extensions are manifold, but here a few to encourage you to start using them:
They automatically increase your Google ad ranking, and therefore, your ad's visibility on Google search results pages. Google evaluates ads based on the quality of information it provides and subsequently, the usefulness of this to its users. By improving your ad with extensions, you get a nod from the Google algorithm.
They improve lead generation. If all your generic ad can do is attract the wrong customers, you might as well scrap it completely. Google ad extensions make your ad more specific and provide a clearer message of the kinds of products and services you offer; thus, you get the attention of the audience that's best suited to your brand.
They help you control expenses, especially those related to cost-per-click. Because you're able to do more with just one ad (instead of multiple ads you set up for different products and services, for example), you're most cost-efficient. This also factors into improving the click-through-rate by 10-15%, which is another metric Google uses to compute brands' ad rankings.
There are many other good things that await brands that explore Google ad extensions and utilize Google ads marketing. To get the ball rolling, we give you some of the most frequently used extensions and how they help.
Sitelink extensions
Sitelink extensions are what will allow this company to lead customers to specific web pages or parts of their website. Remember that a regular Google ad only has one URL, and it will usually lead to a homepage of some sort.
Sitelink extensions are what will let you lead customers to things like your FAQ section, a virtual showroom if you have one, and your roster of products/services and other relevant information.
The more useful links you're able to include in a single ad, the better because then everything your customers need is readily available to them without them having to dig for this information themselves. Sitelinks make your brand accessible, convenient, and informative.
App extensions
These days, customers are only partly satisfied by websites. What they really enjoy and use more often are apps.
If your brand happens to have an app, great! Use this extension to drive traffic from people who find you online to your app, where it's been proven that it's more likely for customers to spend more time browsing your offerings and completing a potential sale.
Use your Google ad as both an end and as a means of increasing profitability from another platform of yours.
Price extensions
Price extensions are very straightforward but don't underestimate what they can do. They essentially let you list down the prices of your offerings (say, your best-selling items or your most requested services) right away. And while this seems like an "obvious" move, it does so much more than that.
Displaying your prices publicly communicates transparency and legitimacy, and best of all, it invites customers to trust you. It's harder to include hidden fees and other surprise add-ons to your base rates when prices are out for everyone to see, so you're ultimately telling customers what they see is what they get. They can easily include your brand when they're canvassing, and they'll be encouraged to learn more details about what you're selling when they're given prices right away.
Location and affiliate location extensions
Yes, it's still important to be able to show your business HQ address, and the addresses of your local branches, even if you're hoping to build your online presence.
Like price extensions, being open about your business details tells your customers you're for real. It shows you're a legal entity with nothing to hide, a plus in any scenario.
Also, there are businesses with online presence that still rely on on-site visits from customers. Brands that sell appliances, furniture, or cars are great examples of this. But, at other times, there are simply customers that also prefer to see what they purchase in person even though they might have discovered it online.
The very limited number of characters and lines in regular Google ads don't let brands include such information, so location and affiliate location extensions do this job.
Structured snippet extensions
Structured snippet extensions are what let you add additional details that strengthen your lead generation game. The goal is always to get clicks from the right kind of people, and not everybody. Like with many things in digital marketing, quality trumps quantity.
These additional details can be anything you've discovered to be particularly helpful in attracting the right audience. For instance, maybe you want to individually list down your products and services in your Google ad right away, rather than just including a site link extension that directs people to your website page containing the same information.
This way, everyone looking for brands in your industry can automatically see if what you sell is right for them. They no longer have to sift through your website or your socials to figure that out. Customers will know immediately if you're a good match for what they're looking for, with structured snippet extensions serving as a reliable filter for this.
Which type of Google Ad should I use?
With these examples, you might now wonder if using all Google ad extensions is the best idea. The answer is no.
It's possible to shortlist which ones you think will benefit your business the most and do a bit of trial and error. You can also do a competitor check and see what kinds of extensions your fiercest competition is using the most to get a feel of what works and what doesn't. Not all extensions will be relevant (i.e.: a brand that purely operates online will have no use for location extensions), so choose wisely.
In the end, regardless of which extensions you pick and how many you find work for your brand, the advice is to start using them as soon as possible. Take advantage of their simple yet high-impact contributions that enhance the performance and utility of your online assets.