Social Media Management: How Has The Game Changed?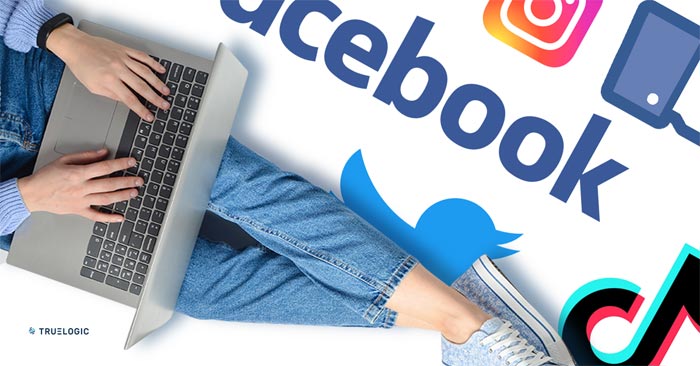 "Social media isn't just a means for people to stay connected despite being physically apart. Neither is it just a tool to disseminate information or provide entertainment. For business owners, social media is a powerful instrument that helps brands reach out to more individuals – educating, informing, and influencing them with a more positive experience with a brand. And this, ultimately, benefits brands with not only greater awareness of their products and services, but also higher conversions," shares Truelogic Social Media Team Lead Heriel Reyes.
Social Media Management: How it Has Changed Over the Years
It may seem like social media platforms have sprouted overnight, but their beginnings can be traced decades back.
Facebook, for instance, was launched in 2004. However, it didn't take hold until 2008, and since then, it has gone through numerous "face lifts." Before, when it came to building an online presence, it was sufficient for business owners to simply make a page and publish a post from time to time. Now, business owners are supported by Facebook Marketing, a sophisticated tool that allows one to become more competitive in the digital space. It's also noticeable how a lot of businesses have started running ads on Facebook.
People likewise initially used Instagram to share photos. Now, it has over a billion members, with tens of millions coming from the Philippines. When your business has a good Instagram following, you have a better chance of selling.
The power and potential of these platforms are immense, especially when it comes to boosting business. And thus, it is necessary for business owners to learn how to maximize their uses.
Learn more about effective social media management.
How Social Media Affect Sales
Why is it important for a business to have a solid social media presence and effective management strategies? Below are some of the most important reasons:
Over 4.62 billion people are on social media worldwide. In the latest Digital 2022 report of social media management firm, Hootsuite and We Are Social, there were already 84 million Facebook accounts in the Philippines, with 19 million users on Instagram.
More than half of social media browsers use social media to search for products.
90% of people on Instagram follow at least one business.
87% of people on Instagram say they use the platform to discover products. 83% of them take action, like making a purchase.
Approximately 1 million Facebook users buy from Facebook every month.
What it Takes to Have Effective Social Media Management
Now that we have an idea of how powerful social media platforms can be, let's talk about what it takes for your business to have effective social media management. Below are some of the strategies to keep in mind:
High-Quality Visuals and Content – Reyes says that "content and the manner by which you deliver them is crucial for your business." For instance, records show that video ads perform better than other ad formats on Facebook. Instagram, on the other hand, is centered on photo-sharing, so striking images are non-negotiable.
Effective Ads and Campaigns – "Each social media platform has its own dashboards where you can push ads, set up a campaign, monitor engagement, or adjust your spending depending on factors, like the number of people you want to reach. Since you pay for ads and campaigns, you need to be certain that you're doing them effectively," she maintains.
Low-quality ads, for instance, can affect engagement, cost, and ultimately, sales. Therefore, many business owners study a specific platform's marketing or hire someone who will focus on them.
High Engagement – Social media marketing can happen even if you don't pay ads. "If people engage with your posts, which means they react, comment, and share them, then more people can reach them. The wider the reach, the better because there's a higher chance you'll find buying customers," advises Reyes.
Automation – Another important thing to consider for effective social media management is automation. Automating posts and campaigns allow you to be more efficient in handling multiple platforms, meaning you can focus more on other things.
How You Make Sure That Your Social Media Platforms Deliver Results
Effective social media management can increase your sales by heaps. The question is, how do you make sure that your businesses' platforms deliver results? Reyes shares some tips:
Your strategies should be based on data and insight – What time are your followers most engaged? Are they mostly men or women? What's the result of your A/B testing? To make sure your posts and campaigns deliver results, base your strategies on data and insights. The good news is that SocMed platforms usually give you relevant data and insights.
Create a unified message by diving deep into your brand – Your autoresponder messages, visuals, captions, and campaigns should match your brand. So, take time in knowing what your brand offers and create a unified message across all things you send to the audience.
Curate high-quality, informative content – Like mentioned earlier, it's not enough that you post something from time to time. People should get something from whatever you post on your social media platforms.
Build a community for increased engagement – How do you encourage engagement and interaction? Build a community. A community empowers members to share ideas and thoughts not just on your brand, but on things that might be relevant to your business. You may use these insights for your next campaign or post.
Social media management might be overwhelming, but don't forget that there are experts and professionals that can support you. Don't hesitate to get in touch with them to make sure that your platforms deliver results.