This July: A Truelogic DX Webinar on Influencer Marketing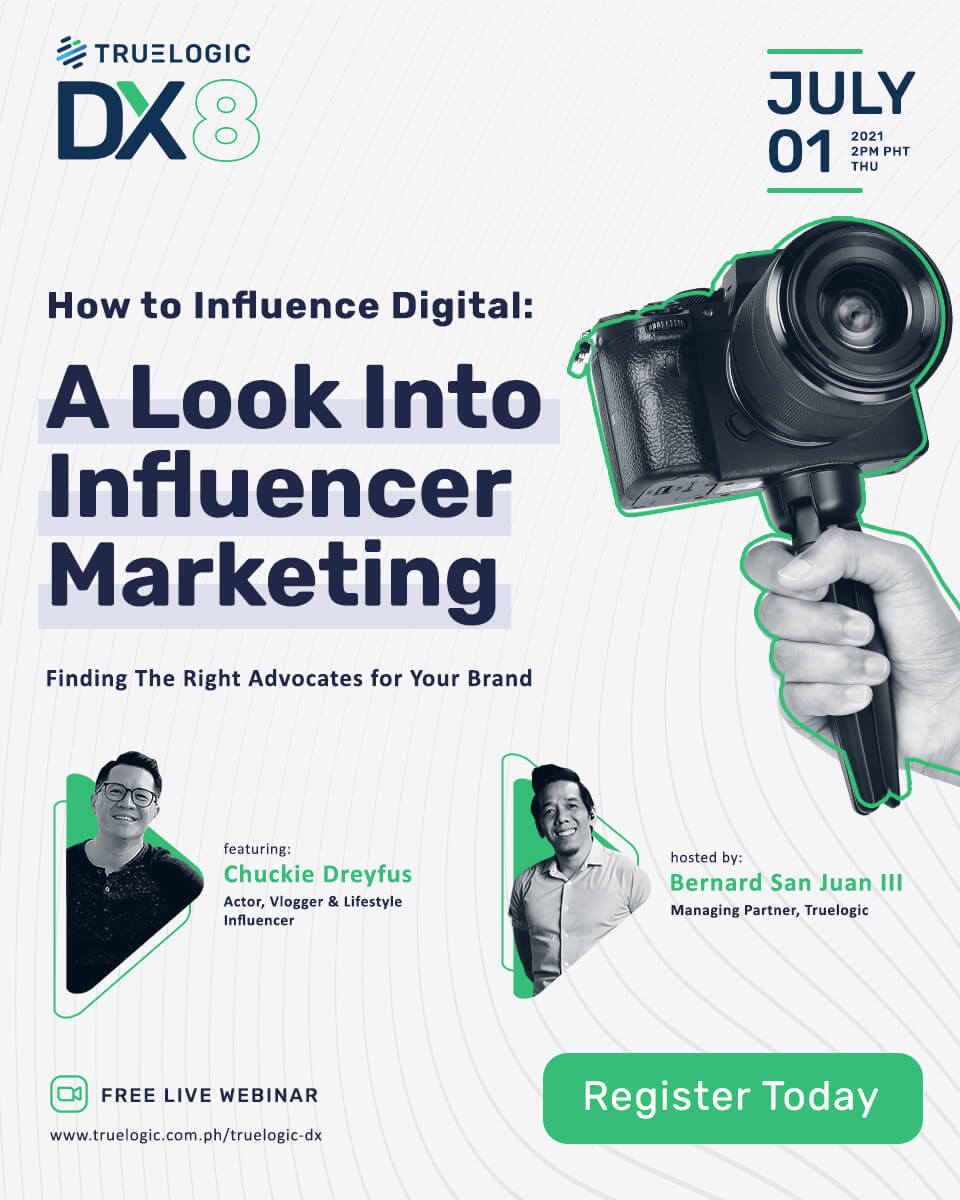 If there's anything that being on digital has shown us marketers, it's that a brand is no longer what a brand says it is.
A brand is also what customers say it is. A brand is what customers talk about with friends and family. It is what they say about it in online communities; in chat rooms; and on reviews they leave for others to read.
In the offline world, PR and marketing professionals use this word of mouth (WOM) to influence people's perception of a brand.
In the digital realm, used correctly, word of mouth – or influencer marketing, as we all know it – has amplified power when it taps the right people.
People with a credible voice and a strong social media presence.
Setting up an influencer marketing campaign isn't as easy as it seems. Many brands have some experience picking the wrong influencers, or not being able to measure the success of an influencer campaign after deploying it.
How to Influence Digital
We want to help you take a closer look at influencer marketing through the eyes of Truelogic – and a guest speaker with plenty of successful, first hand experience collaborating with many Filipino and international brands.
How to Influence Digital: A Look into Influencer Marketing is Truelogic DX's next online webinar, happening on July 1, 2021, at 2 PM PHT.
Truelogic has invited Chuckie Dreyfus, actor, blogger, vlogger, experienced lifestyle influencer and brand ambassador to speak with Bernard San Juan III, Truelogic Managing Partner on the following topics:
Learning the right approach to influencer marketing – match your brand or product to the right influencers, according to your tactical or strategic plans
Communicating with audiences naturally and organically through the influencer's own channels
Fine tuning your messages according to the platform and audiences you plan to reach
Registration is, as always, free –  but seats are limited. Save your seat today; register here.
About our Webinar Speakers
Bernard San Juan III is the Director of Axadra Ventures, Inc and the Managing Partner of Truelogic Inc. He is a web professional and passionate digital advocate with over 20 years of industry experience. Bernard is a prolific speaker on Digital Marketing who delivers SEO training to companies all over the Philippines, on a mission to Digitize the Philippines. Bernard is an Instructor for the IMMAP's Webinar Series, The Digital Marketing Institute, and The Certified Digital Marketing Program.
Chuckie Dreyfus is an actor, blogger, and vlogger, as well as an accomplished songwriter, soundtrack scorer, and musical arranger. He began his career as a child movie actor and later became a variety show performer on That's Entertainment. Chuckie is a member of FILSCAP and operates his own sound engineering and music production business. He creates engaging content on his blog, Facebook, YouTube, and is currently experimenting with live streaming platforms.
Sign up for Truelogic DX's 7th webinar session happening on July 1, 2021 here. Visit Truelogic's DX webinar page to learn about past sessions or to watch replays with previous speakers.