Truelogic DX Recap: Paid Digital Essentials with Laszlo Lim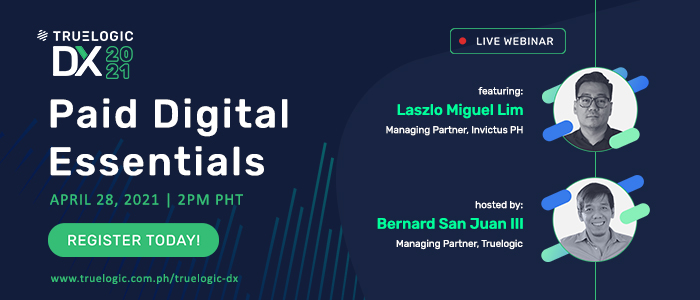 A few weeks ago, on our latest session of Truelogic DX, Truelogic Managing Partner Bernard San Juan III sat down with Invictus Managing Partner Laszlo Miguel Lim to discuss paid media digital campaign essentials.
Laszlo Lim is a veteran digital marketer with experience in content, sales, and strategic planning for businesses in the pharma, automotive, FMCG, F&B, and healthcare industries. Laszlo has earned career milestones in Yehey!, Rappler, and Havas Media Ortega, where he handled campaigns for Globe Business and Globe's digital consumer portfolio. Today, he is co-Managing Partner of Invictus Philippines together with Kankan Ramos, another digital marketing expert who specializes in social marketing.
The discussion touched on many topics, including audience segmentation, choosing buyer personas, testing your messaging, budgeting, and placement.
Here's the recap.
Segmenting Your Audience
Profiling your advertising audiences is your most crucial first step; this is the data you compile to build your buyer personas, says Lim.
An audience matrix (or audience identification matrix) is a great tool for identifying these audiences and crafting tailor-made messages for them. The audience matrix may contain information such as their common behaviors, likes and interests, lifestyle, even the common platforms and devices they use.
As you build this matrix, here are some questions you should be asking yourself:
Aside from basic demographics, how is one audience different from the other?
Does one audience segment appear to have one or more personas? For example, is the persona both a mom and a corporate executive, or a businessman and a "superhero"?
How are they using the product or service that you offer?
Once you have segmented your audiences and identified your target buyer personas, then you can go to the next step, which Lim says, is "figuring out how we would communicate with them, and how we would pique their interest."
Sharpening Reach with Audience Testing
Bernard noted that Truelogic deals with a lot of businesses who are very mature and have very established buyer personas. "[These are] brands that are so good at knowing who their customers are that if they bumped into them on the street they would know."
"And yet we have clients who have a cast-a-wide-net messaging strategy," he continued. "What should motivate a business to start doing that more seriously?" he asked.
"Casting a wide net is good if you're a new brand," says Lim. But while a product may have been intended for a particular segment, this does not stop brands from testing for new audiences.
For example, one can run three different ads and test different messages highlighting a brand's value proposition and unique benefits; then see which ones capture audience interest. And these messages can be adjusted quickly based on campaign insight.
"That's the benefit of digital. You have the ability to give these messages as you define them," Lim says.
"Rather than spend millions on casting a wider net, perhaps you want to test your hypothesis first before breaking the bank", he suggests.
This aspect of building paid media campaigns is "very iterative"; it is an important part of the campaign development process. "You have to continuously improve on what you're doing… You have to learn from what you've been doing in the past," adds Lim.
San Juan asked what medium-sized brands running their own PPC campaigns can do to compete against big brands.
"This is where comms play a large role," says Lim. Locating consumption or need opportunities is the key to creating tailor-made messages for the brand's various personas. "Having that personalized approach will allow you to enter the space that the 'giants' are occupying at any given moment," he adds.
Budgeting Your Paid Media Campaign 
Webinar host Bernard San Juan III asked Lim one of the toughest questions about running paid advertising campaigns – and that is how much of a budget must be set aside.
Lim replied, "I throw back the question; I try to reverse it. What do you want to get out of [your campaign]? What's your KPI?"
If you know what you want to spend to achieve 10,000 engagements or sign-ups, then that's the budget, he says.  "Instead of first looking at a budget [first], look at what you're trying to achieve."
So what about distributing a limited campaign budget to various platforms? "It's about where your customers are most active, and likely where they're going to be most receptive to a particular type of message," Lim answers.
To help you with this, look closely at data projections from the tools you're using. Lim says that thin budgets across multiple platforms may not give you optimal saturation levels. "I may be just getting 'repeats' on these four platforms," he says.
"If it seems like I don't want to go on four platforms, maybe I'll focus on two," says Lim.
Messaging and Channel Placement 
The final parts of the DX discussion focused on message delivery and what platforms to focus on.
"We're such a showbiz culture. When people do media, they must have a celebrity endorser," San Juan remarked. "But when you go to Facebook, and when you go to digital, what you discover is that you get more bang for your buck on the smaller influencers."
Niche influencers tend to have a more intimate relationship with followers. "They know their audience and their audiences who they are – better than the larger celebrities."
Lim agreed. "You use the celebrity endorser to give the hero message," says Lim, to help with ubiquity.
Micro influencers are important because they nurture their relationship with their followers and take pride in helping a brand move forward – especially if they believe in it, he added.
And when it comes to advertising placements, the top choices are clear.
"From an advertising perspective, Facebook is essential now. It is the largest platform where Filipinos are on," Lim adds.
One can also leverage other properties on its ecos
Meanwhile, search-based advertisements on Google Ads are also useful for people who are ready to "take an action".
To help you choose your placement strategy, you may have to explore other attributes of your niche groups or segments. Lim says that food delivery and home improvement, for example, do well on Instagram.
Some brands are now looking at brand exposure tactics using Tiktok, which may have reached penetration rates of 50 percent in the Philippines. "I'm sure brands are already thinking, 'How can I get into Tiktok for a particular audience?'" Lim says.
It's also a matter of whether a brand is a fit for the platform – and whether one would be relatable on these platforms, he says.
To learn more from the Truelogic DX Session 6 on Paid Digital Essentials, watch the replay. You can also find out more about our previous and upcoming Truelogic DX webinars here.