Coming this May: Truelogic's Next DX Webinar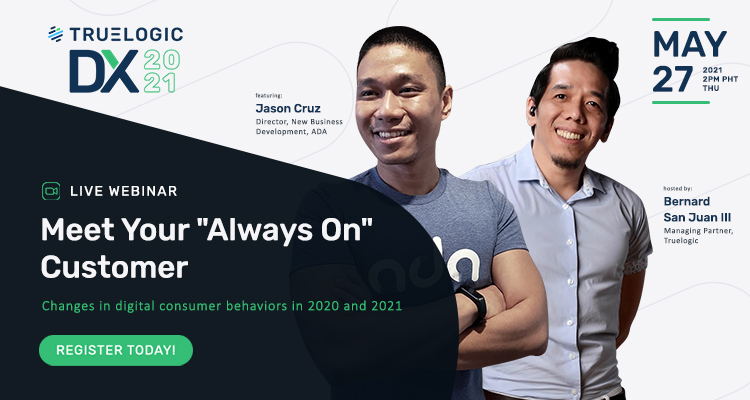 Admit it: it has become harder to profile today's customers.
Your typical opportunities for interaction – gone.
Behavioral data on how individuals spend their day, working from home, taking care of the kids – gone.
What you do know is that they're online much longer, consuming more content and managing more cashless transactions than ever before.
We want to help you understand this customer better.
Now that consumer behavior has adapted to the pandemic, it's time to harness what you do know about your customers – with data to back up your insights.
Sign up for Truelogic DX's 7th webinar, Meet Your "Always On" Customer: Changes in Digital Consumer Behaviors in 2020 and 2021.
Happening on May 27, 2021, this webinar features Truelogic Managing Partner Bernard San Juan III, who will be speaking to Jason Cruz, Director for New Business Development at ADA, about this New Digital Customer.
For more information, visit our Truelogic DX website page to view past webinar topics and watch the replays.