Truelogic DX Recap: Enterprise Social Media – Connecting with Online Customers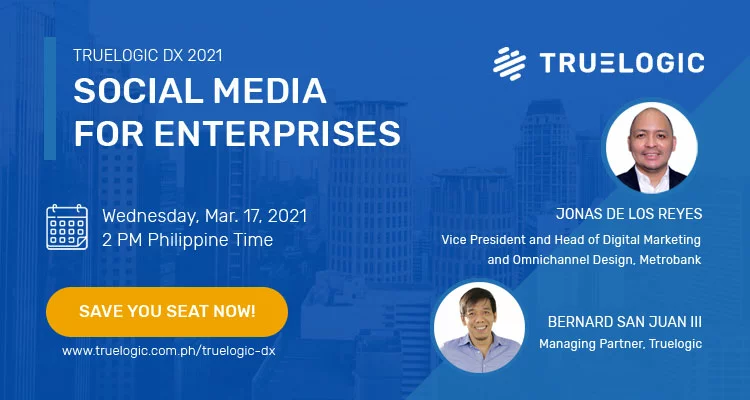 In its first Truelogic DX webinar session of 2021, Truelogic General Manager Bernard San Juan met with Metrobank Vice President of Digital and Omnichannel Design Jonas de los Reyes to speak on the topic of transformation and expanded customer engagement through social media.
Just like other banks in the Philippines, Metrobank had to shut down its branches with the onset of COVID-19 in 2020, then gradually reopen them following existing health guidelines.
Reyes notes that the pandemic exposed companies who had gaps in their technology and digitization plans. Those not in a rush to adapt and embrace more digital tools now had no choice but to do so.
The Banking Industry: Ripe for Disruption
Citing a US independent study on the retail banking industry, Reyes said that one could see years of behavioral shift occurring in a period of less than two months. "That's not even metaphorical; that's actually something that's literal. In two months, everyone had to suddenly rush through transformation," he said.
In the Philippines, online retail banking is still in the early adopter stage – only a small percentage of the total customer base. Yet consumers adapted when they could no longer visit their bank branches, finding other ways of executing bank transactions such as check deposits and peer-to-peer payments.
Online peer to peer transactions have experienced explosive growth in the Philippines. "A lot of mobile wallet [companies] have showed their numbers – and how big GCash and PayMaya are right now – because of this," he said.
Customer Shifts That Are Applicable to Other Industries
The study also observed that online banking consumers who had not used mobile banking before were more likely to do so than branch-only consumers. And this is applicable to any industry reliant on brick-and-mortar sales, said Reyes.
"If you were engaging with a company through their retail/ offline store, their brick-and-mortar store, now, most likely it's going to be flipped. It's not that the branch will not have a role, but [its role] will be redefined. More and more, customers will choose to engage with you online," Reyes explained.
The market's youngest consumers – Generation Z – were also most likely to increase digital banking use.
A generation of digital natives "who have no idea what the world was like world without Internet" will be comfortable using a banking app and be the ones teaching their parents, "This is how you transfer money; you just need to do this," said Reyes.
Connecting With Customers via Social Media
Like other banks, Metrobank had to close its branches during the lockdown, and their customers went online for help.
"The volume of inquiries that we received on social media actually jumped 400 percent. That meant I needed to increase the number of people – the community managers – that I had," Reyes stated. To do this, the bank tapped into staff who couldn't return to their respective branches and gave them community management training.
"With the pandemic happening, my team was ready to utilize, and I mean fully leverage on, the brand website and our social media channels to inform our clients, to publish on a regular basis, and not just that – even drive financial education," he stated.
"You want to drive financial education, because an educated client is a valuable client. And I say client – meaning you keep the person. You don't want them to turn and leave for another company or a competitor."
Many companies acknowledge their hesitation to transform their social media channels into customer service touchpoints, but Reyes says online customer service is core to customer retention and loyalty.
"If I was talking to you, and you tell me you don't want to do customer service, my question for you is: Are you telling me you're willing to spend on acquisition – I mean, creating awareness, influencing consideration, getting the client in…but you don't want to invest in keeping the clients?"
"Customer service is a loyalty play. If you are not there addressing customer service, then what's your loyalty play?" he asks. If customers are on Facebook, then companies should be there, too.  "You have to be there and be ready to respond," he says.
The Crisis as Catalyst for Change

Metrobank is also looking more closely at designing smoother omnichannel banking experiences as customers begin resuming their offline transactions, even if online banking habits have stuck.
When crafting their strategy, Reyes says they look at ways to ensure roll-out so that the experience, whether online or offline, is consistent and the same. "[Everything] is integrated. So if you have silos in the company, how do you deal with silos, and sort of remove walls and ensure clear ways of working with everyone."
"We recognize the need to continuously improve and build on the current banking channels that we have," with an eye on providing additional value and building new products, if possible, Reyes says. For other industries, new products may not be applicable, but "identifying new channels that are relevant to your client base or customer base" is, he adds.
"You should not stop exploring what's happening in the industry and identifying new channels or platforms that can be of value to you."