10 Reasons Your SEO Campaign Isn't Working (And What to Do About Them)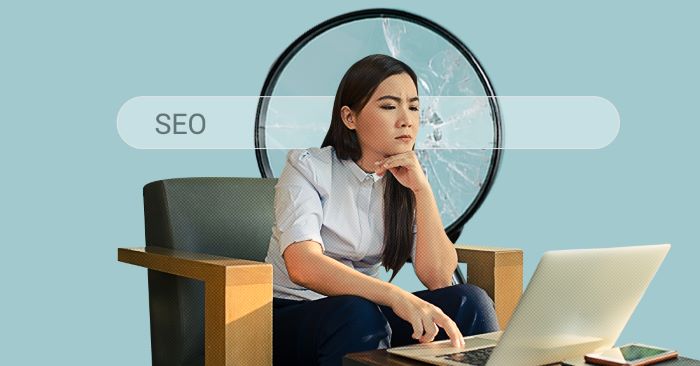 You're considering DIY SEO at this point, or perhaps you hired an SEO company or expert to handle SEO for your business. Your traffic, leads, and revenues have stayed the same in the past three months. You begin to question why your SEO isn't producing results; perhaps SEO is ineffective for your company; or you begin to feel discouraged.
SEO is evolving to reflect changes in search behavior, breakthroughs in search algorithms and AI, and an increase in content creation. It is increasingly being linked with other marketing strategies to provide a fuller experience for users.
To stay on top, revisit all of the major areas of your digital strategy and assess what is and isn't working. The most crucial aspect of winning at SEO is to maintain working on it regularly, rather than letting it gather dust and trying to catch up quickly the next time Google adjusts its algorithm.
We've developed a list of common reasons why an SEO project fails to provide results to assist you through your next audit. We also included some valuable tips.
Your content is poorly written.
The most important ranking factor is still your content. You can get all of the other things right, but without high-quality content, your SEO will fail. The traffic on your website is determined by the viewership percentage of the target audience.
If your content is not unique, plagiarism-free, and free of grammatical errors, your audience may begin to leave your website and may not return. To get the most out of online marketing make sure to write content that people want to engage. So, dedicate enough time, effort, and resources to researching and writing your articles and producing other online material for your brand.
Information is what people are searching for and the foundation of your entire search marketing campaign. Overall, you must ensure that your brand's content is consumable and valuable to your target audience.
You are not keeping up with Google Algorithm updates.
While it is widely known that there are no hard-and-fast rules in SEO, keeping yourself up-to-date with the latest trends and updates to Google's algorithm is a must. You will at the very least have a sense of what to prioritize and avoid. In recent years, for example, video marketing has taken center stage. So, if you haven't yet optimized your channel and videos—or, worse if you haven't created a TikTok or YouTube account—then it's time to prioritize your video SEO.
Many website owners, digital marketers, and SEO strategists are perplexed by the quantity of Algorithm updates released by Google. Regardless of how well-known these algorithms are, failing to comply with them can lead to the failure of your SEO strategy.
With Google updating its search algorithm every year, you must not disregard the fact that these changes have a big impact on your site's search results. Ensure that your website's SEO campaign adheres to the key Google Algorithm upgrades such as Google Panda, Penguin, Hummingbird, Fred, and so on.
You're not targeting the right keywords
Keyword research is integral to an SEO strategy. Just because you could sell your services all over the world doesn't mean it's the best place to start. Find a strategy to differentiate your branding, marketing, and business apart from your competition.
Choose the most appropriate keywords for your industry. Another crucial aspect of identifying your business is to first focus on the local competition before casting your net wider. Focusing solely on ranking for long-tail keywords is outdated advice. Today, the algorithm appears to favor big brands over websites that provide detailed information on a highly particular long-tail keyword.
Establish your authority by guest blogging and creating unique content. A guest post published on the websites of industry giants will provide you with much-needed exposure. Furthermore, if your content satisfactorily addresses customers' questions, they will trust and remain loyal to you.
You're not leveraging social media.
According to Statista, over 91 million Filipinos will become users of social networks by 2026.
The rise of smartphones has made social networking just a finger tap away.
Some social media platforms will help your company more than others, depending on the type of your business and industry. For example, if your brand is visually oriented (such as fashion), having profiles on Instagram and Pinterest should be a top priority. In the meanwhile, you might select social media networks based on your target market. Instagram and Tiktok are especially popular among younger generations.
Publishing content on social media increases the visibility of your brand and opens up a world of opportunities. If readers enjoy your content, it will be extensively read and shared, resulting in increased traffic to your site and lead generation.
You have a problematic link profile.
Today, it is not enough to simply build links. Getting more links does not guarantee the best results.  In the middle of all the algorithm update changes, you need to pay greater attention to the quality of the links you are building.
Building the right link profile for your website, having hyperlinks that attract users to your site, disavowing bad links, and earning backlinks from authoritative websites will make your website fail-proof.
Google is smarter than you believe, and it will ultimately catch up to your technique and punish your website, resulting in the failure of your website's SEO strategy.
Your conversion rate is low.
The last barrier standing between an agnostic visitor and a paying customer is conversion rates. If your conversion rates are low, even if you are receiving thousands of visits from search engine results pages, none of that traffic will result in any meaningful revenue.
Knowing your client's needs and the reason for their visit is the first step in understanding visitor behavior on your website. Your customers expect straightforward responses to their inquiries.
Simply stating it in your articles and a user-friendly website can convince customers to subscribe and buy your products. In addition to clear calls to action, persuasive writing, trust indicators, and social proof can help in converting visitors into buyers.
Your hosting is horrible.
Your hosting provider plays a very important role in how well your website performs in search engines. If the choice of web hosting for your website isn't reliable and competent, you are killing your website's search engine ranking.
Choosing the right web host and investing in a reliable provider is going to be the best decision for your website. So, before making a final decision, be sure to compare the top web hosts on the market.
 Your website is not responsive.
People spend around 5 hours a day on their smartphones while 70% of web traffic comes from mobile phones. This shows that mobile is quickly overtaking desktops in how people are searching and browsing the internet. That makes the responsiveness of your website and its speed particularly important for connecting with customers. You are losing out on a lot of traffic if people can't access your website on mobile devices, which could be a major factor in the failure of your SEO effort.
You're impatient.
On average, it takes a couple of months before you can determine if your SEO strategy is effective. It's normal and expected for you to see a negative ROI throughout your first few months. As you start investing more time into the strategy, your ROI will increase, so don't be concerned unless you're already several months into a strategy with no clear results.
Avoid getting caught up in tunnel vision. Having prospects and conversions are great but that is not the end-all and be-all of SEO. Be a little more patient as there is no shortcut to finding a strategy that works, so be ready to do trial and error as well as some fine-tuning now and then.
 You're working with the wrong person or agency.
Although it can be tempting to see results as your primary ROI indicator, keep in mind the significance of your cost basis. Even outstanding inbound traffic results won't be able to guarantee a profitable outcome for your campaign if you're paying too much for SEO.
Stop searching for cheap SEO companies or choosing a company to market your business based on the lowest price. Instead, partner with a digital agency to help you do SEO, think about building long-term value, creating great experiences, building your brand, and publishing great content.
Make wise investment choices; to plan and carry out your campaign, you can engage with freelancers, an agency, a full-time specialist, or other professionals. Each has benefits and drawbacks. The SEO agency or consulting team that will give you the best chance of succeeding with your SEO is probably not going to be the cheapest, but they will be worth it.
Key Takeaway
We all want our marketing efforts to be successful.
SEO is no different.
These are all things to avoid if you're just starting SEO, and these are all things to correct or resolve if you're currently amid a strategy. Don't be shocked if some fine-tuning is required; there is no guarantee or secret formula for success. Instead, knowing where to resolve issues or what can sink them before or after efforts begin can go a long way toward making it work and unlocking possible chances for marketing and business goals.