Truelogic Episode 42 Recap: S&R vs Landers: Battle of Online Grocery Stores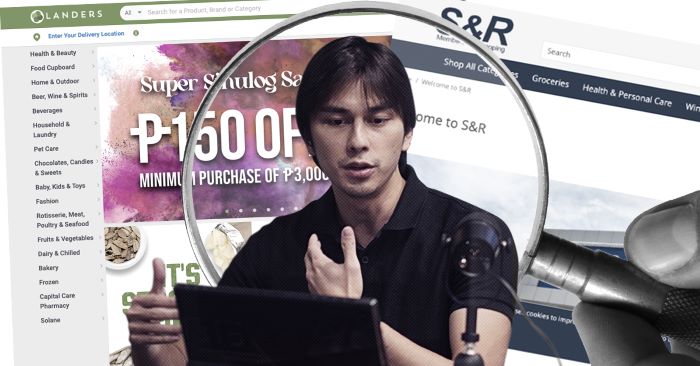 In a battle for the digital marketing crown, a certified mama's boy and SEO expert pits two of the Philippines' fastest-growing membership shopping stores against each other in an attempt to discover who's executing a better SEO strategy to better serve their online customers.
Podcast Transcription
Berns San Juan: Hi, guys, and welcome to another episode of the Truelogic DX Podcast. Today, we're going to be doing a teardown of the online membership grocery stores. So I thought it best to have a guest again. I'm being joined by Timo.
Membership Shopping in the Philippines
Berns San Juan: Hopefully, we are figuring out which one is executing a better SEO strategy to service the customers that they have online. So S&R and Landers, as you might know, are the two fastest-growing membership shopping stores in the Philippines today.
And these online grocery stores have been popular over the past few years, actually for S&R, I think for several years now as more and more Filipinos have embraced membership shopping. So the question is, who's doing better for their online audiences? So we're going to review the sites from the perspective of digital marketing practitioners because that's what I am, and that's what Timo is, among other things. And we're going to take a look at how they present their core offerings and so on and so forth. So if you guys are ready to rumble, let's get this started. It's the battle of the online membership grocery stores on the Truelogic DX podcast.
So let's put them in corners, right? Because I would say on the blue corner is S&R, and on the green corner is Landers. And so, the question I think, generally for the audience is when you say membership shopping, which usually comes to mind for you, guys?
Timothy Uichico: And search in general, when you're searching for a product or when you are searching for membership deals or even cheaper products, who comes into mind is very important.
History of S&R in the Philippines
Berns San Juan: S&R is a membership shopping club that was modeled after warehouse shopping chains in the US. I think it was set up in 2000 in partnership with PriceMart in the US. PriceMart is the first major foreign retailer to enter the Philippine market since the passage of the Retail Trade Act of 2000, which sort of liberalized the retail sector. PriceMart sold its share in the joint venture in 2005, which was then acquired by the Co family in the Philippines way back in '06. And it leads to the S&R that you guys know and loves today, right? And for those of you that don't know, S&R is operated by the same management team that operates Puregold. Or the Puregold Price Club, specifically. They open their key locations at BGC, in Alabang, along with Congressional, the one in ASEANA. Actually, the one I've been to is BGC and then the second one is the one in Pampanga.
Timothy Uichico: They also have one in Circuit Makati. Pretty close here.
Landers in the Philippines
Berns San Juan: Landers is operated by Southeast Asia Retailer, Inc. It's a retail company with business brands and a store, which we all know as Landers. It is a large membership retail establishment, and like S&R, it caters to a defined membership-based audience, and it's usually composed of business people with an exclusive pool of approved employees and groups. It's a combination of a supermarket, I think, and a department store if there's any clue.
When S&R entered the Philippines in 2000 and then got fully handed over to Filipino management in 2006, Landers actually started in 2016. So it's a fairly new player like ten years after S&R was fully Filipino.
Timothy Uichico: But they also have grown really exponentially. Compared to the growth of S&R, which is a lot slower and a lot more careful.
S&R vs Landers By the Numbers
Berns San Juan: Timo, why don't you take us through the numbers between Landers and S&R.
Timothy Uichico: So I think on the core base, the easiest one to sort of define and understand why is when you're looking at authority score, S&R has a higher authority score, at least by SEMrush, than Landers. They have more back because they have been here longer.
Simply by the length they have been here and the fact that they were the most popular ones until Landers came. They had a full 10 years to get talked about online before Landers even put up its own. So that alone, S&R should already have an authoritative advantage on any page they put up. So that's one thing that you have to take note of. The first mover advantage at least online is with us.
Berns San Juan: Yeah. I'm curious, because we looked at this, how many referring domains did we actually spot for Landers? I think we found about a little over 200. Right?
Timothy Uichico: Yes. For S&R, we had significantly more. So we have over 1000… referring domains with 10,000, which means that if you were running a campaign with that, you wouldn't actually have the need to build backlinks as much as something that is very time-consuming from an SEO standpoint.
Berns San Juan: I think Landers had about 5,500 mentions online and S&R has about 19,000. So it's a very big difference. But you also have to understand that S&R did start ten years before it got sold. They've got a head start.
Online Traffic of S&R and Landers
Berns San Juan: Now, another thing to take into consideration before Timo and I talk about the traffic of these two brands is there is some context to take in. Currently, Landers is ahead in terms of traffic by a mile. But I will argue, historically, S&R was ahead because I think somewhere along late last year, S&R was enjoying about a quarter of a million visitors on a monthly basis. Landers was doing about two-thirds of that. About 160,000 thereabouts visitors on a monthly basis.
And what I usually tell most people, especially when I audit websites and whatnot, not all traffic is created equal. I am a fan of a specific type of traffic, and it's called Discovery Traffic. And how you look for this inside a tool called SEMrush is when you look at the non-branded traffic.
Timothy Uichico: So people, are in fact when we talk about non-branded traffic, these are the stuff where people are searching generic items. When you talk about branded traffic, those are people looking specifically for your store, Landers. Lander's page, Lander's branches, and Lander's online delivery. And that traffic is easy to capture because they're looking for your brand.
Berns San Juan: And you're right, if you're above the line, marketing is good and people are already aware of you, then you should be driving search volume for your brand name. So that's true. But I think Discovery Traffic is great because these are the people that may not be your customers yet, but have the highest potential of becoming your customers. So from an audience and from a large acquisition perspective, I think that's the most important volume.
Now, here's where I'll argue, S&R was never really keen on Discovery traffic, right?
Timothy Uichico: If we're looking at Landers traffic, we're sort of seeing almost even slippery for branded traffic, which is really good, and then 75 for non-branded traffic. Now, looking at S&R, they're almost half or a quarter of a million traffic is majority branded, right? 200,000 are more or less branded, and you only have maybe 20-30K that are non-branded. So that means their ability to acquire new customers is very limited. So it shows you the potential that Landers has or the potential that Landers is tapping into rather compared to S&R.
Berns San Juan: So I'll jump into that a bit. And this sort of takes us into a tangent because we are comparing Landers to S&R. But I think some people might be saying, "Okay, so if Landers is not capitalizing on… if Landers is not capitalizing on Discovery traffic and S&R is not capitalizing so much on Discovery traffic, who is?"  And it's the other players.
It's Waltermart and SM… so these guys are capitalizing on it. And let's face it, I will argue the SEO, and these are not terrific, they're okay. The SEO and these are not terrific. But that also means that currently, as far as online grocery shopping goes, membership or otherwise, it's still sort of an easy win.
Timothy Uichico: I think when you're looking at it because most of these stores or supermarkets will carry the same items. So it's important to capitalize on… aside from your offering, but your technical and content side. Is your content unique on your website?
Berns San Juan: I'll put a caveat. And again, full disclosure, I'm going to give praise to a brand, but this brand is our client. I think a great example of this is the way Rustan does its product pages, right? Have you guys noticed? And by the way, that's not our doing. That's just Rustan's caring about their customers. If you go look at a product, you will see that the product has an item called Editor's Note. Yes. And the editor says here is what we respond as a brand think about this product and why we partner with them and why we think they're great for you.
Timothy Uichico: And it's amazing because no one else will have that kind of content. So automatically, you're giving value to your users and giving Google more value to rank your product because you're offering content that no one else has.
Berns San Juan: And to me, I think it's almost as good as an Amazon move except with Amazon, they farm it out to their users. They ask users to review this product, ask questions about this product, and answer questions that other customers have about this product. So Amazon has a lot of ways of having users generate content on their product pages. But in the absence of that, I think the Editor's Note idea is an excellent idea as far as e-commerce is concerned.
Now, going back to Landers vs. S&R. So traffic, historically, S&R is king, today not so much. The site is under construction. I think it's been under construction for the better part of half a year.
And so, right now, they're currently only enjoying about 6,000 visitors on a monthly basis, which sort of makes sense. The tragic part there, in my opinion, is with the planning. If I were an S&R member and I wanted to shop online, it's not like I'm not able to do that because they've got Lazada channels. They've got these merchant channels that they do use. So they've got merchant partners. But I don't think the traffic in any meaningful way makes up for all of the traffic they lost. Remember, it's like, what, a quarter of a million?
Timothy Uichico: So if we're looking at specific traffic they have been, we can find S&R in three more popular ones: Pick.A.Roo, Shopee, and Lazada. So Pick.A.Roo, if people aren't familiar, it's where you can hire someone to buy groceries for you and deliver them to you. So if you're looking at their shopping channel, they have around 16,000. And then Lazada's 20,000, slightly better.
Berns San Juan: So they've recovered out of the 250,000 visitors, they've recovered 36,000 only so far. And roughly, nine or 10K for Pick.A.Roo. So about 45,000.
Timothy Uichico: So 45,000 of the quarter of a million. Can you imagine how much opportunity they lost even on the branded traffic for people searching for, "Oh, I want to buy from S&R." If you're tying it into what we said earlier, the majority of S&R traffic is already branded. Meaning there are people searching for them but they'll only find them on third-party or merchant partner websites, right? So that makes it more and more difficult.
Berns San Juan: So I'll move us back to a couple of headliners, but as far as traffic is concerned, right now, clearly, Landers is winning by a mile. Waltermart delivery, I think, was a surprising contender. I had no idea that if I Googled 100 random product names, they would be at the top. We did comparisons for over 100 keywords just at random for retail stuff, grocery stuff, and it's a surprise that WalterMart was king. So to me, I think they're doing a terrific job.
Now just because, though, Landers is currently performing better, because it's hard to audit a website that's down. But just because Landers is performing better does not mean all the best practices are there.
Best Practices for Online Membership Shopping Stores
Timothy Uichico: So for Landers, I think their category pages are four. The products are front and center. What's difficult with Landers is, I think, that it's a little bit technical, but they don't have specific product pages. So there's no URL for the product page. When you don't have a URL for a product page, it's hard to rank for that product page. Imagine as a user, you're searching for a specific product, a specific brand, let's say Cowhead Fresh Milk, right? You would prefer to land on a page where you could buy the Cowhead Fresh Milk, but in the Landers store, you will land on a page where there's fresh milk. Cowhead will be there…
So as a user, there's a little bit more distraction, there's a little bit more friction rather than that process and you purchase a specific product. Where they do really well is their category pages do rank for the generic term 'fresh milk,' when there's nothing brand specific or there's nothing that's product specific.
Berns San Juan: So here's what I'll argue, though. I will argue their ability to rank for fresh milk is less a function of an active activity on their part and more negligence on the competition's part.
Timothy Uichico: Yes. Well, you can tell also, given that one of their larger competitors, S&R, they don't have an active website anymore, which is very sad.
Berns San Juan: But S&R used to rank for a couple of stuff. I think we looked at that quickly when we did comparisons for keywords. And I mean, we did see S&R performing for some keywords. Right?
Timothy Uichico: Well, they were, not anymore. And you also have beef and then you also have from the door extra smooth. So they were there. I mean, they could have capitalized it a bit more, which is why it's kind of sad because when you're looking at it, you had the authority, you had the branded traffic, so you had the makings of being something.
They were there to become great to even match WalterMart. They had those makings, but they just fell short of everything that they were planning.
Berns San Juan: And in reality, I think it's gonna take them like six months to eight months to catch up to Landers. Not to say that they can't. I still think that that authority score will go a long way, right?
When the authorities score is high, just for the non-geeks that are listening to us, it means the higher the authorities score, the easier the SEO's life is because it's easy to rank for anything when that number is close to a hundred. And we work with some brands that have like 68, 70. Terrific.
Timothy Uichico: And, with brands like those, most of our optimizations are on-page, most of our optimizations are about the customer journey. So that shows that at least on the off-page or the authority-building side, S&R doesn't have to do anything.
Berns San Juan: No, but I think we did see a couple of S&R web pages. So as far as the test pages go, what do they look like they're doing well?
Timothy Uichico: Well, one of the things that Landers is not doing is they actually have product pages. But unlike Landers, the S&R product pages aren't so great because their meta title is not optimized. They're not very consistent at the higher folder level. The website auto-generates the S&R brand. And then on the actual product pages, it does not. They do have a unique description. The meta description, lack low content, but that could also be because it's a test website. So that's the only thing we saw. Their URLs are optimized.
Berns San Juan: So compared to Landers, Landers actually doesn't utilize the URL for optimization, It doesn't use the meta title. Clearly, because it's the static URL is the category page. They do use the H1. S&R does the meta description much better and it's pretty optimized.
Timothy Uichico: So what I like about Landers, which is something that we were debating earlier, right? Aside from having the category pages, even if you search for specific product descriptions on the popups, their product descriptions are unique. It's just that, it's sad because Google can't see that. So that's the next step for them if they wanted to say, "I wanna take my SEO to the next level and get more than what I'm getting now." It would be to be able to create those product pages and those URLs and the content is there, which is the more difficult part that most e-commerce websites struggle with, creating unique content.
Landers vs. S&R: Which one would be on your wishlist?
Berns San Juan: So as far as I'm concerned, I think from an SEO perspective, there are a lot of opportunities that are open for both brands. For each of them, I think they are maybe 3 out of 10 optimized. So there are still 6 out of 10 left to go for both of them. So, wishful thinking, Timo. Let's say we were working on these campaigns. Which one would be on your wishlist?
Timothy Uichico: I would actually say S&R because I'm a sucker for people who have fallen from grace that can get that up there.
Berns San Juan: So okay, so here's the contrast of opinion. I've actually met the Landers people. I like them. I like working with people, I think, whose values match ours.  So they're super nice people. It would be enjoyable, I think, for both of us, or I think for either of these brands, they're such low-hanging fruit to work on. Just implementation of the product scheme, getting the reviews, or getting the website back live, and making sure the crawling index function works.
What's the traffic potential? So from the quick research we did, those hundred keywords that we did at random had 138,000 searches on a monthly basis.
Timothy Uichico: I mean roughly, you can get that much, but you're looking at roughly 80% if you're getting every product in.
Berns San Juan: I would say increasing their discovery traffic by 25% is easy against both because they both have low-hanging fruit. The moment Landers have product pages, they'll start ranking because their parent pages are there. They're sharing the authority. That 50-50 split for discovery traffic, that 70,000 traffic is gonna go higher.
Timothy Uichico: For S&R, it's also easier for them because their authorities are there. So Google sees them when you type membership shopping when you're looking for certain items that is one of the more authoritative websites. Meaning, when I put a page up, I have a head start from Landers. It's like if you're running, I have a 10-meter head start. And then Landers is 10 meters behind. But the problem is they're not running, right?
Berns San Juan: And I mean, maybe we'll do a part two when we see it go live, see how they execute, break it down, and then let's see if it's good to do a retrospective, we're sort of doing some sort of a prediction.
Timothy Uichico: And what's good for Landers though is if they use this opportunity while S&R is down, they can run away with a lot of things.
Berns San Juan: Agreed. And what I like to tell people is when you are on the first page, when you're first to be on position one, you're hard to knock off. So now would be a great time. Other than that, I think we sort of covered everything that we had the time to cover. So with that, I would like to thank everybody for listening to me and Timo. It was a great SEO conversation. I love SEO conversations.
Timothy Uichico: So do I.
Berns San Juan: And you know, we both thank you for joining us on this episode of the Truelogic DX podcast. If there is a brand you're curious about in terms of digital performance if there's a topic you want us to talk about, if there's a person you want us to guest, feel free to leave it in the comments or in the suggestions or on our YouTube page and on our Facebook channel.
Please give us a shout-out on social media if you guys are enjoying these episodes. We are on Facebook. We are on LinkedIn. We are on YouTube and check our website out if you're looking for more information. Subscribe to our Spotify, Google, and Apple accounts so that you can get alerts whenever we publish a new one.
And as always, thank you to our friends at Podmachine for empowering these podcasts. We will see you in the next episode.
Timothy Uichico: See you at the next one. Thank you.