DIGITAL MARKETING FOR ACCOUNTANTS
YOUR ACCOUNTING FIRM'S DIGITAL TRANSFORMATION STARTS HERE
DIGITAL MARKETING STRATEGIES THAT DRIVE PERFORMANCE AND ROI FOR YOUR ACCOUNTING FIRM
The move to automation and digital has changed the way we do accounting. As you scale your accounting firm and prime your clients with top-notch bookkeeping services, your digital presence should also be in the same league.
How do you drive more business? How do you keep the competition at bay? Your answer –  performance-driven digital marketing for accountants.
Our digital marketing agency provide a full-suite of services in digital marketing for accounting firms, helping businesses as they go through their digital transformation.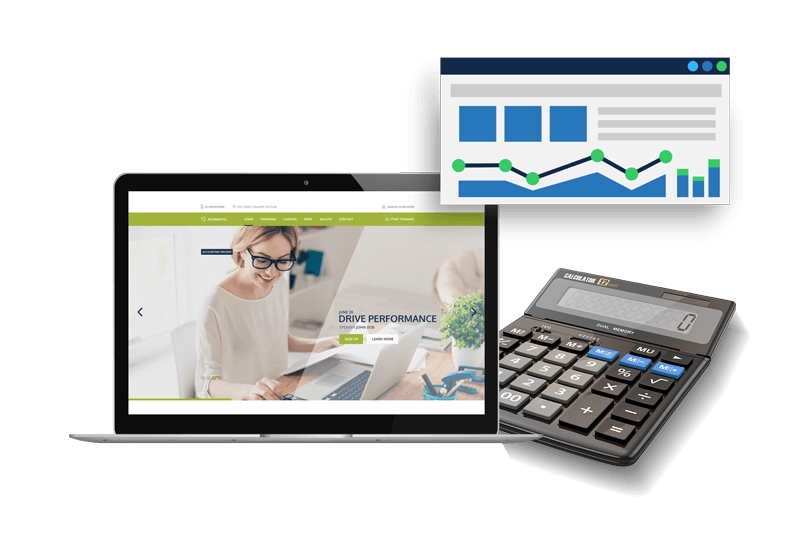 RAMP UP YOUR ONLINE PRESENCE WITH SEO FOR ACCOUNTING FIRMS
Search engines are the primary tool people use to find information about businesses. If your website is on page 3 and beyond of search engine results, you're losing potential leads to the competition. With a solid SEO strategy for your accounting firm, you don't have to worry about dropping to page 10.
When it comes to SEO services for accounting firms, the campaigns we've handled throughout the years speak for our expertise. Our SEO methodology leverages search engine best practices to make your website appear on the first page when customers search for accounting services.
Each strategy is tailored to the unique needs of the industry, hitting the key areas of SEO:
On-page Optimization
We optimize your website with the right keywords and quality content that speaks to your audience, so it will rank when clients search for your business.
Off-page Optimization
We take link building seriously, and the SEO campaigns we've launched for clients attest to this. Our SEO strategies involve different channels to make your brand visible to your potential customers.
Technical SEO
Years of experience in the digital industry serve as our arsenal to optimize your website for high ranking opportunities. We love getting into the nitty-gritty of SEO and all the technical stuff that you don't need to worry about.
THE BEST WEB DESIGN FOR YOUR ACCOUNTING FIRM
Think of your website as your online business card. If you don't have one, or the one you have is not up to par with the competition, it's time to consider a new web design for your accounting firm.
And what's great working with us for your web design service needs? We know the balance between aesthetics and functionality. Every accounting website design we create is built on the best practices to make websites that appeal to target visitors and search engines.
All-Around Experts for Your Web Design
From conceptualization to development, our team of graphic designers, website developers, SEO specialists, and writers work together to provide you with topnotch accounting website design.
Built on Your Platform of Choice
Flexibility is what we're known for. Our team can build your accounting firm's website design on your preferred platform. Talk to our experts, and we'll find a way to make it happen!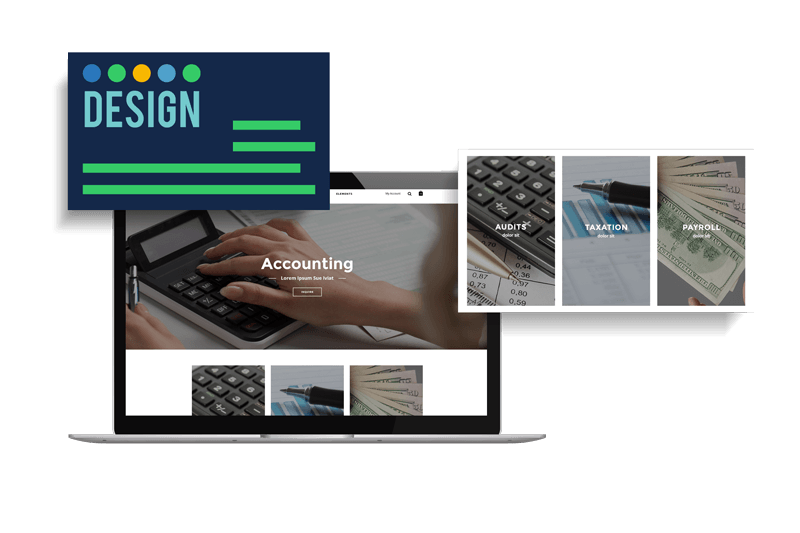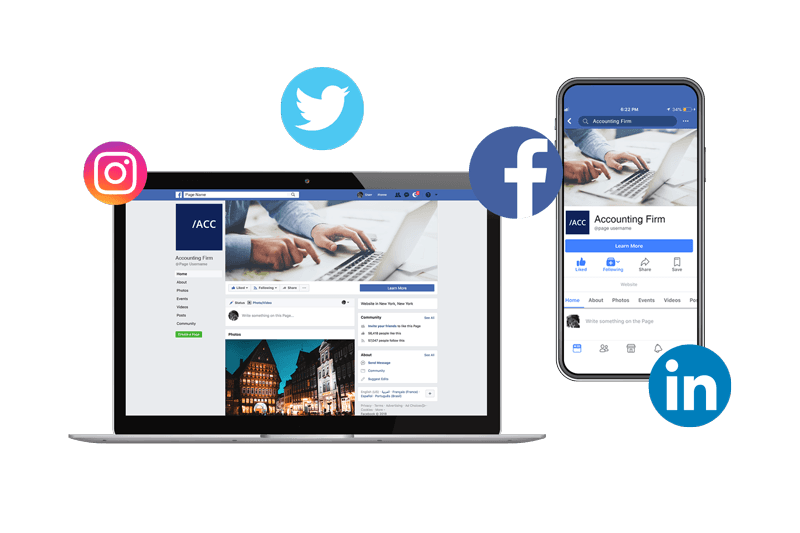 REAL-TIME INTERACTIONS WITH YOUR AUDIENCE USING SOCIAL MEDIA FOR ACCOUNTANTS
Social media marketing for accountants as a strategy is slowly gaining traction, with the Philippines taking the top spot for most time spent on social media. How do you leverage this for your accounting firm?
It takes more than just a couple of posts, tweets, and likes to catch up on the online chatter and build your presence on different social platforms. You need a solid strategy, and we'd be happy to provide it for you.
Building and Optimizing Your Social Media Profiles
Got Facebook? LinkedIn? How about Twitter? Our social media specialists will optimize your profiles to reflect your brand and build your presence on these social channels.
Providing Content That Drives Engagement
Social media feeds sprout information every minute. If you're not out there, you're losing customers to the competition. Part of our social media strategy is to provide you with content that sends your message across and drives real engagements with your followers.
Expanding Your Reach on Social Channels and Beyond!
Social media for accounting firms isn't just about making noise – it's about expanding your client base. Our experts are here to do that for you, so you can focus on growing your accounting business.
INTENT-DRIVEN MARKETING WITH PPC FOR ACCOUNTANTS
Getting on the top positions of search results instantly? It's possible with PPC management services. The key is to have the right keywords and a compelling ad that target the intent of your customers. That's what our PPC management for accountants is all about.
We have years of experience in launching ppc campaigns for businesses and we extend this expertise to accounting firms looking to get more clients.
Leverage Google Ads Channels for Your Marketing Initiatives
Our strategy to maximize PPC marketing for accountants consists of ads within the Google Search Network and Google Display Network. Every ad is optimized to leverage both channels for high conversions.
Experts Who Look After Your PPC Campaigns
When it comes to PPC, you'll always have an expert looking after your campaigns. We have a team of certified Google Ads specialists who will handle your campaigns from the very start of your project with us.
Follow Your Target Audience Until They're Ready for Business
It's what we call Remarketing and one of the many PPC strategies we employ. By utilizing the Google Display Network, we provide your accounting firm with banners that will appear to your leads until they're ready to do business with you!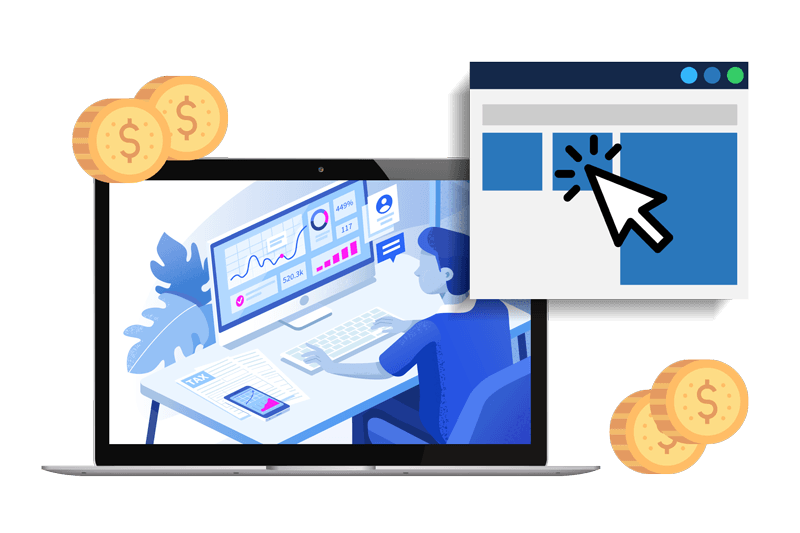 GET A COMPLETE DIGITAL TRANSFORMATION WITH OUR SOLUTIONS. TALK TO US!