Google Search and SEO in The Philippines in 2021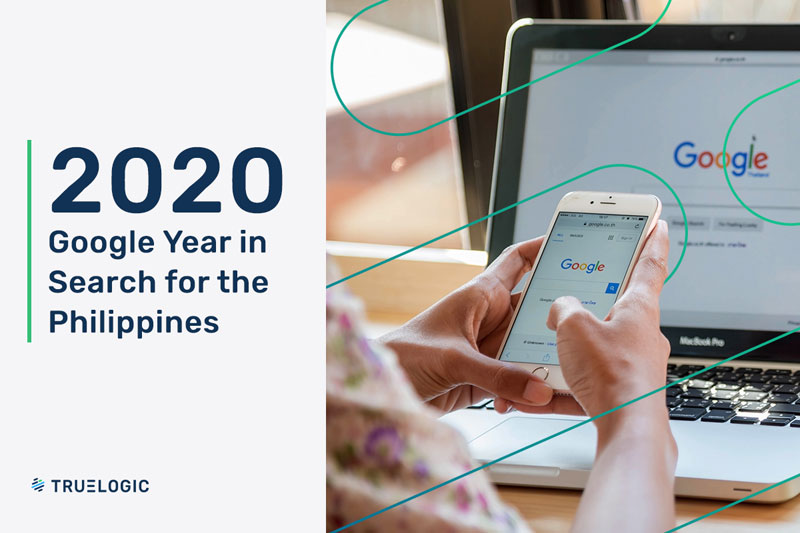 This article is the second in a series about Digital Marketing in the Philippines 2020-2021. Read the first part here.
In spite of the Philippines being a highly "social" country, Google was still by far the most visited webpage in the country last year with 1.05 billion visits a month, of which 53.8 million are unique visitors (source: SimilarWeb Data). With those high figures we ask, what have the Pinoys been searching for while in lockdown mode?
Let's continue discussing the Philippine Digital Marketing trends with some of the highlights from the recently published Google Year In Search Report 2020.
The 2020 Google Year in Search for the Philippines reveals a lot of insights on how brands and agencies can tap the opportunities in search, and be able to stay in touch with audiences. As noted in our first article, Filipinos found themselves relying more and more on the World Wide Web for information, entertainment, well-being and products during lockdown.  So these keywords can come in handy when brands and agencies plan for their SEO campaigns.
Last year also saw several changes in search, as Google rolled out Core Algorithm Updates that mostly measured content quality. And since early this year, the Internet has been abuzz with Google rolling out its Core Web Vitals – an improvement of website quality measurements that go beyond just the speed of your website but measure elements that improve user experience.  So what do these mean for your business?
SEO Best Practices for 2021

Sharpen Your Technical SEO
Most websites either do too much or too little in the way of technical SEO. Technical SEO is impacted by how your website is built, i.e. poor server specification, images that are too large, or functions that are unused; but also by codes and commands that make the content on your website accessible to search engines.
The recent changes will impact how Analytics tracks your data, how you find your e-commerce data, how you track your leads, and so on. Ultimately, it will impact how Google and other search engines "remember" the content on your website. And with those insights on keywords that we pointed out in the beginning, it would serve your brand or business well to pay attention to some key features of your website.
If there was ever a time to review if you have broken pages, bad redirections or sufficient resources to serve the needs of your users, 2021 is the time.
Improve Keyword Research       
2015 was a pivotal year in Digital Adoption. It impacted how we built websites (mobile versus responsive, a focus on speed, and mobility as a quality metric), and our SEO methodologies (more quality signals, a focus on micro-moments, and even more content relevance). During the same year, Google began educating the market on "micro-moments" in an effort to help marketers understand what motivations drive what search behaviors.
Search is about motivation, and SEO captures search motivation by selecting the right keywords. Traditionally, search engine optimization helps you select a set of keywords and perform activities that help you rank for those keywords on search. That still works today, but only if your SEO is going to help you move customers through their buyer's journey and down through your sales funnel. However, now is all about context.
Keywords can be branded, informational, or commercial in intent. How Google perceives the intent of a keyword is easy to figure out, just Google the query. If Google shows informational results on top search results, then it assumes the query is informationally motivated.
Good keyword research means identifying queries that drive relevant users to your site, because you have the best content for those users. It means grouping your keywords by intention and landing them in a page that meets that motivation. It means organizing the ideas of your website through better navigation or a well-planned silo.
Remember that in 2021, keyword research is about more than just search volumes. It is about intent!
On-Page SEO – the Strongest Ranking Factors
Too many businesses, websites, and brands ignore the recommendations of their SEO agencies to preserve the "integrity" of the website. And the effect is that the websites are sometimes slow because of governance rules, security, or other understandable controls. But this leaves the websites wide open to disruption from more nimble, less bureaucratic and smaller companies because the latter can dynamically adapt to the demands of the times. And if Google is turning up the dial on anything, it is the group of ranking factors that impact On-Page.
In the world of SEO, On-Page is simply all the content users are supposed to see about your brand, beginning from the search experience (meta titles, meta descriptions and URLs) to the content they read on your website.
Last year, the industry saw three major Core Algorithm Updates all related to the content on your website and how Google attempts to understand that content. The first Core Algorithm Update of 2020 happened on January 13; the second on May 4, and the last by December 3, 2020. Since 80% of your Organic Search traffic and performance will be driven by your On-page strategies, you must have the ability to implement the following on your websites:
Changes to navigation
URL customization
Ability utilize the H1 for content
Presence of the keyword and related ideas
Ability to add new pages (to capture the right intent)
Ability to add schema to enrich your search results
Interlinking between your related pages
Ability to track user interactions on your site
Mixing and matching different content formats on your page, and;
Willingness to let go of design elements or functionalities that don't benefit users
Better On-Page means users and search engines are able to capture and understand the content, context and value you offer in a way that improves the experience of a user. 2021 will be all about understanding search motivation, and serving content that satisfies that motivation.
While this, by far, is not a comprehensive list of everything you need to do to appear at the top of search engine results – Google in particular; these tips are going to get you to at most 80% of the way there.
As an SEO practitioner myself, I look back on these tips and think "Wow! These would so not be what I'd have recommended 10 years ago!" From Core Web Vitals, EAT, BERT, RankBrain, Hummingbird, there's a lot to keep track of and, without a doubt, there are more and better changes to come to the world of SEO.