The Experts Speak: Tips on Hiring an SEO Company for Your Business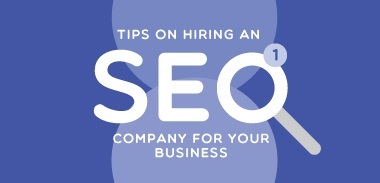 With the fast changes in the digital landscape, businesses need more than ever to be on top of their online marketing strategies. Among all digital marketing services like Social, Pay Per Click, and Reputation Management, SEO is one the hardest to get businesses started with because results take a long time to appear. If you don't see results even after six months of working with your SEO service provider, you're trusting the wrong person.
"How do you find the best SEO company to hire for your business?"
We reached out to agency owners, SEO consultants, and online marketing specialists to get insights when looking for a good SEO company. If you're ready to get your business on board with SEO, heed the advice of these experts:
If I was hiring, I'd look at the following:
Reputation
Track record
Contact information of current and former clients
How they optimized their own site – especially the link profile
A contract that has a satisfaction guarantee
The answer to this would vary per client or company size. Enterprise-level clients demand much more from agencies. For the most part, here are a few worth mentioning.
Case Studies
Case studies will show what achievements and results your SEO company had in the past. Having a portfolio of clients with success stories that show YoY progression is a very good indication of what the agency can deliver and commit to.
Industry Experience
It's also important to understand the people behind operations. What is their background? How many years have they been working in the industry? What are the agency's strengths and weaknesses?
If you are a small business looking to do some Facebook advertising, but your SEO agency's core expertise lies in E-commerce SEO or email marketing services, then this might be something you would weigh. Are they competent enough to carry out the social campaign and deliver results? Maybe, or maybe not. This is why it is important to do a round of discovery questions to get to know them first.
KPIs
Yes, SEO is all about organic traffic. However, at the end of the day, the agency should be delivering qualified, quality organic traffic that converts. One could argue that it isn't the SEO company's job to ensure conversions. However, SEO has shifted over the past few years and there is now a small overlap between SEO/CRO.
At the very least, they should be able to discern any issues within your website and either recommend or execute on it.
Familiarity with Industry and Technology
SEO agencies need to prove their familiarity with search engine algorithms, technology stacks, platforms, tools, and more.  You can get a good idea of their practices, their processes, and how much they understand how search engines work. Ask for previous client results and strategies implemented.
Reporting and Audit Process
You can get valuable insight by looking at an agency's reporting process. This can provide you with details of what matters most to them and what their definition of a successful campaign is, based on what they report on. It is also worth noting how often they send reports. After all, it's not just about keywords and rankings. Having an agency report on metrics that don't matter to you is useless.
You can also learn a lot from how a company audits your site and what their process is. Don't be afraid to ask for an audit before the engagement or, at the very least, ask a few questions regarding their initial feedback of your website. If an agency refuses to provide you with their feedback, it means that they didn't take the time to review your site before meeting with you. In that case, chances for false promises are higher.
Businesses should always ask and look for:
A brief walkthrough to their approach and processes for SEO to ensure that they will only implement or execute SEO best practices.
Actual case studies of past clients focused on traffic and revenue growth.
Sample work and past reports — to paint a better picture of the quality of work they can provide for your business, such as sample content, linking, and audit reports.
Talking to a sales representative from an SEO agency or any of the SEO employees of the company can come up with an impressive show. Some people are really good at talking about SEO, but cannot really implement it. However, it is better than a company where they cannot communicate well what they do, how they do things, their process, their staff, or even just plain concepts on their SEO philosophies – for me this is a red flag.
Once they are able to satisfy your questions, and can speak about their SEO beliefs and process and justify their pricing, we then have to see if they can also walk the walk and not just talk the talk. From here I will rely on past case studies, clients they have done some SEO on, and it is possible to also ask for client testimonials and ask if you can talk to some of their clients. If they agree to this, you know they made good SEO success with these clients and are confident in their work.
Oliver Wood, Founder, PaidTraffic.io
When choosing an agency, the business should be looking for proof the agency has both the human resources and technical capability to get the job done. Since Google has begun rolling out significant algorithms to ensure search quality and reduce spam, it's my opinion that the SEO industry has needed to use much more quality and ethical techniques. It is important that a business does its due diligence on the methods being used by their prospective agency.
Ask to speak to the clients of the agency who have been using their services for 6 months or more to gain an insight of how the campaign has performed. Find out whether your prospective agency has managed to optimize a website in a highly competitive niche for a client — is it ranking well for a broad set of key terms, not just one and has that resulted in traffic and enquiries? SEO is not just about being #1 on Google; it is important that traffic is valuable, relevant, and converting.
Red flags to look for are guarantees — nobody can guarantee rankings. There are simply too many factors that could mean your website may not achieve top spots. If they promise a guarantee, are they actually going to honor it? Is it worth the paper it is written on? The old adage, "If it's too good to be true, it probably is."
Another red flag is the promise of fast results. This is often promised at the sales stage to try and win a client over. SEO is anything but quick, from audits and onsite SEO implementation, to quality content and link building — these all take time and, of course, that time is restricted by the budget of the client.
Most businesses would do a simple search on Google to find an SEO they can hire. That can be a great start. But, remember, it's about differentiating the ones who put their mind into work from those who will promise you the moon but will come back with nothing.
Always think of your goal — putting your business in front of customers. Because if you know what direction you're headed, the right SEO provider can help you with that.
Have questions? Talk to us, and we'll show you what SEO can do for your business.