The Future of E-commerce and its Adaptivity to Constant Changes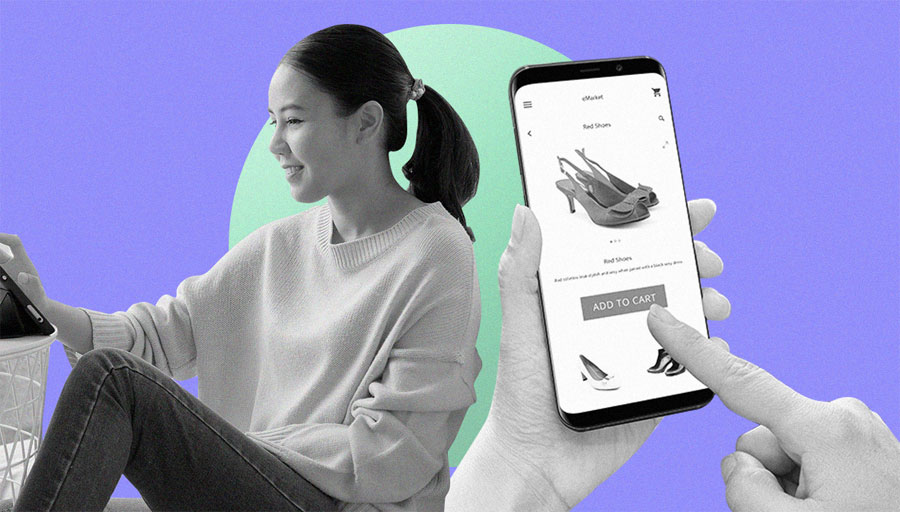 Around the world, people are rushing to their favorite stores or restaurants once reopened. This goes to show that consumers still have the strong desire for the unique experience and the social aspect offered by the brick and mortar
Unified commerce is here to stay
Unified commerce (i.e. convergence of offline and online channels) will continue to be a major theme in the upcoming years. Shoppers expect a single brand experience, regardless of whether they are buying online or offline. A good example is the rise of personalized virtual shopping. From home, a shopper can join a video call with a sales representative to see available collections in the store and receive advice. When the shopper is ready to purchase, the representative sends them a secured payment link by message and the transaction can be settled in seconds.
New technologies have become an essential asset to connect the digital and physical worlds, by offering centralized shopper insights on both online and in-person transactions. Omni-channel is already a must-have and unified commerce is the next powerful tool to continue improving customer experience.
In the challenging and unpredictable environment of a global pandemic, the key is to remain flexible and agile enough to capture ever-changing consumer behaviors.
The E-commerce future is limitless: Headless E-commerce
Headless eCommerce has huge implications for the customer experience. Businesses can quickly adopt new technology touchpoints, shape the buying journey, and become more interactive with innovative digital experiences and personalization. There's also tremendous potential for experimentation and testing.
There are two key scenarios to bear in mind:
First, if their company is already using or planning on using multiple channels to connect with customers.
Second, if they're looking for a commerce platform to focus on the user experience rather than just bare transactions. If either of these scenarios apply to your organization, then headless commerce is definitely worth a closer look.
By replacing the old practice of packaging a commerce solution with a fully integrated storefront, a headless commerce solution becomes a set of back-end services, which can be used by any front-end solution. This enables companies to innovate with their storefront UI independent of the back-end system and applications, offering the best customer experience.
A newly born term called "Headless E-commerce" is essentially the separation of the front and back end of an eCommerce application. The front and back-end function independently, allowing increased agility and adaptability. For instance, if companies want to create an omnichannel experience for their consumers, headless commerce is crucial.
The front end provides someone with a personalized experience by automatically connecting their secure personal data in the back end to deliver product and service offerings, pricing, and other content that's tailored to their interests and needs. Customers feel as though the brand is personalized to them, generating a wealth of brand loyalty. Meantime, companies eliminate technical headaches at the back end.
Separating development cycles between the commerce engine and storefront also means organizations can react faster to market changes and reduce time-to-market for product enhancements and features, which is critical in an everchanging economy.
New consumer behaviors and trends
Amid the upheaval of the pandemic, we saw several longer-term macroeconomic trends persist and accelerate. With social distancing becoming the norm, the shift towards cashless societies developed at speed. Across the globe, merchants have adjusted to this trend, by providing contactless terminals or QR-codes in-store, exclusively selling online, or a combination of both.
Another trend we've seen is the rise of new local payment methods. When cash-based payment was the global norm, you would just exchange a good for a coin or a piece of paper. Today, payments are culturally bound.
Some regions favor e-wallets, others favor bank transfer, credit cards, and Buy Now Pay Later solutions. To address shoppers' needs, merchants need the ability to identify and support emerging consumer behaviors as fast as possible.
Over the past year, we also saw increased awareness of the social and ecological impact of consumerism. According to our latest research study, 62 % of respondents stated that the ethics of retailers are now more important to them because of the pandemic.
Future proof E-commerce strategies
Customer lifecycle marketing and ecommerce SEO is more necessary than ever, as consumers increasingly use multiple channels along their path to purchase. Therefore, to ensure you build a strong e-commerce marketing strategy to both reach and convert your customers, you need to consider the whole customer journey.
Focus on your existing customers
One of the most important factors that separate successful stores from failing stores is your ability to retain your customers.
Your end goal is to get some of those visitors to try your service because they need to believe that your products are high quality, will last, and have value before they whip out their credit card and make a purchase.
Optimize your on-site experience
There's a good chance that most of your customers come through your website. It's important to provide your customers with the best customer experience while making the most money from each customer as possible. So start by focusing on the customer experience.
Use available tools to review how people are using your website. An analytics tool like Google Analytics provides you with information like how much time people spend on your site, what pages they visit, and where they leave your site.
Don't forget to note down your insights and use these insights to optimize the site structure. That involves making sure your product/service portfolio is well laid out, and there are links between your content.
Use data analysis to target your audience
You can use the insights of data analysis in a variety of ways. With sufficient customer data, you can create lookalike audiences for Facebook, Google Ads, and other advertising platforms.
You can also use demographic data and the insights you've gained from data analysis for marketing campaigns across other channels. For example, if you know that a particular blog post has a high level of engagement, you could share that content to your email list.
Invest in disruptive technologies
Keep an eye out for disruptive technologies that could impact your sector. If you have the opportunity to be an early adopter, take it.
Disruptive technologies don't always change the market in the way you imagine, or to the extent, you hope. However, when a new way to connect with your audience emerges, the businesses that learn how to monetize the medium first generally reap the biggest rewards.
Trends: The Millennial and Gen-Z market in the new normal
The trends identified here all point to three main objectives:
Reducing friction in the buying (and selling) journey
Creating rich brand experiences
Selling anywhere and everywhere
In other words, the future of ecommerce will be driven by increasing convenience for both merchants and their shoppers, providing rich, compelling shopping experiences, and enabling experiences across channels in a consistent, customer-friendly way.
1. Global ecommerce grows as markets outside of U.S. accelerate adoption of online shopping.
The ecommerce share of retail sales globally has been on the rise for at least the past five years and is expected to continue.
Source: Statista
Net consumer optimism has decreased in several countries, according to McKinsey data, as a result of COVID-19. However, the pandemic has also necessitated greater adoption of ecommerce, especially for essential items.
This opens up a big opportunity in expanding sales cross-border to countries in which the growth rate for ecommerce penetration previously lagged.
That said, brands will have to do their own research into whether or not an international expansion is right for their online business. Some things to consider:
Is there demand for my product or category in that market?
Will my marketing translate cross-culturally, or will the brand need to invest in unique campaigns?
Do we need to localize our ecommerce site for an international audience?
Which payment options are most popular in the target country?
How will we approach cross-border shipping?
Consider all the costs of marketing, selling, and shipping internationally so you can assess whether it will be worth it for your brand. Also important to note: in selling to mobile-first regions like APAC, Africa, and the Middle East, delivering an easy-to-use mobile shopping experience will be critical.
2. Voice commerce and headless technology will open the door to automated commerce.
A January 2019 survey found that about 45% of Millennials had used voice technology like the Google Home or Amazon's Alexa  to conduct some kind of shopping activity. As users become increasingly comfortable with using voice-assisted technologies like smart speakers, this will likely increase — to a point.
It's still a bit of a leap to think that we might be ordering new apparel or home decor without ever seeing it, but easier to imagine a use case for reordering, for example: "Alexa, put dog food in my shopping cart."
In this case, Amazon remembers your brand and quantity preferences, making reordering a breeze.
The ultimate future for this, though, builds on the voice commerce trend along with the rise in subscriptions to reach automated commerce (a-commerce) and headless commerce-powered IoT devices.
3. PWAs improve mobile commerce — and then some.
Progressive Web Apps (PWAs) use the latest in web technology to deliver an online experience that's closer to a native app than a traditional web page — especially on a mobile device.
They're gaining popularity because they facilitate a reliable user experience, lightning-fast speeds, and engagement capabilities like sending push notifications and appearing on a device's home screen just like an app.
Shopping on mobile devices isn't just a novelty anymore — it's happening a lot. Sales via smartphone are expected to rise significantly, to reach over $432 billion in sales in 2022.
Source: Statista
Add the prevalence of mobile-first shoppers in international locations like the Asia Pacific region, Africa, and the Middle East, and you've got a lot of potential shoppers on their mobiles.
Using a PWA alongside a headless commerce architecture can provide the control needed to enable a fast, reliable mobile shopping experience. Decoupling the commerce engine from the store's frontend gives marketers and developers separate places to play, reducing the possibility of changes leading to unexpected consequences and providing customers a native mobile app experience.
4. Customer experience becomes a driving force in development.
As COVID-19 pushes us further toward a digital-first world, brands will have to work harder to provide the rich, compelling shopping experiences that hold their customers' attention in the crowded ecommerce market.
Now that the technologies to create differentiated experiences are becoming more accessible, brands are looking to innovate.
3D, augmented reality, and video.
Video a way to immerse shoppers in the ecommerce experience as well as the brand. Compelling video creates an opportunity to spark feeling and engagement, and gives your shoppers something to interact with.
Omnichannel experience.
Don't stop at the boundary of your digital storefront. The brand experience has to tell a consistent narrative across channels, devices, and contexts — including your online store.
5. Offline experiences look different — even after COVID-19.
COVID-19 hasn't just kept us away from any offline experience that can't be done in solitude — it's also accelerating changes that were already on the horizon.
BOPIS, BORIS, and curbside.
Already-existing blends of on- and offline experiences like buy-online, pick-up-in-store (BOPIS) and buy-online, return-in-store (BORIS) have proven to be good for business. Salesforce found that retailers offering BOPIS at their brick-and-mortar stores grew digital revenue by 27% in Q1 2020, as opposed to only 13% growth in those businesses that did not.
For stores that haven't already implemented these fulfillment options, necessity will likely take the lead — at least at first. With some time ahead before a vaccine becomes available, many will opt for curbside pickup or BOPIS to reduce contact.
Touchless tech.
But while we're all at home, touchless tech capabilities continue to advance. Mobile pay options are already common, and, in what was either really good or really lucky timing.
6. Payments and online checkout get more personalized, opening the market to a new consumer sector.
GCash, PayMaya, PayPal… Every time you turn around, it seems like there's a new payment option. And as younger generations become more and more tech savvy, a wider variety of payment options are becoming common.
That's why many ecommerce stores are now offering options for low- to no-interest financing, allowing shoppers to make large purchases without shelling out all the money at once — or using a high-interest credit card.
To open up more of their available market, particularly the under-40 demographic, brands will need to accept as many payment options as possible, including these buy-now, pay-later (BNPL) options.
It also means merchants can offer a personalized experience. With so many new payment options, merchants can reach new markets and offer more choices to pay as they please.
7. B2B ecommerce becomes an expectation.
B2B business — even large industrial brands — is finally undergoing its own real time digital transformation, propelled by COVID-19. And it's likely to bring long-term benefits.
As more and more B2B brands move online, we'll start to see more innovation in related areas like content marketing and development, communications with customers, and the ways they tell their brand narrative online.
8. Social selling broadens ecommerce beyond the storefront.
Ecommerce quickly proved its value despite fears that lack of social presence and interaction would discourage shoppers from choosing online over brick-and-mortar.
The importance of being present on social media platforms is already a firmly established part of every brand' marketing strategy; however, today's advancements have added a commerce component to facilitate shopping on-platform.
In-app purchases on Facebook and Instagram.
As Millennials and Gen Z continue to increase their purchasing power, social commerce will grow in importance. 47% of respondents in those age groups have some trust for social media influencers.
Facebook and Instagram have both made strides toward enabling the purchase process without leaving the platform. Checkout on Instagram was introduced last year in beta, and Facebook Shops recently launched to make selling on the platform even easier.