Social Media for Lawyers: The Why's and the How's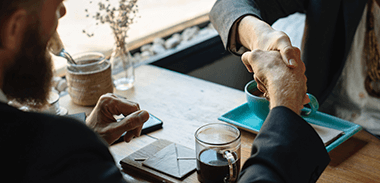 Lawyers largely ignored social media until early 2012—when research groups started publishing studies on the massive potential of social media, and when the Law Society issued a social media guide for lawyers.
By June that same year, Legal Futures reported that Twitter had become the key source of client referrals for lawyers. There was a 663% increase in people asking for recommendations on the social network. Fast forward to today, and 73% of lawyers now have LinkedIn profiles. Approximately 27% use Facebook and 23% use Twitter for professional purposes, according to MyCase.
Social media now plays an important part in helping lawyers reach out to potential clients. Not every law firm, however, has jumped on the bandwagon. Regulations and privacy concerns have caused some to stay away from social media in favor of a more traditional, old-fashioned marketing strategy – or referrals.
Why Switch to Social Media?
Law firms have much to gain from social media. Businesses are inherently social organizations. They depend on social interactions to gain referrals and carry out their work.
In addition, the usage of social media has steadily increased across the globe. According to eMarketer, the social network audience should reach 2.55 billion by this year. This huge chunk of audience represents a great opportunity for law firms to attract potential clients.
Social media is a useful tool for lawyers seeking to display their expertise and discuss what they know. This makes their service more tangible to clients, which then turns contacts  into connections.
How to Leverage Social Media for Lawyers
1. Create a "follow-worthy" page.
One of the common mistakes law firms make is assuming that simply having a website alone will attract visitors. What some law firms neglect is creating a page that compels their target audience to follow. Would you follow a law firm's Facebook page if it looks like a personal profile? There is a reason why Facebook has business pages and personal pages  – there should be a difference.
Ask yourself this: Would you follow a law firm's Facebook page if it looks like a personal profile?[perfectpullquote]
Share content regularly, but not just any content—share news articles or blog posts that are relevant to your practice. According to the 80/20 rule of social media, 80% of the content you share should answer the questions of your target audience, and should be something they will find valuable. The other 20% should be sales-oriented shares. A great example of this is The Blymenreich Law Firm Twitter page; the majority of their tweets are links to external articles that followers find interesting, with the occasional sales pitch slipped in.
Share insight, add commentary, and educate your followers about the law. Add a bit of humor to make your page entertaining.
2. Be human, but stay professional.
Use social media to humanize your brand, but always keep it professional.
Branding is all about continuity, so use photos, text, and tone that will make your law firm easily recognizable to your target market, as they navigate from your site to your social media profiles. When creating a Facebook page, for instance, create it with your firm's brand in mind. Use what you have on the "About Us" page of your website on your Facebook "About" section, as this promotes a sense of continuity between sites.
3. Try your hand at blogging.
Lawyers are starting to enjoy the advantages of blogging. In a study, 26% of firms had a legal blog in 2016, which is an increase from 22% in 2015. And social media is a great place to promote a blog and call attention to a topic.
When writing blogs, look for topics that attract social community interest.
4. Think beyond LinkedIn.
Select your social media networks wisely. LinkedIn is the most popular social networking platform for law firms, but think beyond that. Some of your followers might not be on LinkedIn.
5. Practice social media listening.
Track how many followers you have and how many people saw your latest post, as this can help you determine engagement. Do broad social media listening—analyze the hundreds of millions of pieces of data within your industry; sort and assemble the noise into meaningful patterns. This helps you benchmark your share of voice against your competitors.
Important: Follow Industry Guidelines[/perfectpullquote]
More than anything, your firm must follow the industry guidelines. Social media is a public platform and it puts both your activities and your mistakes in the public eye. When using social media, it is more important than ever to follow the industry guidelines at all times.
Start with Social Media Today
Don't be a wallflower. Most of your potential leads use social media – and they do so daily. Disengagement will only give your competitors an advantage. Let TrueLogic help you with your social media marketing needs. We've helped big brands in the Philippines boost awareness, grow their audiences, and increase their sales.
We want to help you, too. Contact us for a free consultation.