Truelogic Episode 12 Recap: SEO Wars: Uniqlo vs Bench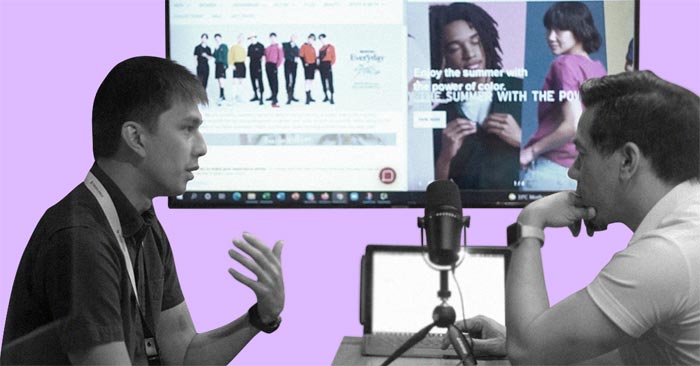 Uniqlo and Bench are now the most popular fashion retail brands in the Philippines. According to Semrush, Uniqlo has almost 41 million monthly web visits while Bench has 1.2 million web visits monthly.
We see them face off in the brick and mortar stores, but how do these clothing brands compare online? Check it on our Truelogic DX Podcast today.
Podcast Transcription
Bernard San Juan: Hi everybody. Welcome to another episode of the Truelogic DX Podcast. Today, we're talking about the battle of the casual clothing brands, and we're going to get Bench and Uniqlo to go head-to-head in terms of digital marketing metrics. So joining me in this conversation today, if Batman has a Robin, if he's got a Robin named Tim Drake, I've got a Robin named Timo Drake. Timo is joining me today. Welcome back Timo.
Timothy Uichico: Hello. Good to be back.
Bernard San Juan: Let's talk about these two brands and I'm assuming you're familiar with both. Do you patronize both?
Timothy Uichico: I used to be someone who wore a Bench a lot, because I went to LaSalle. Everyone wears Uniqlo.
Bernard San Juan: I think everything in digital or everything in real life has an impact on digital. So let's do a quick background on these two brands. So for Bench, I am actually older than it. I think it got launched when I was 10 or 11.
History of Bench and Uniqlo
Bernard San Juan: Bench is one of the Philippines leading clothing and lifestyle brands. It was established in 1987 and it was founded by Ben Chan. And I think he's pretty much a household name. And I think Bench is now sort of a cultural phenomenon in the Philippines, like their fashion shows and what not.
But of course, you've got the international upstart that came into the Philippines, which is Uniqlo. It is significantly older than Bench. They started off as a textile manufacturer. I think you still see that in their branding. Like when they talk about AIRism, when they talk about all of the different types of clothes that they use.
So they've got a big focus on textile. And they were officially Uniqlo by about 1984ish. I think they probably came to the Philippines wasn't even 10 years ago. Because you were in college, right? They probably weren't even 10 years ago. But since then, I think back then in the eighties or early nineties, I think being digital was optional.
In the early 2000s, you needed to be present online. And now not only do you need to be present online, you need to be accessible to your customers. So, because Timo and I are SEO's a lot of the conversation will revolve around SEO metrics. So let's get started in terms of judging them.
Uniqlo vs Bench: SEO Showdown
To put everybody on the same page, there are a couple of tools that we use like Similar Web and SEMrush to do a lot of this analysis. And I think for those of you that are not SEO savvy, I guess maybe more than you guys that are SEO savvy, you might be wondering why SEMrush, why not eat your apps and whatnot.  So the data we find here, we're using it for comparative metrics. We're not using them as absolute indicators of authority or popularity.   
Timothy Uichico: I think in general, any third-party tool or any data, Google is always right.
Bernard San Juan: I agree. Now, before we get started on the two, just an interesting piece of data is when you take a look at the market share and the traffic share under fashion and apparel brands. It's a bit sad that neither Bench nor Uniqlo sort of make it to the top five.  Like the largest market share for fashion and apparel in the Philippines is SHEIN.com.
Timothy Uichico: It's interesting because they're relatively new to virtual space compared to all the other names that are in the top 5.
Bernard San Juan: Zalora is like 5 million visitors, as of last look. And then Nike makes about half the traffic of Zalora. Adidas makes about half the traffic of Nike. And now you've got all of your other brands, like Bench, Penshoppe, Uniqlo, and many more.
Let's get back to task and let's evaluate these tools, a couple of metrics that we're looking at. It is security, sitespeed, crawling, indexing, cashing, on-page, off-page as metrics to compare them by. Let's take those one at a time.
1. Security and Site Speed
Timothy Uichico: When we're looking at security, obviously if there's no clear signs of malware. The other one is a green lock. If everyone wondered what it was, this is an SSL certificate.
Bernard San Juan: The SSL certificate or the HTTPS on the URL, these are indicators that our website is secure. Decreased for a very bad experience. When Google has to warn you first, before it lets you into a website.So we gave them both a score here because both of them are appropriately secure. When it comes to site speed, they started both like "humana-mana."
Timothy Uichico: They both don't do well, but one does better than the other, marginally.
Bernard San Juan: And I think if we take a look, when we say "humana-mana" it means, so normally. A website does really well if you load the first page in two seconds or less, which is the Uniqlo site while Bench website actually takes about four to six seconds in order to load sometimes seven seconds, depending on your mobile internet connection. But note that we're focusing on mobile speeds.
Because the majority of the traffic coming from these two websites is dominated by mobile visitors. Versus desktop, which is about 30 or 40% for both of them. But a majority of their visitors come from mobile. But site speed is not just about, seeing the page in like two seconds, 30 seconds.
So aside from the speed loading, the other thing we also look at is how fast until you can interact with the page. That's one of the metrics Google also looks at. The other one is how fast does your largest content on the page look like? Whether or not it's a banner image, a video, whatnot. That's also what we like to look at on another technical factor is how fast does your page settle. Some of you may have experienced this, especially on mobile. You're loading a page and then stuff keeps moving around. Your page loads fast, but people can't interact with your page
As early as 2020, I remember we were looking at the LBC on that element. So the element that you're talking about is called ICLs are relatively out of shift. The page loads, but the buttons still keep moving around or the page still keeps animating, even as you're not going, you're scrolling, but as the page is loading, so you're right interaction, time to delay the amount of time where elements take time to settle.
And another thing that you mentioned earlier was we review the images on the pages. Why do we do that? Because the larger images will obviously take longer to load. Usually, they're the culprit, the speed. Like people just go bonkers on the size. Especially with larger brands where they're very concerned in terms of the image pixelated, or we have the highest quality image. You don't need that on a website.
So in terms of speed, we threw a point at Uniqlo for being the faster website, 1.5 seconds, in terms of the first content compared to Bench with 6.9 seconds.
2. Crawling and Caching
Bernard San Juan: The other metric that we wanted to look at was crawling, meaning how easily Google can scan your webpage. And I think for both of them, we gave them a point because we didn't really see anything that stopped a search engine from being able to scan the content of the page.
But let's get a bit more technical on indexing. We did give them both a point, but then there's a but. Google clearly likes scanning and remembering one of these domains more than the other. So about caching Timo. Why does that matter?
Timothy Uichico: If Google likes your website, they will visit it and make a copy of it much more frequently. That's like, if you have a best friend, you'll see your best friend more often than not. The more Google likes you, the more you rank.
Bernard San Juan: When we say caching and in order to figure out, and it's not rocket science, the best way to figure this out is to do a site is to type site colon on the address bar and then the URL that you're looking for.
Once you get the URL result, there is an ellipsis at the right side. Just press it and click cache and Google actually tells you the last time I committed to this website, the memory was date.  And so we did it for a couple of products on Uniqlo versus Bench. Bench products tend to get re-cached or re-index greater than 30 days.
So that's problematic. It's horrible. You're not friends. This is actually not a good thing. Uniqlo uniform lead does about three to seven days per product. And remember, we're talking about Google, not visiting the site, we will visit the product page specifically.
Timothy Uichico: When we do a site cache, regardless of industry for us, anything from less than three days is great. And that's normally for the homepage. Anything for like three to five or three to six days are sort of like, okay, you're friends. Any page or any product page that's around 43 days or a month before Google committed to memory is very problematic right now.
3. On-page
Bernard San Juan: The other thing, when it comes to being relevant on search, what you're really looking for, aside from the technical elements that Timo and I just crossed, like security. Sitespeed indexing, behavior cashing rate, aside from those, the most important elements are on page. Like how does the brand, how does the website give Google a clue in terms of the context of the page? In this example, I was using pan men's polo shirt belts. So accessories, I was using those as examples.
And I was trying to see how consistently they tell Google. No, this is a men's polo shirt page or that this is a men's polisher product up, like how do they give these signals? So let's take one of the signals. The first one is the URL where you are a men's polo shirt then in the URLs. So we gave one point to Bench and no point to Uniqlo.
Timothy Uichico: Well, I think the primary thing with ventures, because I think the category pages are really good. So when they have all that on that folder or sub-folder, rather, it all carries into the product pages, but the number one problem with Bench, although it has the one point is I think on the specific product they have the SKU.
Bernard San Juan: Great point. It's actually not consistent on some pages just to have the SKU and then on somebody just, they have the product name. The same by the way is true for Uniqlo except that Bench utilizes the product name more consistently than Uniqlo and they utilize the category page. URL points to Bench. So four points to Bench and four to Uniqlo. That puts us on four and four.
4. Keyword in Title
Timothy Uichico: When you do a search query, you'll have the query you click on, or the meta title is sort of what Google displays. It's the blue thing in the large text search. Ideally for us, we want the keyword there. One, because it identifies Google, what the page is about and gets approved by a user.
Bernard San Juan: And that's why Google uses it as a relevant signal, because if it sees the content in the search and then sees the content on the page, then it thinks you are irrelevant, resolved. So that's the keyword in the title. And I think we gave them both props for this. Both of them utilized it semi-consistently.
Timothy Uichico: Well, one of them does use it consistently. What we normally do is we recommend two things, the keyword in the title and the brand name for our association for recall. And they both do it really, really well. And I don't think we have seen a truncated metal title on any of their pages. So they have been doing it very, very consistently.
Bernard San Juan: I guess that explains why the cashing rate on Uniqlo is so high because users are contributing to the content on the page and with this being the strongest ranking factor. We're giving it one point, but in reality, we should be giving eight or nothing. It's a very powerful ranking factor.
5. H1/ Page Title
Bernard San Juan: The most powerful content is what we call the H1 or this is actually the page title, not the meta title.
Timothy Uichico: The H1 is usually the heaviest. Header, you have by default, it's usually the largest Heather Yahoo. I think of it like a headline in a magazine or a headline in a newspaper.
Bernard San Juan: So if you don't have your keyword there or worse, if you don't have an H1 at all, you kind of shoot yourself in the foot. Right now, when Google crawls a page and even when users see it, you have the keyword there, you know what the page is about and you communicate that. That's like you saying, this is what my page is about. This is what you should wrap me for. So it's a strong relevance signal. Now I think two caveats to the H1 I've always said, I think the biggest fault of a lot of brands is developers tend to use H1 for styling instead of the content utilizing each one.
And if you want to style text users, ESS don't use your H tags, leave your HVACs for your marketers, your copywriters. By default, the page will be in each one. So if you don't have an H1, you must've done something funky.
So I gave props to both of them. We gave them one point each. For the sub-headers we sort of didn't give any props to Bench. We gave points to Uniqlo. If they're seeing men's polo shirts, they're seeing reviews about men's folder shirts. Whereas with Bench, it sorta ends because you've only gotten the product.
Timothy Uichico: I think that's because by default you will have some pagers on the page.  But because Bench doesn't have the amount of content Uniqlo does. They also don't have the opportunity to put in. You can't have the polo shirt reviews if you don't have reviews on.
6. Schema Markup
Timothy Uichico: Now, the other thing that we were looking at, because both of them are e-commerce and both of them are encouraging you to transact is whether or not they were appropriately using schema.
Bernard San Juan: Schema is just the way of coding your website so that it's easily comprehensible to the search engine. And it gives them an opportunity to enrich a search result. And when I say enrich it's when, if you do a product search, you notice sometimes there's an image thingy on the right. Or sometimes the star review appears.
Timothy Uichico: The price appears right. Price even sizing. So all this stuff allows Google to solve that for you, by telling Google, hey, this is my price. These are the product photos. Here's the brand. It's saying there's a special offer on it.
Bernard San Juan: Surprise! Bench is actually appropriately schema marked up, Uniqlo is not. And I also think it's more difficult to do on Uniqlo because it is a global website. I forgot to mention that at the start take note that when we're comparing the two, we're comparing the Philippine shop folder to all of Bench. Right now, we're only comparing Uniqlo Philippines because it isn't the entire Uniqlo domain that competes with Bench.It is only the Philippines side that competes with that. And so in order to make it apples to apples, we did that kind of comparison.
7. Links, Number of Websites, Authority Score
Bernard San Juan: When it comes to links, we noticed that Bench has a lot of mentions online, 2.2 million mentions online, and then Uniqlo has 57,000 mentions online. And in terms of the number of websites that talk about Bench, it's about 1,800 and only about 250 websites talk about the Uniqlo website for the Philippines. And yet in terms of authority score, the two of them are drastically different, right? In terms of authority score. Uniqlo has a page authority, not a domain authority, a page authority of 71 and Bench has a page authority of 47. Why does the website with more links have a lower score?
Timothy Uichico: There are many ways that could happen. For example, it could also be possible that Uniqlo's links are more authoritative than that. When I say more authoritative, I guess you can point out that the domain authority score that's linking towards the Uniqlo page is higher.
Therefore, the authority being passed on is much higher as well. I guess a prime example would be if your boss tells you that there's no work tomorrow compared to when your colleague tells you that there's no work, you  would like to believe your boss rather than your colleagues, right? Because your boss has more authority.
Bernard San Juan: I'll give you another example of this. I think it's Time Warner. Time Warner times magazine, CNN, VC online are Time Warner assets and Time Warner has a way of making one website link. So they pass on authority to each other. And that's also considering each one of those websites alone is highly authoritative.
I think nine years ago, CNN was already ranked eight. Bloomberg is a nine. Page rank is a Google metric. It's tremendous. So just because you make more noise and there's more noise about you does not necessarily mean you're more authoritative. It depends on who's making noise.
I think the other thing that they can take into consideration here is the nature of the traffic. One of the things that we discovered is that Bench drives about a hundred thousand visitors to its website, about 91,000 of that, at least according to some SEMrush Data, is from the Philippines, but Uniqlo drives about 500,000 visitors. And 480,000 of that is to the Philippines, but that's not all there is to it, you think?
Timothy Uichico: So I think that to give a little bit of points to Bench, they really did protect their brand name. The fact that from the hundred key traffic, they have around 85 keys that are branded means they've secured their brand traffic. The problem is they only have 15 GIF new traffic coming in. Let's discover new users.
Bernard San Juan: When we say discovery term, I'm doing a Google search for something that isn't branded. So let's contrast that with a hundred thousand visitors of Bench with 85,000 branded traffic and less than 10,000  discovery versus Uniqlo, which is almost half a million visitors monthly, but only 150,000 of that is branded and 130,000 some is discovery. That's a tremendous amount of traffic.
Timothy Uichico: Even if you're playing the percentage game, 85% of Bench is  branded traffic while more than 60% or 70% of Uniqlo is discovery. You need to always actually constantly be seen by people who are making the generic search query or have not committed to a brand.
Bernard San Juan: Think you can convert them to become loyal. You may convert them into lifetime value opportunities. So after we did the exercise, we wound up with Bench with 12 points then Uniqlo with 16 points.
And so what if you've got a better SEO score overall? And the bottom line is we already started to discuss that a better SEO score means higher discovery traffic. The items we talked about earlier, explaining how Uniqlo is driving 330, some thousand in terms of discovery.  Why is Bench only driving less than 10, but there's more to it than that?
8. Keyword Research
Bernard San Juan: Let's talk about some of the keywords that are doing really well. Like for boxer shorts, Bench appears on the first page, but its own position is 10 and Uniqlo  right up there at the top.  It's like the third organic result. You know, sense ads. There are others, for example, Uniqlo ranks number one for polo for men and benches on like the fifth page.
Timothy Uichico: Which is surprising. I remember in high school, when you used to get polo shirts, it used to always be better for Uniqlo before the other brands. And they were known for that, but I, it doesn't mean your brand was known for it.
You can get the generic queries, which is what's very important, I guess, for larger brands. You can secure your branded traffic, but for the people looking for who have not committed to your brand or looking for other options, if you're not there on the first page or in the first three spots.
Bernard San Juan: So another interesting thing that I found, because we were only looking for Philippine search queries.  Like maong pants, maong shorts, we did a very Filipino term. And I wouldn't have expected Uniqlo. To perform against it, but they are in fact, the 11th results or the first result on the second page.
But the sad part is I think it would be very appropriate for Bench to rank in maong versus denim, because they're a Philippine brand. And I mean, do you still use that term? You do. The word maong is frequently used more than you use denim in your household.
Now, another thing where I think they compete is women's boxer shorts. Bench is at the seventh position and Uniqlo again is on positions 1, 2, 3. So the benefit of having a higher SEO score means you probably perform better at search because of these. Relevant metrics, tell Google, or give Google an idea about what idea you're trying to share or what search motivation you're trying to satisfy, then why wouldn't be ranking.
And clearly Uniqlo is doing a better job at giving search engines and users an idea.
Final Verdict
Bernard San Juan: And I think the moral of this story as we wrap up this podcast is it's not always about link building. If you guys are SEOs and you're listening to this podcast, try to be a bit more creative.
Like if I were working on a brand like Bench, link building would probably not be my strategy. I mean, why would I need to, they are mentioned over 2 million times on the web, right? They have over nearly 2,000 different websites talking about them is just a matter of utilizing that to its best capability.
Timothy Uichico: There'll always be something to improve when it comes to SEO, which is why we love SEO. And then what you're looking for in terms of what you should improve is what metrics on your website. Can you leverage? What can you control? What can you build? Like for the user, for example, like most of them Uniqlo and Bench can improve their page speed.
Both of them can also improve the technical aspects of their website. Bench has more opportunity actually for growth. If you look at it this way, despite not having the content, despite not having that user generated thing, despite losing four points of the SEO score, they still get 100,000 traffic a month. And the majority of that is pretty protected because it is Bench-related. For them they can increase the ten exponentially if they're doing the right thing.
Bernard San Juan: I guess in this round, like, or this death match between Uniqlo and bench, I think the verdict is Uniqlo takes the cake on this round.
Thank you everybody for joining us. We hope you enjoyed this episode as much as we did because we do. We are SEO geeks. And thank you for joining us here. Don't forget to subscribe to Truelogic DX Podcast powered by Podmachine and tune in for more episodes. Cheers.