How Your Website Helps You Win (More) Customers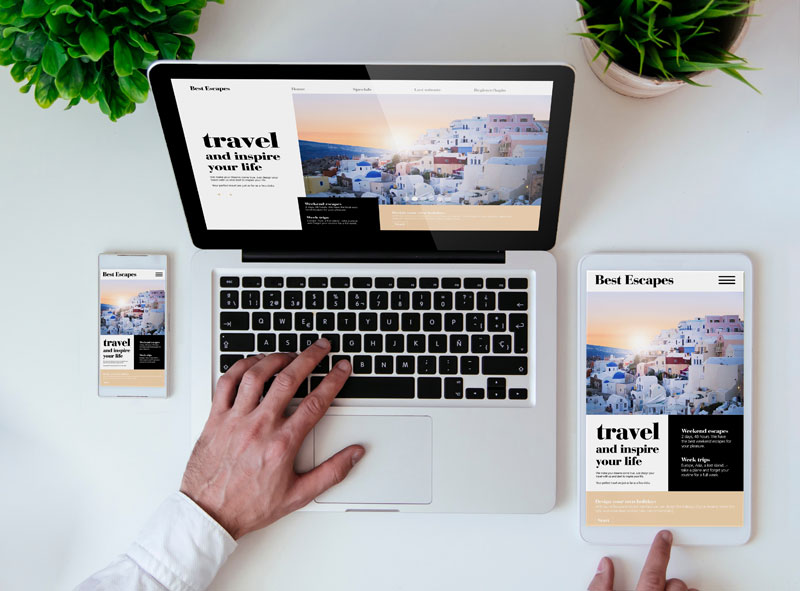 Many businesses think that a social media page is enough to drive them leads. It isn't.
A social media page may provide a business with enough digital traction to build awareness and remain in front of customers. However, using this as a sole platform for generating leads may provide you with only a fraction of business opportunities. With Facebook changing its algorithm and deprioritizing organic posts, focusing most of your digital marketing initiatives on a single social platform may not yield as much traffic for your business.
What is your other option then? A website.
In this digital age, it is not uncommon for businesses to own their website. In fact, there are 1.7 billion websites as of 2019—and you can expect this figure to continue growing in the coming years.
Just how valuable is a website in getting leads for your business?
Your Website Builds the Foundation of Your Online Visibility
A customer's buying experience begins with a search. Statistics show that 97% of customers go online to look for local businesses.
Considering the global situation in which customers now rarely go out due to the new norm of social distancing, businesses have more opportunities to thrive in the digital space. Add that to the fact that customers are constantly on their devices, businesses with an up-to-date website are more likely to get visits.
Like how you will hand business cards to potential customers you cross paths with, your website serves as the face of your brand in the digital space. Your website helps you build three things: your brand, good customer experience, and most importantly, your online presence.
A Strong Brand
A website is not something you create just for the sake of having one; you build a website to differentiate yourself from the thousands of other brands competing for the same audience.
Think of what your customers will see when they land on your website.
Household brands distinguish themselves with their websites—and not just by website design or its fast loading time, but also through the information they have on the site. Businesses that can provide visitors with clear value propositions are more likely to prompt them into making buying decisions.
Good Customer Experience
Websites with a one-second delay in page response can result in a 7% reduction in conversions. So just imagine how this can significantly affect your business.
Your website contributes to the overall buying experience of your customers. It provides them with a channel to engage with your business through the content you have on the site. It gives them access to your products without the need to visit your actual storefront.
Think of it as having your business open around the clock. With a website, your customers have access to information about your business at any time of the day. The more people who see your website, the more opportunities to get them as your leads.
Simply put, your website solidifies the interactions you have with potential and existing customers.
Your Online Presence
With customers transacting online, there's a premium in having a strong online presence, and this will not be possible if you do not have a website.
Websites on the top positions of search results – specifically on the first page – gain more attention from customers. A big chunk of them do not scroll past the second page and tend to click on the first websites they see. This is one of the reasons businesses rely on SEO services to start ranking and getting more website leads.
It is as simple as answering the question, "If you do not have a website to rank on search results, how will customers find you?"
Pro-tip: One of the effective ways of getting leads to your websites and building your online presence is lead magnets. Lead magnets are any form of free downloadable resource, such as an ebook or a white paper. Use opt-in forms that direct visitors to a landing page where they can download the resource material while also providing their information, which you can use for lead nurturing.
It Keeps You in the Competition
Your competitors are online, so why shouldn't you be?
You cannot erase the fact that thousands of businesses are competing for the same products or services as yours. If you do not have a website where you can house content that differentiates you from the rest, be prepared to lose your customers to competitors.
A website helps in leveling the playing field and provides you with the opportunity to connect with customers the same way your competitors are.
By developing a website, you are giving your business the leverage to:
Communicate your value proposition that shows your customers why they should choose you over the competition.
Track engagement with customers so you can adjust your digital marketing strategies and compare them with your competitors.
If you know how to position your website amidst the competition, you are giving customers more reasons to stick with your brand.
Your Website Can Drive Customers Based on Their Search Intent
Not all who search online may be ready to buy from websites. Some of them may be looking for an answer to their question; others may be interested in learning about a particular topic or comparing different products from different brands.
The importance of having a website is not just about getting your brand out there; it is also making sure customers refer to your business according to their needs. This is why websites need to have content aligned with the customer's stage in the buyer's journey.
This can be Navigational, Informational, Commercial, or Transactional.
Navigational
Customers intending to land on a specific brand's website fall under navigational search queries. For instance, people who type "YouTube" on Google are likely looking to access YouTube.com.
Most websites do not target navigational queries. This is because your chances to get customers with a navigational search intent can be extremely low—that is unless you own the brand.
If you have a Shopify website for your e-commerce store, you may be better off positioning your site for commercial and transactional search queries.
Informational
When customers type long-tailed keywords or questions on search engines, the intent behind their search is informational. This type of search query aligns with educational content, such as how-tos and guides.
Informational content often resides in the blog pages of a website. Customers doing an informational search query are those looking for answers to their problems or who want to learn something new.
If you want customers to see you as an authority or a trusted source of information, your website should have content pieces that provide value-added information.
Commercial
Customers with commercial intent are near the bottom of the sales funnel. This means they are a step away in making a purchase, and likely browsing and comparing brands they will transact with.
When mapping this on your website, commercial searches often align with service or product pages. The information on these pages should give them information that will help them make a decision.
By tweaking your website to target commercial intent keywords, you can start driving prospects who are ready to be your next customers.
Transactional
If a customer is ready to buy, they are doing a transactional query. Searches with a transactional intent are those that target keywords with specific products. An example of this is "get travel insurance quotes".
The best way to target transactional queries for your website is by optimizing for conversion rates. Content that aligns with transactional intent should target buyers who are at the bottom of the sales funnel, so you want to have terms that prompt them to do business with you.
Pro-tip: To align your website with the right search intent of your target audience, visualize the sales funnel when you are plotting content for your website. This will make it easier for you to determine which pages to optimize for your lead generation.
It Connects All Your Digital Marketing Initiatives
Your digital marketing strategy will not be complete without a website.
After clicking an ad, where will you lead customers? If they see a social media post that piques their interest, where can they find more information? If you want to educate your audience, where can they consume your content?
There is only one practical answer to these questions, and you guessed right. Your website is at the center of these activities.
Every piece of content that you publish, ad, or even a social media post will lead back to your website, which makes strengthening your social media marketing more profitable. This cements your entire digital marketing strategy.
Where Email Marketing Conversions Happen
Your email marketing efforts will be for naught if you do not have a website to convert leads. A simple landing page with a lead magnet or a strong call to action can give your leads that little push to close. More than that, if you send emails with different links to your website, you can track their behavior and see which page they visited the most.
A Content Hub for Your Marketing Needs
Think of your website as a repository of content that is valuable to your audience. Your website provides you with a platform to house every content piece that informs and engages your audience – whether it is a blog post, a case study, or a product description. The more your customers learn about your business, the more inclined they are to buy from you.
Do You Have a Website?
If you do not have a website, now is the time to invest in one.
Remember, the clock is ticking and your customers are more active than ever in making purchases online. If you do not take action now, you are giving customers a free pass to all the leads you can get to your website.
However, if you already have one, it can be a great initiative to look at how it is performing and see what on-page elements to improve for better ranking opportunities.
Either way, we are here to help. Let our experts guide you in creating a well-optimized website that is designed for lead generation and conversions.