Truelogic DX Recap: The Digital Kickstart for Emerging Businesses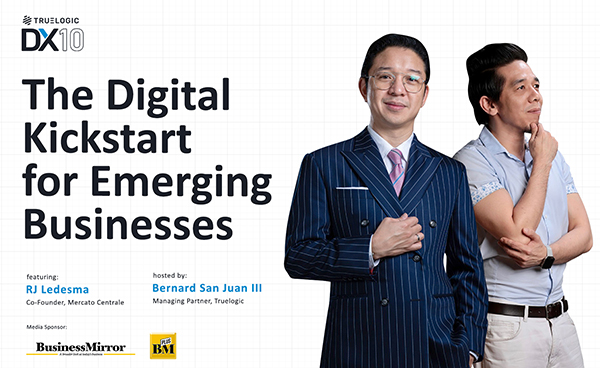 The entrepreneurial mindset is about spotting opportunities, learning from one's mistakes, and never giving up.
That's what RJ Ledesma, co-founder of Mercato Centrale and its COVID-19 pivot, Mercato United Kitchen, told us at last week's 10th session of Truelogic DX, which went live last September 3 (watch the video recording here).
RJ has a background in brand management (Procter & Gamble) and real estate. He is a published author and has served as a newspaper columnist and as a men's magazine editor in chief.
He is an active TV and events host and the founder/co-founder of many businesses, including Yoga Manila, Brainfit Studio, and Easy Franchise. He holds a master's degree in real estate from the Massachusetts Institute of Technology and an undergraduate business degree from De La Salle University.
RJ and Truelogic Managing Partner Bernard San Juan chatted about how he got into entrepreneurship, the origin story behind Mercato Centrale, and how he channeled his passions into mentoring small businesses.
From Corporate to Entrepreneur – and Mercato Centrale 
Although RJ made his first career steps in the corporate world, RJ learned about entrepreneurship from his dad, who ran several businesses of his own.
When RJ decided it was time to leave corporate, his dad gave him an option: to work for him or for himself. RJ did both, working, amongst others, for the family's real estate business.
The idea for Mercato Centrale came  from RJ's honeymoon travels with his wife. They visited Florence and encountered the city's own Mercato Centrale, a marketplace full of artisanal vendors and great places to eat. His wife wanted to bring the idea back to the Philippines, but RJ was not convinced.
The idea kept cropping up in media tours to Singapore, Thailand, and Taiwan. He noticed that the first tour organizers did on these trips was to bring him and the media contingent to hawker stalls and food markets.
"It's full of culture, it's safe, secure, hygienic. It's a place where both locals and foreigners converge. And I was thinking, how come there is no equivalent here in the Philippines for that type of experience?" RJ recalls.
Back home, he continued scanning the market and realized there was a big market in BPO evening workers. He saw it as another sign that the idea might work.
"Would they go to a convenience store, or go to a place that would serve them hot, authentic freshly made home cooked food? So that's what really stuck in my head," says RJ.
From Mercato Centrale to Mercato United Kitchen 
RJ was able to launch Mercato Centrale in November of 2010 to resounding success. It featured many businesses, some of which became successful brick and mortars. The venture expanded to different cities across the Philippines, and helped introduce the food truck concept from overseas.
But then the pandemic came along, and RJ thought hard about how he could adapt Mercato to a new set of constraints: safety, social distancing, and a huge demand for takeout and delivery.
He put a name on the new idea.
The Hybrid Cloud Kitchen – a place where people would be able to enjoy various food vendors in safe, socially distanced surroundings, and have options for take-out and delivery. He gathered fifteen vendors into a leased space at Ayala Malls Circuit Makati, where people could dine safely "al fresco", for people who enjoyed the range of choice Mercato offered.
He also added an e-commerce delivery component, allowing customers to order from all of the vendors conveniently in one go.
Solving the Problem 
RJ acknowledges the difficulty of the pandemic on people's lives, but as a businessman, he was not discouraged.
As an entrepreneur, he said, "You look at a world, where it's full of opportunity. You're somebody who's looking to create value."
"Your job as an entrepreneur is not to say whether the situation is good or bad. Your job as an entrepreneur is to say, what are the opportunities that exist in good times and bad times?"
Entrepreneurs must constantly seek out the opportunity which lies in solving customer problems.
"What are the opportunities created because of social distancing because of this lockdown? You try to think differently about the situation."
Turn customer problems – or pain points, as we call them in business terminology – into opportunities, he says.
Have No Fear of Failing
Navigating the start-up world gave RJ a chance to refine his entrepreneurial methodology, "borrowing from the past, but understanding where you have to go in the future," he noted.
He says that corporate marketers aim to get it right the first time – a luxury entrepreneurs often do not have.
"Marketing people are very precise. It's ready, aim, fire the first shot, and your first shot must be your very best shot, right?" he asks.
"As an entrepreneur, it's precision, not speed. It's ready, aim, you fire, and then you aim again and you fire. Then you aim and you fire. You've got to keep readjusting [to] the target."
He advises businessmen to focus on opportunity and problem solving. "What is that pain point that you want to solve, that thing that you think is underserved or missing?"
A good entrepreneur must also be comfortable with failure, he asserts.
"If you fail, stand up," RJ said.
Visit our Truelogic website to watch the replay of this webinar and learn more about about past webinar sessions.
Your feedback is welcome! Send us your comments and suggestions to hello@truelogic.com.ph.