How to Boost Direct Bookings with Digital Marketing for Hotels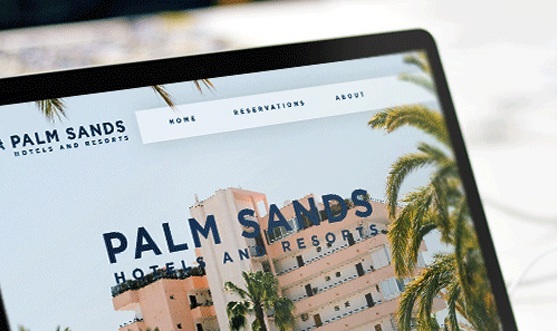 You spend a considerable amount of time and effort in sales and marketing, but are those driving the results you want?
As a hotel owner, your marketing efforts revolve around getting direct bookings. Because even if you have bookings from online travel agents, the reality is that you get more revenue through direct reservations.
With the fierce competition in the hotel industry and customers turning to other accommodation alternatives, cookie-cutter hotel marketing techniques won't be enough if you want to increase your direct bookings.
In this post, we share effective marketing strategies for hotels to boost your direct bookings:
Design a user-friendly and responsive website
A user-friendly website can be the difference between a user clicking on that Reserve Now button and one that leaves your site for good.
Because, let's be honest, how do you expect customers to book a room if your website looks like this:
Your website serves as your conversion engine – and that means you shouldn't be lazy. You'll find run-of-the-mill themes that might work for your hotel, but you won't be doing any justice to your brand and you won't be serving the needs of your customers.
Think of it this way: when users go to your website, you want to make sure that they're in an environment that motivates them to hit that reservation button. It should be easy for them to book, photos of your hotel are available, and all the details are arranged in a way that will not overwhelm users.
User-friendliness and aesthetics are just one part of the puzzle, though. Responsiveness ties them together. By now, you're aware of the power mobile use has over consumer behavior. Customers don't wait until they find a desktop to book – most of today's customers search and book for hotels using their smartphones. So, if your hotel website is not mobile optimized, you should start optimizing now.
Offer incentives on your website
When customers search for a place to stay during their vacations or business trips, they don't just look at your rooms or facilities—they also look at the other services that you can offer. Whether it's free breakfast, free room service, or a room upgrade, incentives can be a powerful motivator and these reinforce the value customers receive when they get your service.
Remember Hilton's "Stop Clicking Around" and Marriott's "It Pays to Book Direct" campaign? These hotel giants know how to play their cards when it comes to rewarding their loyal customers. You can do the same, too.
How do incentives fit into your hotel marketing strategy? One way is to highlight these incentives in a
CTA button, just like this:
Another way to highlight your incentive is to use an Optin popup that will appear when they land on the website.
Advertise on Facebook
Facebook is a goldmine of potential customers. Not just because it's where most of your customers are, but also because it's cheaper to advertise on Facebook. The best thing about using Facebook is you can choose from different ad types and formats that will match your objectives, so you can drive the right audience at the right stage in the conversion funnel.
Here are a few things you need to keep in mind if you advertise on Facebook:
1. Segment your audience: Your ad will depend on the type of audience you will be targeting. With Facebook, you can customize your audience and choose hyper-specific criteria for your targeting. You can also exclude certain attributes to make sure your ads are targeting the right audience for the right objective. For instance, you'll only be wasting money on ads if you're targeting people who are already following you when the objective of your ads is brand awareness.
2. Use remarketing: The premise of remarketing is simple—the more your ads appear in front of your customers, the more likely they are to convert. If you have a promo that you want to promote, you can use Facebook remarketing for people who have visited your website but haven't booked yet.
3. Explore other targeting options: The beauty of advertising on Facebook is you can layer different targeting options on top of each other to further narrow down your audience. Use demographics, interest, and behavior to get a more specific, relevant target audience.
Leverage reviews and star ratings
Customers are always looking for validation. They want to be sure that they're getting the best experience. They want to know that they're making the right decision. And most of them trust reviews and star ratings – whether it's coming from a friend or from a trusted source.
Remember that at the core of every hotel booking, customers are after the experience. That's why part of a solid digital strategy for hotels is leveraging positive reviews.
To start, you need to claim your business listing on TripAdvisor, Agoda, and high-authority hotel directories. These sites provide customers a channel to refer to when they need to validate the quality of service that you offer. More than that, TripAdvisor awards special badges to businesses that have high ratings and get positive reviews consistently, such as "Certificate of Excellence" and "Traveler's Choice".
If you have these badges, reviews, and star ratings on your website, you'll get plus points for your hotel business.
Positive reviews is just one side of the coin, though. You also need to address the negative ones because leaving issues unresolved can send a bad impression on your customers. And if you're in the hospitality industry, attending to the needs of your customers is a priority.
A few things you need to keep in mind when addressing reviews:
1. Be professional: Remember that you're representing your business. You can be fun and conversational with your replies, but always maintain an air of professionalism.
2. Respond quickly: A quick response to negative reviews shows your receptiveness and efficiency in handling their concerns.
3. Understand the customer: You can't be right all the time—you have to understand the point of view of your customer. From this, determine the best steps to resolve the issue.
Monitoring reviews should be a part of any holistic hotel marketing strategy. If you know what your customers are saying about your business, you'll get a clearer picture of how to move forward with your marketing campaigns.
It all boils down to customer experience
As an hotelier, your goal is to provide the best experience to every guest. But, good service is not enough. Customer experience begins even before they step in your hotel—it starts when they land on your website.
By showing them an excellent experience from the moment they enter your site, you're giving them the motivation to stick to your service. And if you infuse this experience with your digital strategy, you can reap rewards that go beyond marketing exposure.
Contact us, and see the results of digital marketing for your hotel!