What Happens When You Migrate Your Website?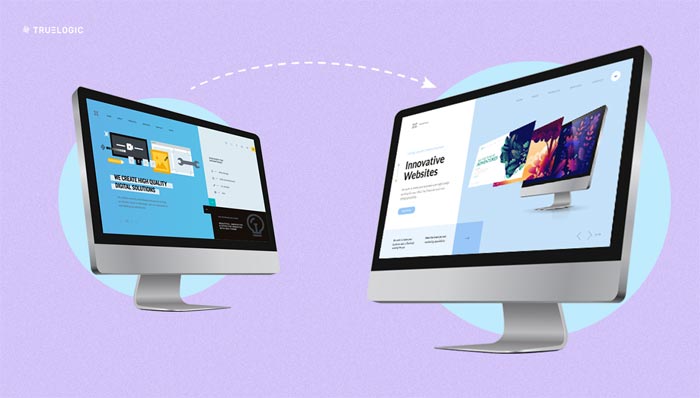 Succeeding in establishing your brand's online presence is no easy feat, but industry leaders know it doesn't stop there. Maintaining this kind of momentum means continuously finding ways to improve, and for a brand that's poised for growth online, that means proactively looking for ways to strengthen its digital assets.
Specifically, much is to be gained when brands pay attention to their websites. Consistent upgrades and refinements are key to giving customers the best online shopping experiences that outdo what competitors currently offer. One way to achieve this is by studying the benefits of migrating your website.
What's Website Migration?
Website migration for brands is an umbrella term for the many ways in which you can change your website to increase its capability of handling better features, more traffic, and a variety of content formats (we'll get into detail about what kinds of movements are involved in website migration below).
Often, brands consider migration to address issues that compromise positive interactions with their websites. Website migration can solve slow load times, limited flexibility in customizing their sites, weak security, ineffective SEO, dated design, unintuitive user experience, or outdated backend software.
If you're wondering if it might be time to migrate your website, your gauge is simple. Go back to your KPIs and digital marketing strategy—are you able to execute them without anything holding your plans back? If you're nodding your head, then perhaps migration can wait.
However, if your vision for your brand's next steps in digital has had to wait because of a website that just doesn't have what it takes to bring it to life, website migration is a pressing need. Set up a meeting with a web development team as soon as possible to see how you can get started on migrating your website. There are many entry points to website migration, so it pays to learn how to get things moving. It's also possible to start migration without disrupting operations, which is good news for brands that will want to avoid any downtime.
Below, we outline what kinds of movements to expect and the benefits of each when migrating your website to give you a better grasp of the process.
Taking migration one step at a time
It's entirely possible to migrate all aspects of your website in one go. A one-time migration lets you deal with all the bugs and upgrades you want in a single move with the end product sure to make the most meaningful impact on customers. The problem with this option is that it, of course, interrupts operations significantly, if not completely. When your website is only minimally functional or totally inaccessible, you risk customers discovering competitors and then sticking to them even when your site goes back up. A full website migration is recommended when an overhaul is truly necessary, such as if a website has serious issues with data privacy, payment security, malware, or perhaps hasn't been updated in years.
What websites do instead—especially websites of brands that can't afford any downtime that could have serious effects on sales and marketing campaigns—is to take things one step at a time. Prioritize which website fixes are most important or what's most needed depending on what you want to achieve for a certain period.
When you've ironed this out, don't forget to inform your customers beforehand on features that could become temporarily unavailable, and then have alternatives ready. Give them a timeframe for this rollout and when they can expect regular programming to resume. And, of course, stick to your schedule!
Transitioning to a more compatible CMS
A content management system (CMS) is your website backend. It's what lets you input new content, rearrange, delete, revise, and preview a web page. There are different kinds of CMS and though all serve the same purpose, the difference lies in how much content volume they can handle and how sophisticated their features are.
More expansive CMS packages give brands the biggest room to play around with websites, allowing them to express their brand's personality and tone to the maximum. A more basic CMS, though it lets brands create fully operational websites, has less interesting results and is more for utility, and cannot support branding and marketing initiatives. Brands that are looking to level up their website game will benefit from a more layered CMS.
Moving from HTTP to HTTPS
Yes, the "S" matters! HTTPS websites have better encryption. Customers can be more confident in browsing and purchasing with you because you provide better protection of their web activity and the personal details they share with you.
In a nutshell, HTTPS websites add an extra layer of security that ultimately works by stopping hackers (or anyone looking to steal or intercept the movement of data online) from getting a hold of sensitive information as it moves from the person (i.e.: your customer) to the desired source (like your website). You can help guarantee that the information they provide ends up only with the intended receiver.
Transferring to a better server
Servers can pose limitations to your website. For example, if you're looking to make your website more interactive and add variations to your content (e.g.: increase your video-to-text ratio), this will take up more space—and not all servers can accommodate this. Brands move to servers that can handle these changes, in spite of it costing more. It's a necessary expenditure, however, if what you're aiming for is a website that has more to it other than just plain text and photos.
Changing domain name
Your website name is often your domain name. You can change it completely, or, you can also just change your website from ".com" to ".net," for instance.
There are many reasons brands change domain names but a website migration is necessary here because it's ultimately like changing addresses. Think of it as the digital version of packing all your belongings in your existing home, moving, then unloading them in your brand new space.
You can't snap your fingers and expect magic to get this done for you; there are many things to consider come unloading, such as seeing if your stuff fits your new storage spaces, how to arrange it in an efficient way, how to make it all look aesthetically pleasing, then getting used to how it all feels and learning where to find everything. A website migration helps you achieve this seamlessly for yourself and customers alike.
Establishing a solid 301 map
You'll need to do some good 301 redirect mapping if you want to make sure that nothing gets lost in the shuffle. This is closely related to changing domain names and the "moving" that comes with it.
When you move your website to a new address, it's possible that links won't lead to the right content, to an error page, or to nothing at all. This is a huge turn-off for customers who are used to your website working the way it should or are in a hurry to locate something.
A 301 map addresses this in two ways: links from the old website can lead to a page that tells them the website is under construction, while also leading them to the new website that has what they're looking for via the new website's links. It's a temporary extra step in the process, but it does mitigate the risk of driving away customers when they're caught off guard with a non-operational website.
Experimenting with staging links
Staging links allow you to preview a web page. For example, if you wish to make a change to your homepage (maybe by changing fonts, adding animation, or changing the way your menu rolls out), you want to make sure that the changes make sense before implementing them.
Staging links in website migration allow you to see what everything looks like before you go live or go public. You can play around with new features or get an assessment about tweaks in design, layout, or navigation with staging links acting as pilot tests before committing. You can perfect everything as best as you can instead of experimenting on customers in real-time, in real life, which opens the possibility of getting extreme negative feedback.
Preserving SEO success 
Website migration also takes care of some of a brand's most valuable competitive advantages: the preservation of its SEO ranking.
A good migration means your SEO keywords remain intact, and they remain to be found in the right places on your new website. This is a sensitive process as migrating your website means Google or other search engines will have to index your website all over again.
You're essentially establishing your place on the Internet from scratch once more, again having to prove that your SEO keywords, metadata, and URL all work well together to allow customers to find precisely what they need when they search for your products and services. Without proper migration, your site's credibility and visibility are compromised, thus making it difficult for old customers to find you, let alone new ones to discover you.
Investing in a web relaunch ad hoc team
Be smart about website migration and don't scrimp. Hire a web development team that can address the issues listed here—and all the other more complex ones that were excluded. Only they can safeguard your brand's online performance and provide insight for more informed decision-making for your website. Together with your marketing team and content creators, a web development team can help position you as a leader in the digital game.
Continuing glitch checks months after a website relaunch
After you've officially relaunched your website or implemented major changes, note that the process doesn't end there. Keep using your website yourself to discover weak spots, and pay attention to what customers say about it. If there are reports of glitches or errors, act right away. Sometimes, there are problems that surface months after relaunch so be ready with proper response any time an issue crops up.
Note that this is a beginner's guide to website migration. There are 101 things to discuss with your web development team to get the full picture of things. Of course, with any major changes implemented on your online assets, there are risks and rewards.
The biggest risk of website migration is losing content and SEO rankings because this is tantamount to losing customers and revenue. However, this can be easily prevented with proper migration. In the end, wouldn't owning a website that's engaging, raises the bar for competitors and does more than simply sell a better proposition?