What to Do When the Cookie Crumbles: The End of Third Party Data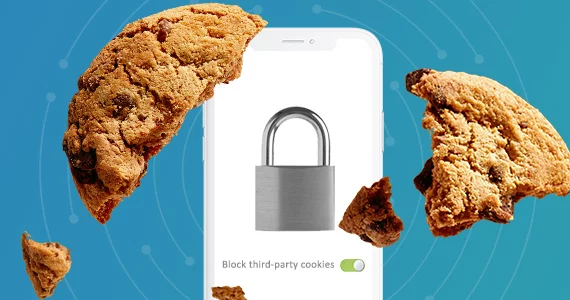 One of the latest topics of conversation in digital circles is the impending disappearance of third-party data.
Are you a Facebook advertiser? Then you know that since the iOS 14.5 update, you are no longer able to capture data from Apple iPhone users for your marketing campaigns.
For years, third party data collection has been a gold mine for digital consumer profiling and targeting.
It's what helps you with audience building on Google Ads or Facebook; it helps with retargeting and remarketing. It also guides your ad designs, your creative copy, and the landing pages you build for campaign conversions, and lots of other important strategic marketing decisions.
In the last decade, consumers have become much more aware and much more protective of their data rights – and have laws behind them, such as the California Consumer Protection Act of 2018 (CCPA) and the EU's General Data Protection Regulation of 2016 (GPDR). Consumers want to know how their data is used, have the option to opt-out of data collection, even request that the data you have on them be deleted if they want to.
Browsers like Apple Safari and Mozilla Firefox have already blocked and stopped collecting third-party browser cookies. Google said it would do the same with its own Chrome browser by early 2022, but just a few days ago announced it is pushing this commitment back to late 2023.
Even the way you see your own website visitors will change.
Google has already been phasing users into its new Google Analytics 4 (GA4) platform, because classic metrics such as page views, transactions, user timings are eventually going away for good.
Even though some brands and marketers are – if we are to believe them – in a state of genuine panic, we are to respect consumers in this new Age of Privacy.
There's Still First Party Data
Although many advertisers and strategic planners feel this is the end of the world, there are alternatives. They just take getting used to.
It's time to go back to first party data, which you already own.
Good marketers collect data from many sources. Sales transactions. Newsletter subscriptions. Online – and offline – customer service interactions. Your CRM database is your friend.
With the right permissions, your website can still track behavioral information from your visitors. We will all have to get used to events tracking on Google Analytics, but businesses can still gather insights on website visits and usage.
The good thing about first party data is that it's yours. It's yours, it's trustworthy (because you collected it), and you don't have to share it. You've built it up with your customer base and invested in digital marketing campaigns to collect this information. It's data about your brand and no one else's.
Is it Enough?
If it's not, you can devise ways to collect data from your customers in other ways.
Digital marketers are calling data freely given by a customer in exchange for customization or better service "zero party data". We all know this is permission marketing in an updated form.
Content subscriptions and email marketing are the easiest way to collect this information.
You can also build gated content sections on your website or design promotional activities that request information from your customer in exchange for access or eligibility.
Does this sound new? It doesn't, right?
You'll have to give something valuable in exchange to gain the trust of your customer, so the kind of information you ask for should make sense to them.
Will they get better customer support? Better recommendations from your website?
Information you obtain from your customer is yours to use; all you have to do is agree to stay transparent about the way you use it. The cookie may crumble, but you have enough ingredients to make a pie.