Maximize Your Digital Marketing Budget in 2023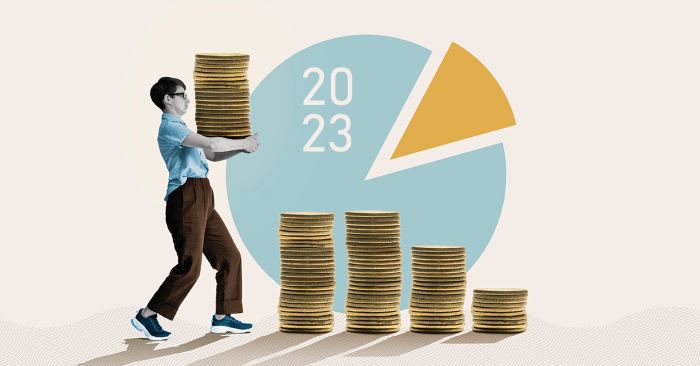 It's that time of the year again. For digital marketers, this means reviewing successes from the year and determining where to focus efforts next year. With the current state of our economy,  it is even more crucial that you start planning and setting your 2023 digital marketing budget as early as now.
Marketers know that digital marketing represents the future of their business. CMO Survey revealed that marketers are happy to allocate 57% of their budgets to digital marketing activities and are planning to increase spending by another 16% in 2023.
Ultimately, the marketing budget should go toward activities that help you to reach your goals. What is it that you want to achieve this year? Growth of your email list? Brand recognition? More qualified leads? Better lead nurturing or follow-up to get more in the sales process? A more effective customer retention strategy? Sales growth?
But before you decide what kind of marketing activities you should be doing, you should track down your previous return on investment. What you gathered after a year-long digital marketing campaign, you can find the points where you need more investment, and which campaign you require little investment in.
For example, if there is 125% as the average ROI from your SEO campaign and 30% from email marketing, then you will reconsider your digital marketing strategy to invest in e-mail marketing.
Next, it's also best to identify your business goals. Business analysis helps you identify your goals from a revenue standpoint. You can set lead and customer goals by knowing your projected revenue for 2023. By looking at revenue, lead, and customer goals, you can then determine where your focus should be from a marketing standpoint.
Now let's take a look at some considerations to help you prioritize and focus on where your digital marketing spend should go to drive organic growth for your business:
Consumers' time online has greatly increased
During the COVID-19 pandemic, consumers developed the habit of accessing the Internet to buy and conduct research. customers got in the habit of using the Internet to buy and perform research.
Based on a recent study by Brussels-based marketing and advertising consultant Sortlist, Filipinos are connected to the internet for 10 hours and 56 minutes a day, which in turn, totals 166 days a year. Sortlist also estimates that 67% of the country's population is using the internet as well.
Even after work, shopping, and socializing in person resumed, this led many businesses to reassess their objectives for their digital presence so that more customers can easily find and learn more about their products and services.
In fact, paid search and social media were the only digital marketing channels with positive growth rates throughout the pandemic.
Companies evaluate the success of digital marketing based on the number of leads generated.
Businesses are now evaluating their digital marketing initiatives depending on the number of leads that those digital marketing strategies provide. Lead generation isn't as easy as it once was. According to a report from Hubspot, 61% of marketers consider generating traffic and leads to be their biggest challenge.
First, companies are devoting more time to analyzing and monitoring their results. This indicates that more businesses are looking for reporting and analytics tools that provide business insight.
Second, businesses also want their marketing strategies to do more than merely raise brand awareness.
But while it may be more difficult, it's no less important. Marketers are still focusing heavily on lead generation, with 53% of them spending half or more of their entire budget on lead gen efforts, BrightTALK reported.
The amount spent on digital ads is rising
Spending on digital advertising has been rising significantly, and this trend is anticipated to continue at least through 2024. Digital media spending in the Philippines reached P10 billion in March 2022, according to the latest Nielsen Ad Intel report.
This results in increased search engine advertising competition and higher media buy fees.
In order to counterbalance the rising cost of clicks, optimization is becoming more crucial in order to reduce cost-per-click fees as much as possible.
Measuring the ROI is a must
Digital marketers who regularly calculate their ROI are 1.6 times more likely to secure budget increases for their marketing activities.
Companies, particularly small ones, have a rising number of platforms in their revenue operations ecosystem. It is a huge problem to extract useful data from many data sources that can be used to make business decisions.
While there are several important hurdles to gauging marketing performance, one of the most difficult is combining data from various sources and technological platforms.
One trend we are seeing in the marketing and sales technology field is the merging of tools such as email marketing, social media management, and CRM in order to aggregate data more quickly and deliver business insights. Perhaps this is why 67% of marketers replaced their marketing technology software application in the last year.
Improving website user experience for SEO
Google surprises us every few years with something new in its algorithm. Companies are  scrambling to improve the user experience of their websites as Google places more weight on this for ranking purposes. The marketing world is buzzing about Google Analytics 4 and event monitoring in 2022-2023.
If your marketing budget is already maxed out on other channels, consider diverting some of your budgets to SEO. It is more cost-effective in the long run because your optimized web pages can continue driving traffic for years.
Reusing and repurposing existing content
While the amount of content on the web, and certainly in your industry, is steadily increasing, so is the demand for content. Content can take the form of videos, podcasts, blog posts, articles, e-books, white papers, etc.
While businesses struggle to produce enough content to attract new clients, many invest in information that is already out there. Regardless of the type of content that companies have produced over the years, it's critical to evaluate current content and update or improve any that may be outdated or not optimized.
According to a survey conducted by ReferralRock, 94% of surveyed marketers repurpose their content, and the remaining 6% are thinking about doing so in the future.
First-party data will become more important
The need for businesses to gather their own information and data on clients and prospects grows as Google phases out third-party cookies. Although Google has postponed the elimination of third-party cookies in Chrome until 2023, data security and privacy remain top priorities. The increase in online and mobile scams means people are becoming more concerned about their privacy and to who they give their data.
This means it's imperative that businesses make privacy a priority and maintain trust with their consumers. Customers are craving personalization, but their privacy is just as important so brands will need to strike a balance between the two.
More automation to do more with less
In order to do more with less and for sales and marketing teams to become more efficient, many business owners and marketers are turning to automation.  According to HubSpot, 76% of companies report using automation and 26% of companies that are not yet using automation are planning to use it.
Automating your tasks can save you hours of work every week and allow you to focus on higher-level activities that are more critical to your business's success. As companies strive to keep up with digital trends, more are also expected to wake up to the benefits and positive results that come with leveraging automation, not just in marketing, but in other business areas.
Key Takeaway
What should your digital marketing budget be in 2023?
Enough to enable you to reach your goals. We've demonstrated that it's critical to keep marketing going, even if the temptation is to cut back on spending during difficult times. History shows that if you have a solid product or service that customers want, strategic marketing spending will not hurt you.
Bigger isn't always better. With diligent research and planning, even a small business with a limited budget can compete.
Digital marketing budgets are increasing for 2023, but businesses need to be careful to spend budget where results can be tracked and where the greatest return on investment can be achieved. The shift to a more virtual world means we have a great opportunity to create fresh, and innovative ways to connect with people online. That entails staying the course with your digital marketing investment and even amping up where you can really drive results.